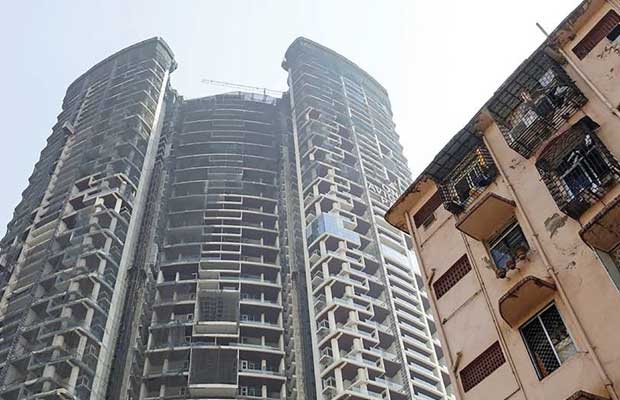 By: Mohua Mukherjee
The India Meteorological Department (IMD) has established that the frequency and severity of heatwaves, and a resultant high number of preventable deaths due to heat-stroke, have risen significantly in India over the last three decades.In India this summer of 2019, the IMD has already reported heat waves across Delhi, Gujarat, Haryana, Madhya Pradesh, Andhra Pradesh, Telangana, Maharashtra, Odisha, Rajasthan and Uttar Pradesh.
Urban areas in particular, further aggravate the problem of already rising temperatures caused by climate change. Many urban areas have removed vegetation and replaced it with heat absorbent surfaces like paved roads and concrete buildings; traffic congestion and air pollution; and air conditioning which pushes hot air outdoors. Together, these create the phenomenon of "urban heat islands" (UHI) which have much higher temperatures than surrounding areas even within the same city.
This problem persists at night too due to daytime heat capture and absorption. UHIs pose a great threat to the life and safety of people living in them, such as construction workers, vegetable vendors, auto repair mechanics, cab drivers, police personnel, road side kiosk operators and other groups living in slums and informal housing, mostly belonging to economically weaker sections of society.
The National Disaster Management Authority has issued guidelines in 2016, on managing heat (temperature as well as humidity is important) to save lives. Their analysis shows similar levels of heat stress for combinations of "lower temperature with higher humidity" and "higher temperature with lower humidity".
To illustrate, 42 degrees Celsius and 40 percent humidity or 33 degrees and 90 percent humidity impose similar levels of heat stress. In both cases, the subjective experience of heat stress is equivalent to being exposed to a temperature of 54 degrees Celsius.This suggests an important role for access to air circulation with the use of ample numbers of energy efficient fans in high humidity areas, to evaporate perspiration from the skin in order to counteract heat stress.
Leading the way with its Heat Action Plan (HAP) in 2013 following a high number of heat-related deaths in 2010, Ahmedabad in Gujarat became the first city in South Asia to come up with a solution to tackle heat waves.Heat Action Plans have since been adopted in at least 30 cities in more than a dozen Indian states.
Ahmedabad's heat action plan is simple, cost effective and focuses on implementing four key strategies
Building public awareness and community outreach
Utilising an early warning system and inter-agency coordination
Capacity building among health care professionals
Reducing heat exposure and promoting adaptive measures
But Heat Action Plans tend to overlook the underlying infrastructure, such as energy, water and transportation, which all play a crucial role in mitigating heat stress or responding to it.
Say during a heat spike, failure of the electrical grid is a distinct likelihood, especially during a time of extreme heat emergency.
We therefore propose to increase resilience through the introduction of solar PV energy in all facilities and buildings that will be part of the response to saving lives during a heatwave.
A Proposal for "Municipal Heat Action Plan 2.0":
Here is a proposal for adapting any municipal heat action plan, by introducing a solar element to it at the design stage:
ACTION ITEM 1: COLLECT REAL TIME DATA TO PINPOINT EXACT LOCATIONS OF UHIs.
Identify suspected UHIs in a given city by studying known areas which are devoid of vegetation and tree cover, have many concrete buildings, high traffic density and congestion, air pollution, and possibly the presence of offices with air conditioners which expel hot air into the surroundings. Also, within the same city limits, identify a separate group of control areas with a good amount of trees, vegetation and unpaved surfaces.
Place sensors on lamp posts in both types of areas, to monitor temperature and humidity at regular intervals during the day. With guidance from the IMD and a team of support consultants, develop an algorithm to calculate the "localized heat index" in different parts of the city and thereby conclusively identify the areas where UHIs are present.Calculate the range of temperatures present inside the city limits. Survey the population living in low-quality housing inside the UHI, and do a needs assessment, i.e. how many elderly and children who need to move to local clinics during heat emergencies, and how many adults of working age who may only need to move to designated emergency heat shelters. Make arrangements to communicate with community leaders via SMS to send warnings and instructions e.g. one day before anticipated heat emergencies.
ACTION ITEM 2: GEOGRAPHICALLY MAPPING THE FACILITIES WHICH NEED TO BE MADE ENERGY-RESILIENT, AND STUDYING THEIR SOLAR-BACKUP ELECTRICITY REQUIREMENTS FOR UNINTERRUPTED BASIC SERVICE DELIVERY.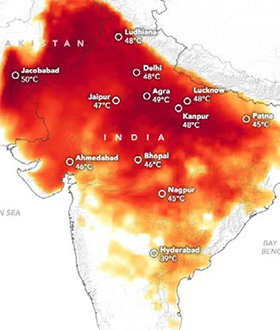 Identify relevant buildings and supporting elements that will be part of the strategy, i.e. the government owned medical facilities close to UHIs that can support vulnerable populations (elderly and children) and treat heat-stroke victims. Also identify nearby public buildings like schools and places of worship, that can serve as emergency heat shelters when needed.
It should be assumed that in a heat emergency, these buildings will experience power cuts from the discom grid, and will not be able to supply the energy services of lights, fans, refrigeration as reliably as needed. All of these buildings should be studied in terms of their rooftop capacity to support solar panels, as well as their indoor requirements for solar appliances such as lighting, fans, solar-powered refrigeration. For each city, a required minimum investment package of solar PV panels, inverters, balance of systems and various solar appliance requirements for each building, should be prepared.
ACTION ITEM 3: DEVELOP A WORKABLE BUSINESS MODEL THAT IS AFFORDABLE FOR MUNICIPALITIES AND HELPS THEM TO IMPLEMENT A BETTER HEAT ACTION PLAN.
Identify options to set up a Special Purpose Company, whose Board will have representation from the municipality and the equipment supplier. This company will own the solar assets and will identify workable solar PV business models, allowing municipalities to pay for the energy services in small monthly instalments as required.
There is a lot to learn from the 'pay as you go' technology that is rapidly powering the growth of highly digitized, smart mini-grids in Africa. (The technology is also operational in India through various companies including Simpa Networks and K-PAY and others).
In the 'pay as you go' model, the panels, batteries and other appliances are webenabled as they have in-built chips for two-way communication, and are able to be remotely metered and controlled, turned on and off as per requirements, similar to pre-paid mobile phones. For example, they are instantly activated when payments are received and a fresh energy credit is established. The idea is that usage is metered and the client only pays for what they use.
After a certain number of payments have been accumulated, and the purchase price of the asset has been paid, no additional payment is required and the asset ownership is fully transferred to the payer, in this case the municipality.
The in-built chips in the solar equipment are therefore re-set to remain permanently unlocked, and no further payments are required other than maintenance and servicing.
The benefit of having automated smart systems on the solar investment to provide better resilience, is that all data is captured and available for monitoring the program's cost-benefit impact, based on accurate readings on usage of the solar equipment.
In order to implement this, the solar integrator and equipment suppliers will have to prepare a suitable legal structure. This will invest in owning the assets and taking responsibility for servicing them so that 99 percent uptime is maintained.
The Special Purpose Company must discuss with municipalities whether they would like to rent the services of these solar assets only during the hot months of the year, or if they want to rent it throughout the year in anticipation of regular discom outages.
The amount of monthly payment required will depend on the duration of the agreement. It will also depend on the upfront cost of the total package for the Special Purpose Company. A big determining factor will be the terms of financing (concessional interest rate and long maturity) that the special purpose company is able to obtain in order to purchase the assets and get them installed in the required locations.
This will be the right time to seek international climate funding related to heat-resilience measures, and create a new category of such financing on concessional terms to redress damage caused by global warming.
The writer is a Program Ambassador at the International Solar Alliance