1. Overview
The solar industry is revolving very fast, For the utility scale plant, It faces many challenges. For example, The declining PPA, the pressure of investment costs and the more stringent demand. The new standards require the inverter either to have a wide range ride through capability or special grid support function, those new requirements and standard set a high threshold for the inverter. To follow the market tide, SUNGROW released its grid support utility-interactive inverter SG3125HV. With the application of SG3125HV, the solar plant will have no risk to interact with the utility and it brings much more benefit for the solar plant.
2. Features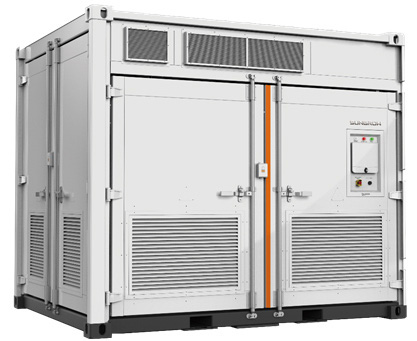 The SG3125HV is designed with a 10 feet enclosure and effective cooling system. Based on SUNGROW's advanced development platform, SG3125HV has an excellent reliability performance and high efficiency. Moreover, the inverter is designed for easy skid integration, convenient for site installation and ultimately reducing the site work and cost. With the application of SG3125HV, the plant construction will move faster and it will finally bring customer a higher ROI.
3. Technical Specifications
| | |
| --- | --- |
| Max DC input voltage | 1500VDC |
| Max output power MPPT range | 875VDC to 1300VDC |
| Rated AC output power | 3125kVA |
| AC output voltage (nominal) | 600VAC |
| Max efficiency | 99% |
| Euro. Efficiency | 98.70% |
3.1 High efficiency and reliability
Sungrow's SG3125HV was designed to have a power converter platform that was more efficient than previous generations of products. Utilizing 3-level converter bridge, efficient modulation algorithm and latest magnetic and switching devices, the SG3125HV provides an extraordinary efficiency performance, bringing more energy yield and further increasing project ROI. The maximum efficiency of SG3125HV can reach 99% and Euro efficiency 98.7%.
Sungrow has been focused on the inverter development and manufacturing for over 20 years, the accumulated experience has equipped Sungrow inverter with an excellent reliability performance. In addition to that, the SG3125HV is developed with SUNGROW latest advanced platform and tested with Sungrow world leading testing center.
3.2 Wide operating temperature range
Sungrow's SG3125HV has one of the widest operating temperature ranges available in the industry, with full power available from -30°C to 50°C and operation in power de-rate mode available up to 60°C.The temperature sensing variable speed controlled fans are used for SG3125HV to minimize internal temperature rise, which will lead to a reliable operation, long lifetime, low power consumption.
3.3 High integration less initial cost
Sungrow's SG3125HV is highly integrated and cut initial investment and installation cost for customers. The SG3125HV has integrated the re-combiner into the DC side cabinet, so this extra cost can be saved. Sungrow SG3125HV has integrated the power supply panels including 480Vac and 120Vac, which can be used for the tracker motors, control box, communication box, etc. The plant will not need extra power supply panels, transformers and boxes for the tracker, etc. This will save the space for the SKID integration and site installation efforts, meaning the initial investment will be further reduced.
3.4 Advanced mechanical design
Sungrow's SG3125HV is designed for easy operation and maintenance. This unit has a touch screen which is located on the front door, all of the inverter running information and settings can be viewed and changed on this touch screen, which is easy for site operation. All of the components inside the inverter are front accessible, which is easy for maintenance. Specially, the SG3125HV use Sungrow patented air filter design, which is effectively resist the dust going into the inverter, and the filter is easy to be maintenance without any tool. The inverter is easily to be integrated to the SKID, Sungrow provide the installation accessories for customer convenience which will bring more values and reduce the initial cost. All of the interface/plate for installation is designed to be removable and easy to be punched, which will be convenient for customer to install the conduit and connect the cables, all of those design lead to less site work and in hence reduce the installation cost.
3.5 Flexible in 6.25MW or 12.5MW block
SG3125HV is flexible in 6.25MW or 12.5MW. 6.25MW solution uses two SG3125HV inverters to access three winding transformer. It can save initial transformer, cable and MV switchgear investment. 50MW plant just needs 8 block.
3.6 Excellent grid support function
SG3125HV has an advanced voltage and frequency ride through capability. The high voltage ride through is up to 1.4 Un and It can compensate reactive power during LVRT. With the application of Sungrow SG3125HV, the customer will enjoy the high availability and get satisfied with the flexibility. The inverter also has a good reactive power capability and it can inject active power with power factor 0.8. Moreover, the inverter can supply reactive power to the grid at night to support the grid, this will reduce investment on SVG equipment.
4. Summary
SG3125HV is designed to bring a high ROI for utility scale PV plant, with the application of this containerized inverter, the total system cost will be reduced due to saved integration cost, installation cost, O&M cost, and lower initial cost. Moreover, this grid support utility-interactive inverter brings more reliability to the utility and will further reduce the grid interconnection risk. We can expect that Sungrow SG3125HV will bring much more benefit for the solar industry.
SUNGROW INDIA PROJECT REFERENCE
50MW, CHATGAON, BEED, MAHARASHTRA
Project Capacity : 50MW

Location : Chatgaon, Beed, Maharashtra India

Inverter Model : SG2500 – 1000V

No of Inverters Installed : 20Nos

No of units Generated / day : 300MWh
10 MW POKHRAN, RAJASTHAN
Project Capacity : 10MW

Location : Pokhran Rajasthan India

Inverter Model : SG500MX ( SG1000TS ) – 1000V

No of Inverters Installed : 20Nos ( SG500MX )

No of units Generated / day : 63MWh
70 MW BHADLA RAJASTHAN
Project Capacity : 70MW

Location : Bhadla Rajasthan India

Inverter Model : SG2500 – 1000V

No of Inverters Installed : 28Nos

No of units Generated / day : 450MWh