1. PRODUCT PROFILE
Solis 110kW is designed to achieve low LCOE in commercial installations, increasing system returns through a more intelligent, reliable, efficient and secure string inverter technology solution.
Solis is making full use of its fifth-generation technology platform in its new 110kW string inverter designed for commercial rooftop applications. The fifth-generation platform incorporates industry leading electronic components resulting in the highest efficiency on the market. At 98.7%, this maximum efficiency rating is at the top of its class.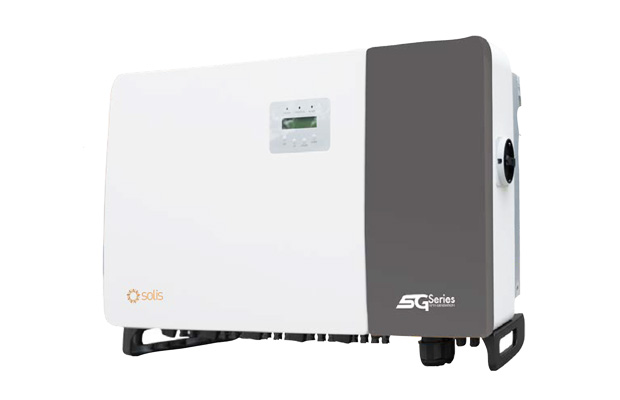 As part of its fifth generation, Solis also provides onboard diagnostic tools that can be used on-site or remotely, greatly reducing O&M time and cost. Further setting Solis apart from its competition, our conservative engineering design margin ensures reliable operation in the most challenging grid conditions. The Solis cost and energy yield advantages are unique in the industry. In combining our high cost-performance ratio, low installation and O&M costs with market-leading conversion efficiency and energy harvest advantages, the Solis 110kW technology boosts energy yield and ROI for PV power plants.
2. TECHNOLOGICAL ADVANCEMENT
Industry-Leading Efficiency Delivers Lower LCOE Over The Life of The Project Solis 110kW boasts a staggering efficiency of 98.7%, making it one of the most efficient on the market. thanks to the Solis 110kW uses advanced insulated-gate bipolar transistors (IGBTs), and new technologies such as adaptive parallel technology and wave-by-wave current limiting protection, Making it achieves low "on resistance", resulting in the highest efficiency and the lowest minimal losses. Moreover, Solis 110kW also combines 90 MPPTs / MW, resulting in high power tracking density. With a 150% DC/AC ratio, Solis 110kW boosts energy density to ensure higher earnings and lower LCOE design. The system can produce more stable power output under irradiation, these characteristics bring nearly 3.5% power generation increase during the whole life cycle of the project.
Superior Reliability with Top-of-Range Lifespan Results Mean Better Bankability
Solis string inverter technologies have achieved top-of-range lifespan that have been validated by independent labs. This means solid returns you can bank on:
– End-to-end manufacturing since 2008 with 4GW capacity in the field
– World-class R&D facility with state-of-the-art automation verified through rigorous testing
– Industry-first in-house SMT circuit board production selfinspection process line ensures guarantees quality and seamless product innovation.
– Superior QC with end-to-end control across the entire value chain
– MTBF component performance equates to long life
– Under 2% failure rate worldwide(compared to others as high as 10%)
– Full in-house production ensures quality along with 100% burnin (full power @45C) for higher confidence of field performance
Designed for Flexibility & Higher Energy Yield
The Solis 110kW has a flexible design that allows for shorter strings where needed and multiorientation designs. Our multiple MPPTs are 100% fully independent, offering a wide DC operating voltage range. This means we have a higher production yield for greater roof utility and energy density.
Furthermore, the operating mode of Solis 110kW allows the inverter to ride through grid disturbances to increase the overall system yield. Its operation-through-voltage fluctuations provide grid stability and reliability.
Higher System Returns
At 13 amps per string, the Solis 110kW offers one of the highest input current ratings on the market. This design allows the use of higher current bi-facial modules and can be combined with a whole column of tracking motors, which delivers more yield than current inverter designs based on lower input current.
Reduced O&M – Running Advanced Diagnostics On or Offsite
Inverters are becoming increasingly more intelligent to better respond to system performance issues. As such, Solis 110kW offers advanced I-V curve diagnostic technology and string-level monitoring capabilities to improve O&M efficiency and lower O&M costs.
Solis 110kW incorporates on-board diagnostic tools to decrease O&M time and available web-based, remote data monitoring to respond and resolve issues more quickly. Our string-level monitoring and intelligent IV curve diagnosis functions are integrated into Ginong's intelligent cloud monitoring platform, allowing O&M diagnostics to be completed within just 5 minutes. This allows plant managers to quickly monitor, locate and report on system faults, making O&M more digital, more efficient, and less costly.
Because our DC connectors are integrated into the inverter, Solis 110kW substantially reduces installation time. Furthermore, our fuseless design means less maintenance, while our high current inputs allow the combination of two strings using Y connectors. Solis 110kW gives contractors more for less: less manpower; less hassle; less cost. Our swap-out replacement process is fast and efficient for simple better O&M.
3. TECHNOLOGICAL CREATIVITY AND QUALITY
How does your product demonstrate particular technological creativity?
Powerline Communications Capabilities
The 110kW inverter communication supports optional PLC. This means an additional communication cable is not required, which saves both time and money for installers.
Reduced Self-Generated Errors
Large PV systems are built with numerous panels, and each panel has its own set of unique characteristics. As a result, working with different panel manufacturers increases the risks of errors. Solis created a unique leakage current suppression technology through long-term PV power station data collection and technology development. This technology not only suppresses the impact of the PV system leakage current, it also reduces the number of erroneous errors, or "false alarms", and significantly improves the stability of PV systems.
Reduced Effects of Inverter Output Resonance
Solis uses the "intelligent reconstruction" algorithm technology, which reduces the effect of high capacitive or inductive hardware to achieve a large-capacity square matrix resonance suppression function. Our advanced anti-resonance technology helps to increase more accurate readings and reduce inter-plant inverter interface, reducing downtime and increasing yield.
4. SINGULARITY IN COMPARISON WITH OTHER SOLUTIONS
What makes your product unique compared with existing state-ofthe-art technologies and with your competitors' solutions?
– Solis leads the market with its independently-developed MPPT algorithm. During the testing phases, the MPPT consistently maintained the optimal tracking direction and decreased tracking time, regardless of environmental changes. The Solis 110kW MPPT efficiency reached 99.9%.
– The leakage current suppression technology used in our Solis 110kW is unique. While other manufacturers use a unidirectional algorithm, Solis 110kW uses a bi-directional algorithm, increasing detection accuracy and reducing false leakage current alarms. Reduced false alarms reduces O&M costs and increases system uptime.
– Solis's new 5G technology platform moves the AFCI function into the CPU for more precise digital control, which eliminates the need for a separate hardware module and improves AFCI detection and reliability.
– Solis 110kW's built-in anti-PID technology is another differentiating factor: Placed inside each inverter, this built-in feature can realize increased yields form precise string PID repair.
– Solis 110kW provides reactive power compensation at night contributing to solving problems with substandard power factors. Applying this reactive power compensation, combined with technologies like over-voltage load reduction, reduces grid over-voltage problems. Because our new leakage current suppression method reduces inverter disconnects due to capacitive leakage, Solis 110kW allows the PV system power station to provide a more stable supply energy to the grid. This unique system improves grid stability.
5. TECHNOLOGICAL BENEFITS
In addition to Ginlong's efficiency and reliability leadership, and the technological advantages described in previous sections, Solis 110kW offers these benefits:
Safety – In the PV industry, fire is one of the most considerable – yet least discussed risks, particularly for rooftop applications. The Solis 110kW can identify faults in the arc current while monitoring the PV model to inverse a fire at the input of the transformer. In the event of an arc fire, Solis 110kW will cut off the circuit immediately to avoid nearly 99% of the fire risk.
Solis110kW has a "Class I" AC lightning protection rating, which means it discharges current when it reaches 100 ~ 200k. This allows Solis to provide superior protection to C&I roofs, large wastelands, coastal and mountainous regions, and others environments that experience with frequent lightning.
Reliability – Solis' fifth generation technology platform has a replaceable AC/DC Type II surge protection device. This design provides a Level-1 lightning protection feature for surge-prone areas to protect the inverter from force majeure incidents, increasing system reliability in areas prone to thunderstorms and other climatic events.
Reliability and Efficiency – the Solis 110kW adopts intelligent redundant air cooling, which not only improves the inverter's cooling efficiency, but also greatly extends the life of the cooling fan, lowering O&M costs.
6. BENEFITS FOR ENVIRONMENT AND SOCIETY
As a company, Ginlong Solis is committed to sustainability. We dedicate our efforts to helping countries and communities achieve grid parity and to empowering our global transition to a carbon-free society.
It's not just our beliefs but our actions too. We endorse conservation practices in our factory and have installed PV at our headquarters. Our environmental stewardship was recently recognized by the regional Economic and Information Bureau in Xiangshan County.
– Ginlong ranked first on the country's Green Manufacturing List and took home the "Green Factory" award for the company with the highest level of green manufacturing systems.
– The selection criteria resulting in this award included our implementation of environmental protection concepts such as our staff green training program and our energy-efficient manufacturing processes.
We have set ourselves the task of not only providing our customers solar electricity but also of supporting their efforts of building a more sustainable world. We believe it is our responsibility to protect our planet, and as an organization we work every day towards this goal with conviction. With over 15GW of installations worldwide, Solis inverters contribute to offsetting nearly 22 million metric tons of CO2 every year.
Our commitment to these principles goes far back. Established in 2005, Ginlong Technologies is one of the oldest and largest manufacturers of PV string inverters. By delivering very cost- effective inverters for residential, commercial, and utility-scale users, we offer value at every level: homeowners, businesses and utilities.
7. SAFETY CERTIFICATES
Compliance with international safety standards
Solis inverters have earned validation from trusted third-party safety certification bodies such UL, IEC, IEEE and performance testing from labs like DNV GL.
– Three-phase Solis inverters — 25-40K and 50-66K — achieved estimated lifespan of 16 and 18 years respectively. Solis 110kW has not yet gone through DNV GL testing.
– Industry-leading product certifications set Solis apart, including designation as 1st Asian manufacturer to achieve UL 1741 (U.S.) in 2009 and 2nd to receive G83 certification (UK).
– We have extensive field installation history since 2008.
– Our incorporated arc fault circuit interruption (AFCI) identify faults in the arc current while monitoring the PV model, reducing fire risks by 99%.
Solis 110kW complies with major international standards:
– EN 61000-6-2 and EN 61000-6-4
– IEEE 1547
– UL 1741
– C22.2
– IEC 61727, IEC 62116, IEC 61683, IEC 60068, and EN 50530
8. ECONOMIC BENEFITS
Our dedication to improving customer revenue and providing optimal power cost solutions puts us on course to become the world's leading green, smart energy service provider. Through its emphasis on efficiency, reliability and low capital, installation and operational costs, Solis 110kW delivers leading project returns for our customers.
Better Performance. The strong performance of the Solis 110kW allows system owners to get more solar generation out of their PV arrays. With the widest DC voltage range (180-1000V DC) on the market, Solis 100 kW is first up in the morning – last down at night for higher generation in low irradiance conditions. With up to 10 MPPTs — more than competing string inverters — our scalable technology delivers peak performance all day.
Higher Quality. As part of the new Fifth Generation Platform, Solis 110kW supports a 150% input ratio as well as a 110% overload operation for prolonged periods, which puts higher requirements on the device quality and overall design of the inverter.
9. PRICING
What is the selling price of the product/component today for the end user and what is the expected selling price in the next two years? (In € or $)
10. MARKET AND MARKETING
There has been a continuous expansion of the global market for solar inverters across 2018 and 2019, and the industry has also seen increases in shipments. In 2020, the PV market will gradually enter the era of grid parity. Based on data analysis from GTM Research, the price of inverters will be unchanged from 2020 to 2024. Solis will, as always, continue to be customer-centric and committed to creating products and solutions which are both reliable and highly intelligent to provide strong returns.
How Solis Creates Value?
1. Vertically-integrated Ginlong is the first and only public company that is focused solely on string inverter technology.
2. As the third largest exporter of string inverters out of China Ginlong has earned a 300% year-over-year revenue growth since 2016. This results in greater leverage of our global supply chain and quality components sourcing to equip our world-class R&D and manufacturing capabilities.
3. We optimize our inverters for each regional market and service and support our customers with teams of local experts.
4. Our proven bankability has attracted support from leading financial institutions in North America, Europe and Asia, ensuring solid long-term returns on investment.
5. Above all, we emphasize a real commitment to our customers through proactive and dependable communications through all levels of our organizations. According to our customers:
–Our customer service is quick to resolve any technical and quality issues;
–Our sales teams lead in customer management across each one of our market segments, operating with the same level of responsiveness. –We take pride in quick response, which is seen through our customer loyalty
–We are about personal relationships, direct communication and deep client engagement.
In today's hyper-competitive environment, we believe it is these characteristics that sets Ginlong and Solis apart.