India's solar boom proved to be a game changer for the country's renewable growth trajectory, as the sector witnesses' sharp momentum during the past four years under the leadership of Prime Minister Narendra Modi. In 2014, when he took PM's chair, India had about 2.63 GW of solar energy capacity, which now surged to nearly eightfold to 22 GW.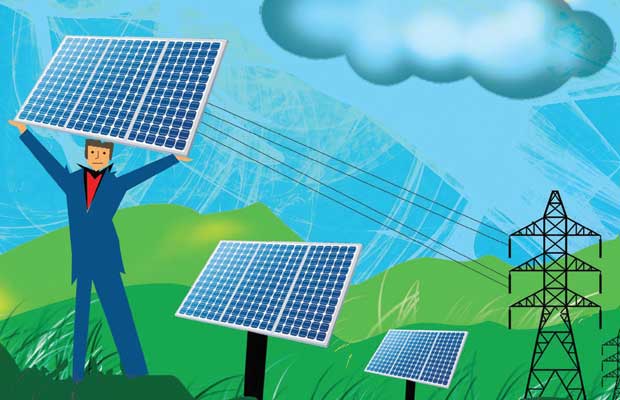 On the global front too, Asia's third largest economy stood at fifth position in the renewable space and sixth in the solar power installed capacity. Also, India's renewable power sector is the 2nd most attractive renewable energy market in the world.
From investors' perspective also, the sector has become more attractive mainly on account of increased government support and improved economics.
Further, world's seventh largest economy added 11.788 GW of electricity generation capacity from renewable sources between January to November 2017 alone. Initially, the focus of Indian Government has shifted towards clean energy after it ratified the COP-21 Paris Agreement.
During April 2000 to December 2017, the non-conventional energy sector has received a total Foreign Direct Investment (FDI) equity inflow of USD 6.26 billion.
With an aim to hit its ambitious target of 175 GW renewable energy including 100 GW from solar by 2022, government has announced the trajectories for bidding 115 GW renewable power projects up to March 2020. Besides, the renewable energy installed capacity has already reached over 70 GW and more than 40 GW is under construction/ tendered.
Also, the future of solar energy seems to be like a bright shining star in the sky as the country looks to meet its energy demand on its own, which is likely to reach 15,820 TWh by 2040. While, trends suggest that renewable sources are expected to help meet 40 percent of the country's energy demand by 2030. Bucking the trend, the Power and New & Renewable Energy Minister R. K. Singh, recently, said that, "We have pledged in Paris that by 2030, 40 percent of our installed capacity will come from renewables."
"I believe we have already crossed about 30 percent, if we add hydro power. So by 2030, 53-55 percent of our capacity will come from renewables," Singh added.
According to the government data, solar power generation growth likely to outweigh other sources by 2022. As on December 31, 2017, the total solar power installed capacity in the country stood at 17,052.37 MW with Telangana remain on top with 2,990.07 MW followed by Rajasthan, Andhra Pradesh, Tamil Nadu and Karnataka with capacities of 2,310.46 MW, 2,165.21 MW, 1,819.42 MW and 1,800.85 MW respectively.
Besides, the government has finalized tendering trajectory in order to achieve its mission target of 100 GW by 2022 for solar. For 2017-18, the tendering target set by the government is 20 GW, while for 2018-19 it will be 30 GW and for 2019-20 the target will be 30 GW respectively.
Evolution
The National Solar Mission (NSM) was launched by the then Prime Minister Manmohan Singh on January 11, 2010. Initially, the mission had set the target for development and deployment of 20 GW solar power by the year 2022, however, India has achieved the target four years ahead of the deadline.
According to the Ministry of New & Renewable Energy (MNRE) report, by the end of March 2014, the total solar power installed capacity reached 2,647 MW and the total renewable power installed capacity stood at 31,702 MW. In terms of electricity generation, the renewable power installed capacity generating around 70 billion units per year corresponding to about 6.5 percent in the total electricity mix.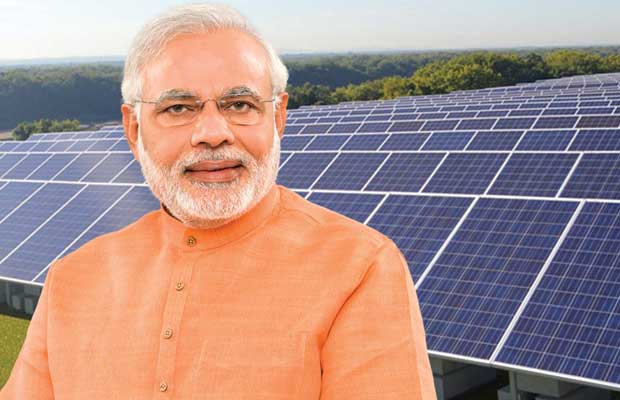 Later, during the leadership of Prime Minister Narendra Modi, the government in the '2015 Union budget of India' had shoot up the target under NSM for solar power from initial 20 GW to 100 GW by 2022, and from 2015-16 onwards the yearly targets were also revised in upward direction.
This is mainly on account of Government of India's commitment towards increased use of clean energy sources and is already undertaking various large-scale sustainable power projects and promoting green energy heavily. In addition, clean energy has the potential to create many employment opportunities at all levels, especially in rural areas.
Over the last 4 years there has been a significant jump in the percentage contribution of renewable energy to total installed capacity. In 2013-14, the contribution was 12.92 percent which grew to 20.06 percent by the end of March 2018.
According to the industry estimates, renewable energy will be reaching 49 percent in India by the year 2040 of the total electricity, as more efficient batteries will be used to store electricity which will further trim solar energy cost by 66 percent against the current cost.
Further, increased use of renewables in place of coal will save the country around USD 8.43 billion yearly.
On the back of government's significant efforts, Asia's third largest economy has moved from the seventh position in 2014 to second position in 2017 in the Renewable Energy Attractiveness Index.
Solar Revolution in Four Years
In a recent significant move to open huge potential for domestic manufacturers and developers, the government is mulling to auction renewable energy projects of 40 GW that comprising of 30 GW of solar and 10 GW of wind energy projects every year for next 10 years till 2028.
Elaborating the power ministry's plan, the MNRE, Secretary, Anand Kumar said, "We have 30 GW solar energy bidding plan for 2018-19 and 2019-20. This 30 GW auction per annum would continue till 2028. Similarly, we have to auction 10 GW of wind energy for next 10 years till 2028 to meet the power demand of 862 GW by 2030."
"We have to do 350 GW in solar (to meet demand by 2030), of which 100 GW is planned till 2022. So we have to bid out at least 30 GW each year from 2020 onwards to achieve additional 250 GW," he further added.
Here're a few other significant developments of the sector:
According to the India Brand Equity Foundation (IBEF) recent report, in the last 2 years, the setup and financing costs have come down significantly on the back of regular solar auctions and new government mega projects like solar parks. So, the rapidly sliding costs have made solar photovoltaic the largest market for new investments.
Further, the government's ambition of achieving universal household electrification too proved to be a boon for the sector.
As of March 2018, the solar photovoltaic installed capacity reached 21.7 GW. Also, India has the 3rd largest concentrated solar power (CSP) installed capacity.
Besides, the world's largest solar park having capacity of 5 GW is being set up in Gujarat. Also, in November 2017, the government had inked a USD 100 million pact with the World Bank for shared infrastructure for solar parks project and in CY2017, Indian solar sector received investments of over USD 10 billion.
Adding to it, zero import duty on components used in making solar panels was announced under the Union Budget 2018-19 to help encourage domestic manufacturing.
In March 2018, 'Shakti Sthala', the world's largest solar park, was launched in Karnataka with an investment of about USD 2.55 billion. On the back of rising competition and FDI inflow, solar sector players have started bidding at significantly lower prices with tariffs reaching record low of Rs 2.44 (USD 0.04) per unit during the month of May in 2017.
Moreover, government has announced the 'Wind-Solar Hybrid Policy' with an aim to achieve the hybrid wind-solar capacity of 10 GW by 2022. It will also help in minimizing variability and offers optimal utilization of infrastructure including land and transmission systems.
Besides, government has come up with a scheme for development of solar parks and ultra-mega solar power projects aiming to set up dozens of solar parks and ultra-mega solar projects targeting 20 GW of solar power installed capacity by 2019-20. Under the scheme USD 83.78 million have already been sanctioned.
International Solar Alliance
India's efforts towards solar sector came into limelight when the seeds of International Solar Alliance (ISA) was sown at the UN Climate Change Conference (COP-21) in Paris on November 30, 2015 by the PM Modi and the then President of France Francois Hollande. After a heady journey, the green shoots of that seed sprouted and the young sapling of ISA celebrated its founding day in March this year. Just only in 2-years, it transitioned from a high-profile announcement at the COP21 summit to an inter-governmental organization under the UN charter. Amidst the presence of French President Emmanuel Macron and PM Modi, the first summit of ISA congregated.
ISA is the first international inter-governmental treaty based organization that will have a secretariat in India. It provides a common platform for cooperation among sunny nations lying fully or partially between the Tropic of Cancer and Capricorn seeking to massively ramp up solar energy, in order to bend the global greenhouse emissions curve by providing clean and cheap energy. The primary objective of the inter-governmental organization is to undertake joint efforts required to reduce the cost of finance & technology. It aims to mobilize more than USD 1 trillion of investments needed by 2030 for massive deployment of solar energy, and pave the way for future technologies adapted to the needs of 121 prospective member countries.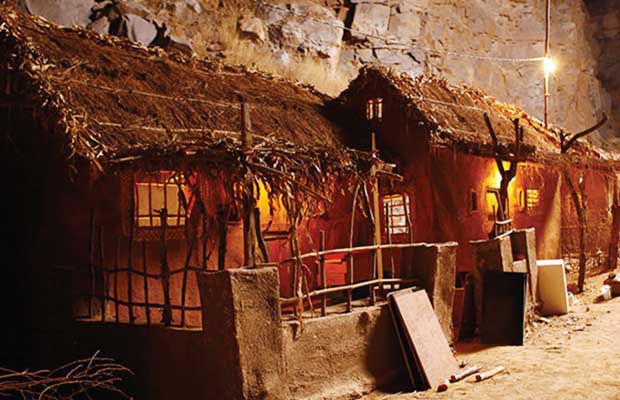 The ISA Framework Agreement came into force on December 6, 2017. Out of the 121 potential countries, about 61 have joined the alliance and around 32 of them have also ratified the Framework Agreement.
Now, it has four ongoing programmes namely, scaling solar applications for agriculture purpose, affordable finance at massive scale, scaling solar mini grids and scaling solar rooftop catering to the needs of solar energy in particular areas.
In a recent development, ISA's Interim Director General, Upendra Tripathy said that, ISA plans to approach multilateral development banks (MDBs) like Asian Infrastructure Investment Bank (AIIB) to create a special purpose vehicle (SPV) to specifically finance solar projects. He further added that, this SPV aimed at financing USD 150 billion would become a 'World Solar Bank'.
Rural Electrification
Adding another feather in India's cap, Asia's third largest economy continued its rollercoaster ride in April too, and once again scripted history by hitting the target of electrifying all villages ahead of the deadline. Solar energy too plays a vital role in achieving this significant target well before the deadline. India's efforts towards rural electrification bore fruit when Leisang village in the Senapati district of Manipur became the last village to be connected to the national power grid. PM Modi termed it as a historic moment and said, "28th April 2018 will be remembered as a historic day in the development journey of India. Yesterday, we fulfilled a commitment due to which the lives of several Indians will be transformed forever! I am delighted that every single village of India now has access to electricity."
"Leisang village in Manipur, like the thousands of other villages across India has been powered and empowered!" he added. According to the government data, all the 597,464 census villages have been electrified across the country.
However, as per the government's 'electrified' villages definition – village electrification is a legacy issue which, though, mandates electrification of at least 10 percent households in a village, but does not imply restricting household electrification only to 10 percent. Now, India, the seventh largest economy, has already moved out of this dichotomy and marches towards its next goal of achieving universal household electrification in the country by December 31, 2018.
Moreover, India's efforts towards achieving the Sustainable Development Goals (SDGs) are also backed by the autonomous agency IEA as it also said in its report that access to electricity is accelerating due to strong policy commitments in India.
In India, access to electricity causes expansion of micro-enterprises that created new employment generation and income opportunities for the rural populace. According to the IEA, in India food production has jumped by around 35 percent since 2000, in part because of the introduction of more modern farming techniques, including the use of electric pumps for irrigation from ground water sources.
Here's another significant milestone that India hit on the back of rural electrification i.e. under the Solar Study Lamp Scheme, Government of India has been providing light to seven million school going children. Backing India's efforts, the IEA forecasted that, in Asian developing countries, the electrification rate increases from 89 percent in 2016 to 99 percent in 2030, bringing the population without access down from about 439 million in 2016 to 54 million in 2030. This achievement is largely the result of India's tremendous electrification effort, which sees 250 million people gain electricity access between now and the early 2020s, when it reaches full access.
Industry Analysis
Backing the renewable headway, the IEA in its World Energy Outlook projected a growth of renewable energy supply to 4,550 GW by 2040 globally.
The International Energy Agency (IEA) is an autonomous agency within the framework of the Organisation for the Economic Cooperation and Development (OECD), which works to ensure reliable, affordable and clean energy for its 30 member countries and beyond.
On the domestic front, world's seventh largest economy's power demand has been rising at a faster pace. In FY18, India's peak power demand already reached 164.07 GW. It is estimated that it will require an additional power supply capacity of 295 GW by 2021- 22, 450 GW by 2,034 and 690 GW by 2035- 36 respectively. Besides, according to the projection of National Institute of Wind Energy (NIWE), Asia's third largest economy has a solar potential of about 750 GW assuming 3 percent wasteland is made available.
Further, there exists a significant potential from decentralized distributed applications for meeting hot water requirement for residential, commercial and industrial sector via solar energy. However, the total solar energy potential in India likely to be 748.98 GWp, whereas in state-wise solar potential estimation Rajasthan will be on top followed by Jammu & Kashmir, Maharashtra and Madhya Pradesh with 142.31 GWp, 111.05 GWp, 64.32 GWp and 61.66 GWp respectively, according to an assessment by the National Institute of Solar Energy (NISE).
According to the IBEF latest report, solar installation in the country likely to rise 360 percent by 2020 and both solar and wind energy sectors in India are expected to generate over 3 lakh jobs by 2022. Further, in order to meet the surging demand of trained manpower, a target of achieving 50,000 SuryaMitras of skilled manpower has been set in the solar sector by 2019-20.
Road Ahead
The dream of providing better climate and fresh air to our future generations can be fulfilled only through trimming the effects of global warming. In the current scenario, renewable energy has enough potential to leave significant footprints on the future of our planet 'Earth' and solar energy too has a bright future.
In order to achieve the targeted goals, Indian solar has to cross a long road ahead as still it is filled with hiccups and challenges. Some of the prevailing concerns are about India alone needs approx USD 125 billion between FY2018 and FY2022 to meet its 175 GW target of renewable energy.
In a move to increase the portion of solar power in the energy bucket, provide cheaper electricity and cut carbon emissions, concessional financing and less-risky funds will be required for solar projects. Also, a dedicated focus with deadlines and milestones is required to make it possible to measure its progress. Now, our green future depends on our willingness to how and what we can do in order to achieve our goals. In this scenario the words of Johann Wolfgang von Goethe, a famous German writer and statesman, will be evident, he rightly said that, 'Knowing is not enough; We must apply. Willing is not enough;We must do'!.