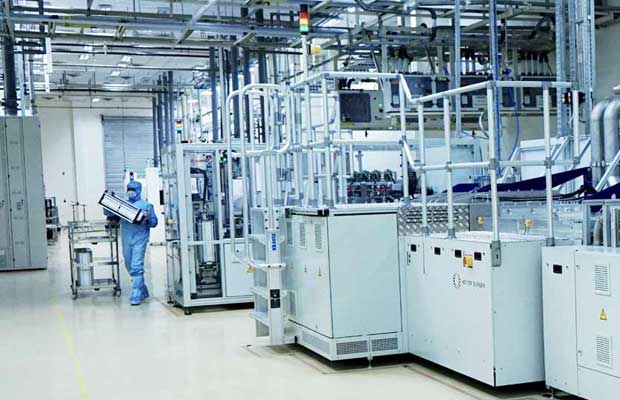 India's solar power capacity as on July, 31, 2017 crossed 13 GW mark with states of Andhra Pradesh, Rajasthan and Tamil Nadu emerging as the leading green energy producers. Within this short duration the country has marked for itself, several accolades in the renewable energy sector, catching the eye of global investors. Interestingly during FY17, India exported solar modules and cells worth $69 million and imported $3.2 billion. Compared to FY16, solar imports grew by 36 percent and exports declined by 60 percent. According to a report, the Ministry of New and Renewable Energy has started the second phase of its CPSU program to provide installation capacity totaling 7.5 GW of solar projects made using domestically manufactured solar cells and modules.
The ministry has outlined plans to support the domestic solar sector in the country wherever it can. However, with this whole slew of achievements, developments and announcements, an important question is raisedin the wake of pushing the solar generation capacity and the achievements of low tariffs, have we failed to efficiently support our domestic manufacturing? The anti-dumping suit filed by ISMA reflects the stress point of the domestic players. Amid the ongoing tiff between the domestic players and the ministry, we decided to visit the solar manufacturing unit of one of India's biggest player RenewSys to understand what makes locally produced panels and modules shine as opposed to Chinese competitors.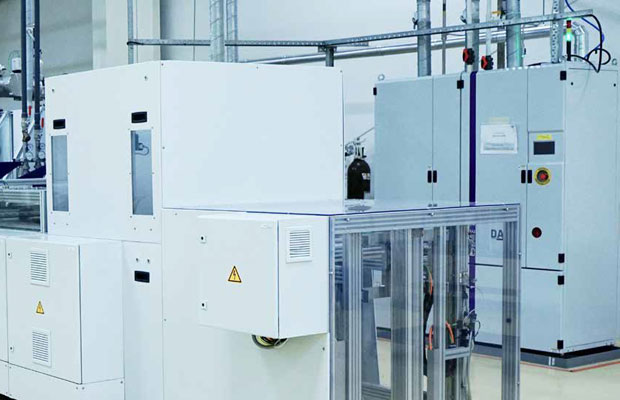 RenewSys is India's first and only integrated manufacturer of solar PV modules & three of its key components i.e. PV Solar Cells, Encapsulants and Backsheets. The company is the renewable energy solutions arm of the Enpee Group, which was established in 1961 and is a global conglomerate with a heritage of over 55 years of diverse manufacturing excellence and employs over 2500 professionals globally. RenewSys India started business in 2012 and has two state-ofthe-art manufacturing facilities strategically located at Bengaluru and Hyderabad.
Our visit to RenewSys manufacturing facility in Hyderabad started from Rajiv Gandhi International Airport at 6:30 am in the morning. Google map on my handset showed that the distance between the airport and our destination is almost 16 km and will take 30 minutes to reach there. Initially it looked boring for us, however, the scenic beauty and pleasant early morning weather on our way to the destination made me pull out my DSLR. What was even more attractive was the gigantic and well-planned manufacturing facility of the company located in the lap of Mother Nature. As we entered the manufacturing unit, a huge solar power plant of approx. 1 MW and the fascinating interior of the facility that is spread across 50 acres openheartedly welcomed us. Without wasting a minute we moved to Managing Director- Avinash Hiranandani's office to meet him and know more about the company.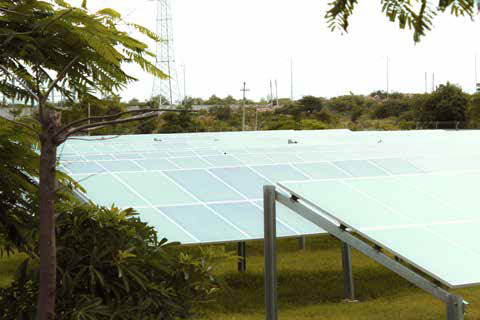 The soft-spoken gentleman in his blue formals with a smile on his face greeted us in his office; probably it is his smiling face that made the interaction more casual and open! During the interaction, Avinash said, "an 'ISO 9001:2015' & 'OHSAS 18001:2007' certified company, RenewSys is committed to providing innovative & technology driven solutions. RenewSys recently also earned the distinction of becoming India's first and only manufacturer of 5BB solar PV cells. The company's growth is fuelled by a unique combination of agile strategy, a dedicated and skilled team and a continual review and upgrade of systems, processes and products."
In between our conversation we were served with traditional Hyderabadi breakfast and cappuccino, probably Avinash could sense we were famished. However, after a short chit-chat we continued to feed our mind with answers to the questions that we came with. Replying to our next question Avinash said,"to keep pace with the challenging and swiftly changing solar PV landscape and fulfil the highest standards of quality, reliable PV material; we leverage our in-house talent, state of the art European machinery and well equipped R&D labs. These add value to the components we manufacture – whether it is Encapsulants, Backsheets or Solar PV cells; that enable them to exceed expectations and help our modules perform optimally on-field. The assurance that comes from the performance of our modules and components is growing our customer base steadily and helps us contribute towards the 'Make in India' vision that the government has been advocating." He added, "thus we are scaling up sustainably as we quickly imbibe new technology and respond effectively to shifts in demand, ensuring that we are partners in the truest sense for all our customers."
After spending an hour at his office we decided to take a walk of the company's manufacturing unit to know in detail about the RenewSys' cell and module manufacturing process, production of 5BB cells and steps taken to ensure the quality of the products.
Let me tell you one thing, before entering the cell manufacturing unit we had to slip into the industry suit and mask and believe me after wearing that even if you know someone for ages you can't identify him/ her. As soon as you slip into the suit you have to move to a chamber where a wind is blown to clear the entire dust particle before you step into the unit.
RenewSys owns state of the art cell manufacturing lines that combine the best European machinery and technology housed in an ultra-modern clean room facility. Speaking about the company's cell manufacturing unit Avinash said our cells under the brand name RESERV are made available worldwide.
The company's current cell manufacturing capacity is 130MW and its newly acquired lines are operating at full capacity and have been commissioned successfully to manufacture cells with high efficiencies at a competitive price.
Talking about the 5BB cells, he said, "increasing the number of Bus Bars (BBs) in a photovoltaic cell lowers the series resistance and thus increases the current. Eventually, the PV cell power increases, which improves the overall module performance. Apart from the advanced technologies such as PERC, PERT and IBC, increasing the number of Bus Bars, is an attractive technology development to produce solar panels with higher efficiency." Adding further Avinash said, "these are just a few of the advantages of having an in house innovation lab and stringent quality parameters and tests to ensure consistent quality. We manufacture PID resistant cells and hold the distinction of being the only manufacturer to measure PID resistance at the solar PV cell level in India. We house this machinery in a clean room, with a completely automated binning process, ensuring that potential damage to the wafers and cells through the process is minimized."
RenewSys manufactures a range of reliable, competitively priced, certified modules complying with IEC standards under the brand name 'DESERV'. Our next stop after visiting the cell manufacturing unit was the modules.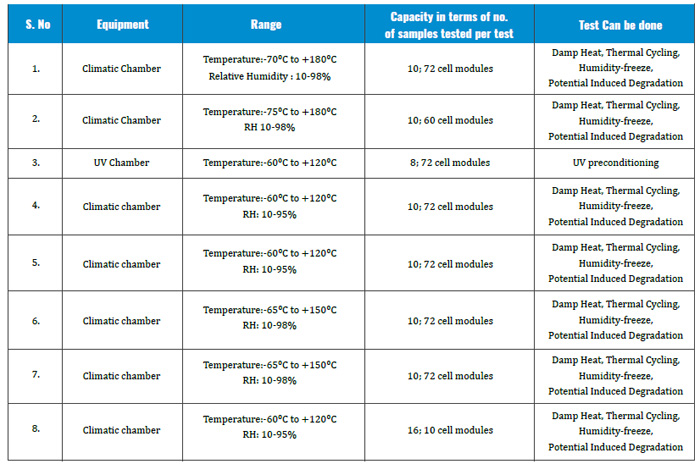 On querying about the company's manufacturing process of best in class modules and steps taken to ensure the quality, Avinash said, "our modules are designed to deliver optimal performance in adverse conditions and are fortified with PID resistant cells and Encapsulants and Backsheets. In fact, we only use Encapsulant and Backsheet that have been manufactured in-house at our Bangalore division for all our modules; this further enhances the performance of our modules." He added, "our current module capacity is 250 MW and the modules produced suit applications from small home lighting requirements to utility scale mega power plants. The PV modules come in configurations of 36 Cells, 48 Cells, 60 Cells and 72 cells."
While walking through the huge manufacturing plant Avinash said, "we are in the process of expanding our capacity and additional module lines with the latest European technology. This will take our capacity up to approximately 350 MW." He further stated, "our module manufacturing process is completely automated and we perform rigorous and thorough in-house testing of the modules manufactured for compliance with IEC standards. We are able to ensure quality modules that generate more electricity i.e. have higher efficiency due to the use of only A+ grade cells and ensuring that all modules have positive power tolerance. Apart from a wide range of standard modules, we also produce the 'Prime' and 'X-Prime' Series of modules designed specially to suit applications like pumping due to their voltage output. These modules have been appreciated by small business owners worldwide."
RenewSys recently launched two specially designed modules, a 355 Wp module that is currently under certification made with standard mono cells and a 340 Wp module made with multi-crystalline Si cells that the company feel will grow in demand going forward.
Avinash said, "when setting up our module manufacturing process, we leveraged a combination of the feedback and insights we collected from the market and our partners, a detailed third party study conducted on the performance of modules in various climate zones in the Indian Subcontinent and the experience and expertise of our specialized in house R&D teams." Talking about the module performance he said, "these findings and our dialogue with industry partners globally helped guide us in selecting technology and in formulating processes to ensure that our modules perform reliably and exceed expectations." He said, "that our in-house R&D team has also worked on specialized designs and customizations to help incorporate solar PV panels in various projects efficiently. One such recent example that comes to mind was the design of vertical modules for a solar street lighting project where we customised the modules to vertically fit the pole and the modules were the same size as the pole. With modules another significant aspect that has an impact on the life and performance of the module is the post production care. RenewSys ensures that all our modules pass the three stage laminator process. This prevents the module temperature, post lamination, from dropping suddenly and thereby prevents the formation of micro cracks. We have also invested in an automated humidity chamber that among other aspects ensures that the module 'cures' in-line and has brought down the curing time per module from eight hours to four hours. The automated binning system sorts out modules with positive power tolerance and these are then packed and stored at the company's automated stacking facility. This facility is the largest of its kind in India and has paved the way for seamless raw material and finished goods handling and storing at RenewSys' Hyderabad manufacturing facility."
After spending hours at the huge manufacturing unit and witnessing one of the largest manufacturing process one thing immediately popped up in our mind was "how the company ensures that everything goes as per the promise they make to their customers of delivering quality modules." However, Avinash looked quite composed and all set to answer our questions. He took us to show the company's R&D setup, RenewSys has unparalleled in house R&D facilities in India at both its manufacturing plants – Hyderabad and Bengaluru. While the facility at Bengaluru specialises in polymer research and testing, the R&D lab at Hyderabad specialises in cell and module testing. He said, "for modules, we have a comprehensive module testing facility – an in house 'Reliability Lab' – a one of its kind facility that is at par with global third party certifying labs and is capable of testing modules in climatic and environmental conditions up to 2- 2.5 times those required for international certifications. It consists of 7 climate chambers and is managed by a talented, diligent R&D team," said Avinash. He further detailed that, "RenewSys carries out comprehensive tests on their modules routinely to ensure that all our manufacturing systems and processes are exceeding performance expectations and delivering quality modules.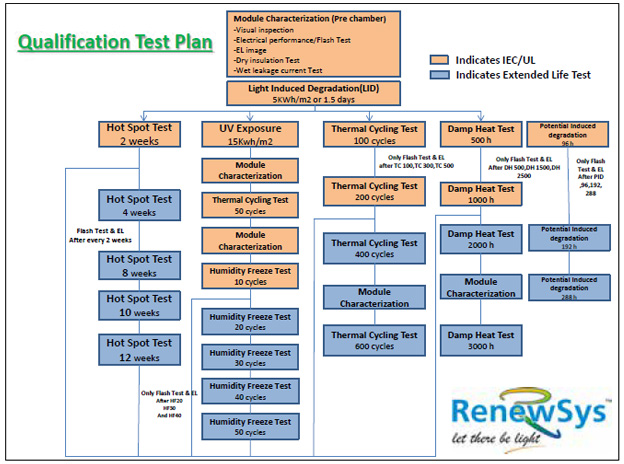 Additionally, we leverage our expertise in component manufacturing and develop Encapsulants and Backsheets to suit the demands of varied climatic and geographical in field conditions. These are then incorporated into our modules and are tested in both our Reliability Testing labs as well as in our own solar power plants located within the premises of our manufacturing facilities. RenewSys has just commissioned a state of the art German module line and have a European cell line that is delivering cells with efficiencies at par with global standards. Its manufacturing systems and processes creates the symphony between the best in class machinery and robust talent pool. These help the company ensure that it delivers quality and reliable products consistently. This ability to respond swiftly is further compounded by the access to a well-equipped R&D infrastructure and talent pool in house at both the manufacturing facilities."
From R&D our next stop was the huge stacking facility where the packed modules are stored. As mentioned earlier this is the largest of its kind in the country and has paved the way for seamless raw material and finished goods handling and storing at the facility. Usage of technology has undoubtedly improved the efficiency of the material handling. The company uses robots, automated guided vehicles, and automated storage and retrieval systems in materials handling in the facility. The automated storage and retrieval systems help the company to stack the packed solar PV modules in a rack at a height of 5 storeys. The ABC classification system makes it easy for the company to identify the stacked modules. It is worth noting that each rack can be moved individually or together to make the space in the stacking facility. It was already 2:30pm and we were seriously starving, so we decided to move to the canteen in RenewSys campus to treat our tummy. We understand that you may not be interested to know what we had in lunch, but I couldn't resist sharing that mouthwatering hyderabadi biryani is seriously awesome with the curry they serve.
As we couldn't cover the whole facility in a day, we decided to know more over the lunch. After some chit-chat we asked about the distribution, replying to which Avinash said, "RenewSys is part of the Enpee Group, it is engaged in areas like Metal and Flexible Packaging, Soaps and Chemicals, Industrial Flooring, Electrical Cables and Roofing Sheets, among others, along with Renewable Energy. This heritage of manufacturing excellence coupled with the a global network of offices in India, Mauritius, Nigeria, South Africa, Singapore, UAE, UK and representative offices in USA and countries across Europe and an evolving distributor network ensures that RenewSys is able to reach out to and provide timely, quality Solar PV material globally." He said, "the Solar PV market is dynamic and maintaining a just-in-time inventory is crucial to our survival and profitability as a business. We ensure that we keep check of the pulse of the market and this helps us better forecast our inventory and customise our offerings, at times even pre-empting market trends. This helps us respond swiftly to market demands building customer confidence in our offerings."
RenewSys also participates in global events that provide an excellent platform for networking and building new alliances and to benchmark our products and services. Adding further Avinash stated, "we believe in providing value-addition to our partners across board and facilitate this by sharing the insights and understanding that we collect/ receive from our R&D and 'Reliability Testing' teams. This keeps channels for two way dialogue open and helps us respond to and serve our partners better. Locally, our modules are available across India regardless of order size. We also have a robust pipeline for exports of modules and its components i.e. Encapsulants (EVA & POE), Backsheets and Solar PV Cells. Our team services sales requests for modules to quality conscious customers in India & globally and is not limited by geography," said Avinash. He added, "for smaller projects like rooftop installations for homes we have the added facility of a support network of system integrators along with a strong partner for distributing our panels across India."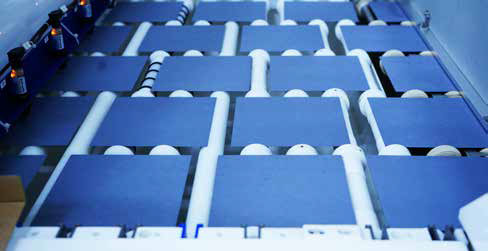 Soon after ending up our lunch we moved to Avinash's office to continue with our questions, RenewSys is undoubtedly home to leading talent and experienced professionals both from within the Solar Industry and without. This provides the company with unique access to ideas and learning from across the board. Upon asking the workforce strength Avinash Hiranandani said, "we currently have a strength of over 800 professionals across India and what sets our team apart is the guiding values of the Enpee Group that lend character and direction to our team. "
When asked about the expectation from the government, he said, "considering the rate at which Indian domestic solar manufacturing installed capacities are expanding, some protective measures from the government will be much appreciated and will provide Indian manufacturers with an opportunity to become globally competitive within a span of 4 to 5 years. Much like other countries, who have implemented protective mea-sures for safeguarding their markets, India will see a rush in locally manufactured goods as well, should the government choose to announce the same. This move will only strengthen the Government's 'Make in India' initiative. He stated further if this happens, module manufacturing and consequently, the manufacturing of module components will see significant growth. Currently a lot of the raw materials required for modules and its component manufacturing is largely unavailable in India. This impacts the competitive pricing of modules as the solar industry is very cost sensitive. An impetus and support to local players at all levels will definitely help."
Before leaving for Delhi after a long day visit at the RenewSys office and having awesome food, we had a final question for Avinash, he looked as fresh as we met him in the morning. With broad smile on his face he was all set for the final googly from us. Answering our final question about the EVA and Backsheet Manufacturing, Market and opportunities, Avinash said, "the Encapsulant (EVA/ POE) and Backsheet are critical components of a solar panel. RenewSys manufactures these at their Bengaluru facility as per international standards, using top of the line European equipment. We apply the same rigour and quality parameters to our Encapsulant and Backsheet production as we do to our best in class modules. We have a state of the art 'R&D Lab' and 'Reliability Testing Lab' for Encapsulants and Backsheets at our Bangalore Facility.
It is the quality and performance of these products that has helped us enter the competitive global market for Encapsulants and Backsheets and grow our customer base in the Middle East, Europe, USA, etc." said Avinash.
RenewSys holds the distinction of being the only manufacturer of POE in India. The special formulation of the company's POE suits its use in Glass –to- Glass modules, due to its anti-thermal creeping property. The company also provides advanced level of customizations for its Encapsulants and Backsheets to suit modules of different varieties.
After long and knowledgeable conversation, it was time for us to say goodbye. However, as Socrates said "to know, is to know that you know nothing. That is the meaning of true knowledge,"so we promised Avinash Hiranandani, to come back again and share more his experience and knowledge with our readers.