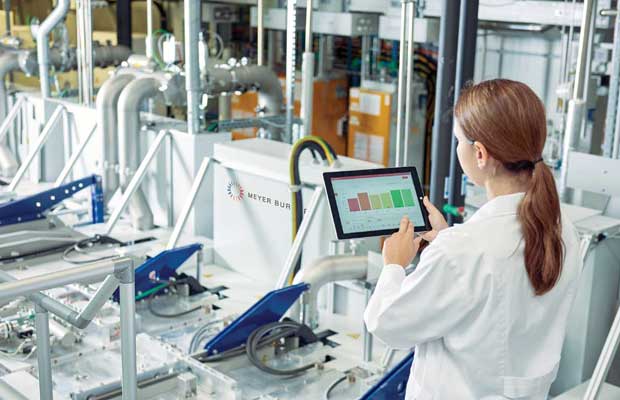 While more solar modules are being installed and the Indian photovoltaic market is growing noticeably, the vast majority of all solar modules, especially solar cells, are still imported from China.
Other countries around the world also source their solar modules in China but there seems to be a shift in thinking. In view of the various trade disputes and the opportunity to cover the high installation demand with solar modules directly on site, photovoltaic production outside China is becoming more interesting again.
In addition to lower transport costs and the independence from trade tariffs, the expansion of regional production opens up the opportunity to overtake the top dog from China in technological terms as well. Heterojunction technology (HJT) is the only technology suitable for completely new production sites that immediately enables solar modules with significantly higher performance than all currently available Chinese modules.
PERC (Passivated Emitter Rear Cell) technology has become the standard in recent years and now dominates solar cell production in China. Gigawatt-scale production capacity cannot be easily replaced by new high-efficiency technologies such as HJT, which require completely different production processes and equipment.
Due to lack of competition outside China and great reluctance of potential investors with regard to heterojunction technology in recent years, PV producers in China have consistently decided to upgrade their existing production capacities with PERC.
PERC is based on a redesign of the back of cells that improves the capture of light falling on the surface compared to standard technologies. This is made possible by applying a dielectric layer made of aluminum oxide (AlOx) to the back of cells that reflects the light passing through it without being converted into light. The reflected light thus gets a second chance. Besides, passivation layers and antireflection layers out of silicon nitride (SiNx) are applied.
As a result, solar cells achieve higher efficiencies and the Levelized Cost of Electricity (LCOE) becomes more competitive.
For the manufacturing of PERC cells, Swiss equipment supplier Meyer Burger developed patented PERC processes and offered production equipment that ideally complement any cell production and enable customers to become manufacturers of highly efficient PERC cells. After market introduction of the PERC technology around five years ago and first installations, interest increased sharply. Standard technologies have been lifted to the next level of efficiency and Chinese manufacturers supply PERC modules as the new standard.
However, the market situation is changing rapidly. More and more companies outside China are interested in heterojunction technology and the construction of own cell and module production facilities due to emerging regional photovoltaics markets.
They do not only think of the PERC technology. With REC, the largest non-Chinese PV producer has already committed itself to heterojunction technology and is currently setting up the world's largest HJT production in Singapore. With the REC "Alpha", a 60-cell module has already been introduced as the first product that, with 380 W, clearly outperforms all comparable currently available photovoltaic modules.
Producers in China can't react to this because they are forced to use their established PERC production capacity before a new investment in high-efficiency technologies becomes possible. In December 2018, Meyer Burger announced the sale of HJT production lines with a capacity of 600 MW to a non-Chinese company. It is now known as REC.
Meyer Burger is currently the only company that can offer a complete HJT production line including equipment and technology transfer. And, the construction of the production facilities is going so well that the first production line will go into operation less than a year after the order is placed. REC has already announced a significant expansion of capacity. The production of modules with heterojunction cells would also make sense in India. New producers should focus only on high-efficiency technology. This would immediately give them a clear advantage over Chinese competitors with their product.
But what happens to the existing factories that still produce solar cells with the old BSF standard (Back Surface Field)? These do not need to be closed at all. Even if the production capacity is not close to that of the Chinese super-factories, it would make sense for companies like Tata or Adani to upgrade their existing production to PERC technology.
Meyer Burger offers today highly versatile customizable PERC solutions at lowest CAPEX and OPEX. These solutions include manufacturing, installing and servicing equipment qualified for PERx, p- and n-type cell concepts, mono- and multi-crystalline wafers and both mono- and bifacial cells and enable a fast and reliable upgrade of existing production lines.
Meyer Burger's modular PERx cell coating equipment platform is tailored to meet customers' requirements and was the key factor to establish PERC technology in solar cell production. Integrated tools simplify cell production complexity through full process automation.
The tools maximize overall machine up-time and provide a profitable investment for manufacturing highly efficient solar cells. Versatile deposition layers and adaptable numbers of plasma sources enable customized layer thickness.
FABiA® 6.1 is the latest tool in Meyer Burger's PERC portfolio. It combines the proven advantages of industry-leading SiNA® and MAiA® platforms. The FABiA® system is the only available equipment which integrates all three passivation processes for PERC in one tool.
With a throughput of 6,350 cells per hours and a minimal footprint, FABiA® 6.1 ensures lowest overall production costs and a high return on investment. Only 4 FABiA® 6.1 tools with a total floor space of 871m² are required to achieve a production capacity of 1 GW. Alternative technologies such as ALD require at least twice the floor space with higher operating costs at the same time.
In addition, FABiA® is a future-proof system for the upcoming TOPCon upgrade. Current developments in PERC technology continue to focus on Tunnel Oxide Passivated Contact (TOPCon) technology, because the possibilities offered by the technology have largely been exhausted.
With the so-called passivated contacts technology (TOPCon, monoPoly®) there is a possibility of optimizing existing production lines in such a way as to reduce the transfer resistance within the silicon cell boost the efficiency of solar cells to more than 23 percent.
Meyer Burger has therefore developed the CAiA® Lab tool with a view to industrializing TOPCon technology for large-scale production. The compact system enables solar cell manufacturers to qualify the TOPCon process for series production. The process itself differs from the PERC process only in respect of a few modifications.
The CAiA® Lab tool covers two stages of the TOPCon process. First, an ultra-thin tunnel oxide is deposited. This is followed by doped silicon. The equipment is extremely compact and it can be integrated into existing production lines in order to test and adjust the TOPCon process in an industrial environment and to qualify it for large-scale production in the production environment concerned. Solar cell manufacturers can thus familiarize themselves with the process and customize it very quickly.
The TOPCon process developed by Meyer Burger and SERIS and designated monoPolyTM utilizes PECVD deposition processes. In contrast to the competing LPCVD process, significantly fewer modifications to the systems and process sequences are called for. Here, the decisive factor is also the facility to replicate two processes (ultra-thin tunnel oxide + doped silicon) within one CAiA® equipment. A major advantage is the single-sided coating, whereby no wrap-around effects occur when applying the silicon layer and no additional protective layers need to be applied to the opposing side of the solar cell beforehand.
The next evolutionary step TOPCon will deliver also a positive economic impact for the PV market. The efficiency increase in "standard solar cells" brings with it an increase in the energy yield at the module level.
With the TOPCon technology, cell manufacturers can differentiate themselves from the competition through modest production changes because it enables them to make a higher quality product compared to the PERC cells that have become the standard.
But there are also new developments in the interconnection of solar cells that bring further advantages to conventional production without great effort. The SmartWire Connection Technology (SWCTTM), also provided by Meyer Burger, replaces conventional busbar connection technologies and promises a higher energy yield and lower production costs.
Although Meyer Burger has been able to sell SWCTTM production capacity in excess of 1 GW, Chinese manufacturers are still showing little interest, as in recent years they have already invested heavily in the differentiation o f b u s b a r technologies (2, 3, 4 and 5 busbars). The compact SmartWire stringer ("Ibex") not only save floor space and personnel, but also require significantly less silver when connecting the cells.
Instead of busbars printed with silver paste, a foil with thin wires is applied to the solar cell to connect the fine printed fingers. This reduces silver consumption during printing, increases the energy yield and makes the cell less prone to microcracks.
Interestingly, the conductivity requirements for the thin fingers are lower with SWCTTM than with a conventional connection technology. Thus, a resistance of 10 Ω/cm can be combined with SWCTTM, with no appreciable loss of performance.
The smaller the distance between two fingers, the lower the influence of performance losses in the fingers. Compared to PERC cell modules with 3 busbars PERC modules with SmartWire connection reach around 2 percent higher module power output with up to 65 percent less silver consumption at the same time.
While Chinese manufacturers have to change their production lines again for TOPCon process and SWCTTM integration, Indian companies have the opportunity to upgrade their plants from standard BSF with busbar connection to PERC and TOPCon with SmartWire Connection Technology in one step.
That will bring economical and technological advantages as well. Against the background of possible further customs burdens on Chinese modules, modernised Indian production would definitely be competitive again and in a position to supply solar modules to new photovoltaics projects in the country directly.