Just like every other industry, the solar photovoltaic energy sector stands to benefit from digitalization significantly. More so, when sustainability concerns are compelling business to turn towards renewable sources and keep pace with the growing energy demands of the world.
Emerging technologies such as the Internet of Things, Cloud Computing, and Data Analytics are enabling energy companies to build smart grids, better manage energy generation, distribution and consumption, and reduce wastage. Digitalization is probably the greatest empowering agent of that change, allowing energy companies to remotely monitor assets, unearth insights, and improve operational performance from a service and maintenance perspective.
In this article, we talk about the importance of digitalization and analytics and how ApolloTM – an energy analytics solution is designed to solve business critical and complex problems in the Solar Space using patented digital twin technology and advanced performance and health insights.
Why digitalization is necessary
With the world's fossil fuels quickly depleting, economies across the globe are turning towards renewable sources such as solar photovoltaic energy – not just to meet the growing energy needs but also to eliminate greenhouse gas emissions and move to clean energy production. With the sun giving off far more energy to power every device on earth, it is imperative for energy companies to turn towards the digitalization of the solar photovoltaic energy industry and get maximum returns from their investment.
Application of new-age digital technology such as cloud computing, IoT, big data analytics, and blockchain to solar photovoltaic energy can not only help democratize but also decentralize energy supply. These capabilities can help energy companies build competitive advantage while capitalizing on the vast potential of new digital technology to increase deployment.
Digitalization and adoption of cutting-edge tools and technologies can enable companies to:
Build smart grids while increasing self-consumption rates, optimizing grid feed-in, and increasing the profitability of solar installations. According to reports, the global smart grid market is expected to reach $14.33 billion by 2022.
Become agile at managing production better, resulting in improvements in distribution, management, as well as end-user consumption as a result.
Leverage the power of data analytics to monitor solar grids proactively and identify and resolve issues before they impact production. It is estimated that the big data analytics market in the energy sector is expected to grow at a CAGR of 10.22%, during the forecast period, 2020-2025.
Accurately forecast energy demand and optimize generation while paving the way for more efficient and reliable production and reducing wastage.
Enable smart metering for quicker and more accurate billing and pave the way for better insight into energy consumption. It was estimated that by 2020, the EU Member States plan to roll out close to 200 million smart meters at a total potential investment of $50 billion.
Reduce the time and cost spent on the installation of grids by using satellite mapping and remote design software.
Decrease payback time on solar installations and encourage faster and more widespread solar production using blockchain technology. Reports suggest blockchain in the energy market will reach $3 billion by 2025.
Reduce the cost of solar electricity by increasing the capacity utilization and using latest storage technologies. A TERI study found that the cost of solar power will fall to Rs 1.9 per unit in India by 2030!
Why analytics is important
When it comes to digitalization, next-gen data analytics solutions can play a massive role in improving solar photovoltaic power plant operations and performance.
Using a data-driven approach, these solutions can solve complex business problems and improve system efficiency – with the promise of building a sustainable future. Using modern machine learning, AI, and digital twin technology, organizations can conduct efficient solar energy monitoring and analysis and benefit from valuable insights for decision-making.
With the advent of analytics, Helios IoT Systems Pvt. Ltd. has developed ApolloTM – an energy analytics solution for the Solar Industry. Apollo™ is a suite of enterprise applications specifically designed to generate actionable closed loop insights for the renewable energy industry. The applications enable all the eco-system's stakeholders to improve productivity in the O&M & asset management empowered by our patented digital twin technology & industry leading IoT technology to solve business critical and complex problems.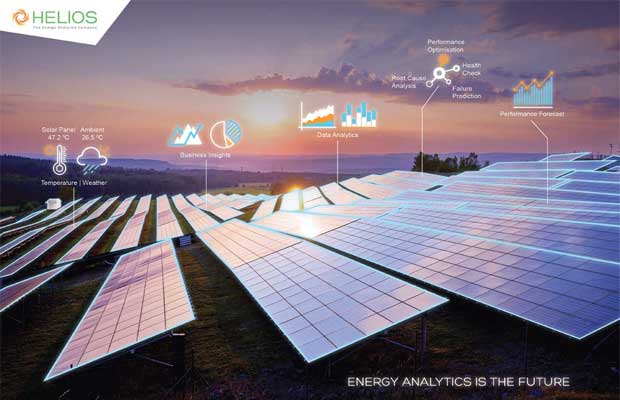 Features of ApolloTM are:
Easily keep a stock of latest operating components post commissioning of the plant and their SLA's. This helps the stakeholders identify ageing assets which are closing on their warranty period and replace them with new ones.
Carry out end-to-end Portfolio Management by keeping track of operations of multiple plants across locations and receive high-level performance, financials, and environmental KPIs.
Conduct Health Analysis of solar grids and get insight into asset health, key health indicators, and OEM device efficiency degradation and cognitive age.
Enable efficient Forecasting of demand by predicting power requirements while analyzing deviations and correcting them in time.
Carry out machine learning-based Predictive Maintenance and asset health degradation assessment and optimizing the soiling levels.
Get real-time Operation Insights about plant performance, system energy losses, and analyze actual vs. designed performance benchmarks.
Enable Event Management by receiving real-time key events and updates and receive operational, financial, and environmental insights to optimize plant operations and power generation and reduce revenue loss.
Conduct Energy Loss Analysis, and benchmark it against predicted and designed losses.
Enable Smart Metering using IoT for automatic meter reading, invoicing, and receivables. Companies can also enable automated component replacement and its inventory management because the ageing plants undergo through engineering re-design.
Enable Failure Analysis using real-time failure notifications and conduct root cause analysis to build workarounds.
Keep pace with energy demands
With the energy sector struggling to achieve transparency into plant asset health and performance, digitalization can make better use of existing grid infrastructure, reduce the need for back-up capacity, and drastically reduce reliance on renewable sources of energy. It can enable companies to make decisions based on hard evidence while being prepared for asset downtime and missed SLAs. In addition, it can more easily connect digital assets, provide real-time visibility into asset performance, and optimize asset utilization. In reality, the more digital technology is integrated into a solar photovoltaic grid, the more easily the energy demands of the world can be met.
Apollo™ is an energy analytics solution company in India completely owned by Helios IoT Systems – an Energy Analytics Software Solution Company. Helios is a subsidiary of Pratiti Technologies – an innovative Outsourced Product Development Company. Helios has been co-founded by four experienced executives from energy and software industry. Helios IoT is a part of START-UP India program since Jan 2018.