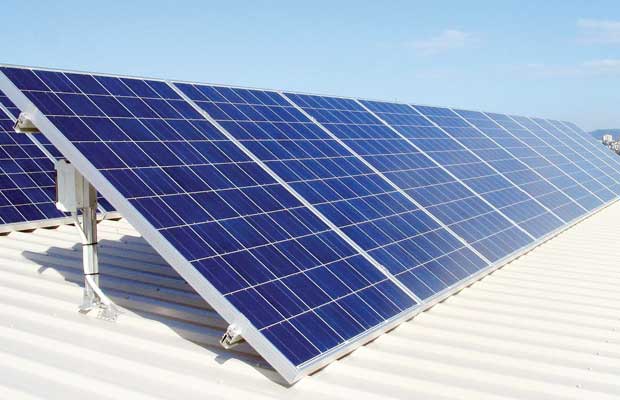 India is on its way to phase out fossil-based energy generation and adopt green energy. The growing population and the need for energy align with India's transition initiatives, thus satisfying energy demands and in the process reducing the carbon footprint. The country's per capita energy consumption currently stands close to one-third of the world's average. In recent years, solar energy in the emerging markets has been phenomenal and India stands as the third largest solar power in the world in terms of solar power installations, making it all set to be a global leader in solar energy.
Despite pro-solar policies, among the total installed solar capacity of 30GW, rooftop accounts for 4GW, and the overall growth in the sector has been sluggish. There is no doubt that the pace of installations in India has to be accelerated exponentially to get to the target of 40GW set by the Government of India.
Roadblocks
Though there are evident roadblocks particularly in the rooftop segment, the potential is much higher than the said target, hence a possible push can start the momentum of the segment again. Firstly, local Discoms have given a lukewarm response to solar rooftops, stalling many Power Purchase Agreements (PPA) that have been signed but not executed, owing to the fear that it could hurt their finances, especially in the wake of falling tariffs post-signing of the PPA's. Declining cost and increased deployment of rooftop solar at the global level have raised questions about its financial impact on utilities and its increasing proliferation in India may pose operational and commercial challenges for Discoms.
They have also expressed fear of grid protections, quality of power and maintenance as more reasons. Large scale adoption of consumers to rooftop solar may imply a decrease in the sale of electricity by Discoms resulting in revenue loss. Discoms's high paying C&I (Commercial & Industrial) consumers switching to rooftop solar may affect the bills paid by them to the Discoms to a highly subsidized category. These implications may only increase the burden on the Discoms which are already reeling under severe financial stress. It is therefore important to keep in mind and factor these realities into account to expect the steady growth of solar rooftop projects. While there have been proactive in spreading awareness and announcing goals& subsidies regarding solar projects, the ground realities are quite different.
The deployment of solar in the residential segment is sluggish because of significant upfront costs, unavailability of space, roof ownerships, the feasibility of installation, etc. The factors seem to be overpowering the inherent positive aspects of rooftop solar, like saving on electricity bills, zero fuel cost and environmental benefits.
In addition, the government's support on robust regulatory and policy framework, which includes a remunerative netmetering policy to encourage the growth of residential off-grid capacity, must be introduced. That will go a long way in ensuring a smooth roadmap for rooftop solar installations. Getting clarity on net-metering policies is key to the widespread adoption of rooftop solar across verticals in the country.
Way Forward
To push rooftop growth, the Cabinet Committee on Economic Affairs recently approved Phase-II of the Grid Connected Rooftop Solar Programme to achieve the target of 40,000 MW by the year 2022. The programme will be implemented with central financial assistance of Rs 11,814 crore.
In addition, Phase-II Programme Central Financial Assistance (CFA) will provide financial support of 40% for rooftop systems up to 3 kW and 20% for beyond 3 kW and up to 10 kW. This initiative is commendable and essential at this stage to give that much-needed momentum which is lacking in the industry.
The programme deals with the challenges hindering the large-scale interest of rooftop solar, i.e. by incentivizing the Discoms, one can easily gain their support which in turn will encourage greater participation from consumers to shift to rooftop solar.
However, this can be known only if implemented in the right direction with all its foundation and policies in place. Consequently, the need for clear, credible information about rooftop solar PV that can be easily comprehended by the end-user should be introduced along with awareness via mediums that reach the common man.
An information kit that comprises of basic information in layman's language on subjects such as how much area is required to generate a unit of electricity, who can they contact for after-sales services, important maintenance care kit, the difference between net and gross metering, installation time, household utilities and so on.
To encourage the uptake of loans in the sector, options for finance provided by banks should demand reasonable collateral security with reasonable interest rates (both standalone and top-up loan cases) which will not work as deterrents for the end-users.
The country is blessed with ample potential for the growth of solar energy, being strategically placed in the perfect geographical location, having 250-300 tropical sunny days. A big opportunity lies there and with a little push in a sustainable manner, this can help India achieve its 40GW target. Creating an ecosystem where everyone is involved and actively participating to make India a global leader in the space will be possible with innovative schemes and programmes.
The targets India has set are undoubtedly ambitious, but very much achievable. Looking at a solution from the consumer's perspective can help overcome problems better. For rooftop solar to be main stream in India, there is a dire need for awareness and ensuring clarity of basic information with ease of finance options for installation. India will shine brighter and better than now if the consumer-centric approach is adopted.