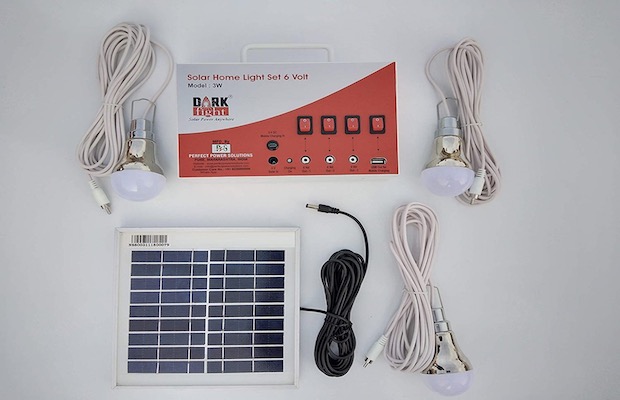 Product Brief: The Vicco star home lighting system comes with a 3 W solar panel, a 6-volt lead acid SMF battery box, 3 2W dc led bulb with 5-meter wire and a 7.5-volt ac adapter. The product is manufactured by perfect power solutions and is designed for multi-purpose uses like camping, emergency light, home decor, work, study, travel convenience.
Product Features: It features a solar charging battery backup 16 hours, a USB socket for mobile charging, 3 led lamps each with 5-meter wire & pins single lamp coverage area of 400 sq.ft. The 3 lamps have 3 separate sockets & 3 switches charging options.
Application: Home Lighting System
Product Benefits: The product comes all equipped as a full lighting system that can be used indoors and outside on the travel. The solar panel is capable of charging the battery with a battery backup said to be between 6-8 hours on every charge. The USB port is also capable of charging mobile phones and smaller devices which are USB compatible.
Availability: The product is available for purchase on Amazon.in for a retail price of Rs 3599 (Rs 2850 on discount)