Luxury travel goods company, Solgaard, has unveiled its latest sustainable innovation; the Lifepack Solar 2.0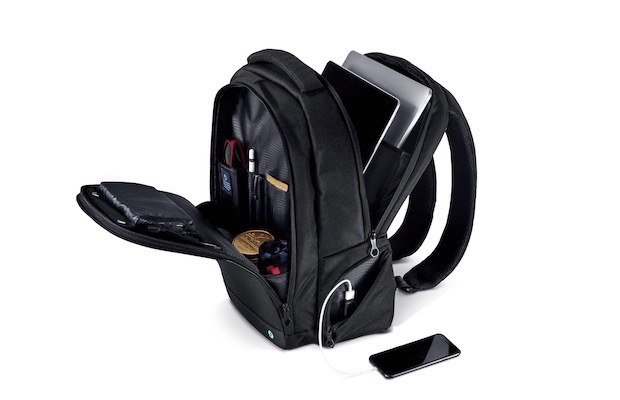 Offering security, functionality and practicality, the newly re-engineered Solgaard Lifepack Solar 2.0 is perfect for commuters and travellers alike. The launch comes three years of further trial, testing and technical insight following the launch of its predecessor, the original Solgaard Lifepack 1.0, which debuted on Kickstarter in 2016 raising over $1.2 million.
The next generation Solgaard solar powered and anti-theft backpack is now available on the company website. 
The new Lifepack Solar 2.0 is designed for flawless integration with the second series of Solgaard Solarbanks. Engineered to fit inside Solgaard backpacks and luggage accessories allowing for seamless operation and ease of use, the Solgaard Solarbank is now available in two variants:
Solarbank: A premium power bank with an integrated solar panel, which can be charged via USB or Solar, storing up to five phone charges. The solarbank features two USB Ports, a Micro USB, and a USB-C port allowing for charging of MacBooks and other laptops that support USB-C.
Solarbank Boombox: The latest upgraded 3-in-1 device featuring Bluetooth speakers, a power bank, and solar unit – storing up to five phone charges while allowing for 96 hours of bass-filled music playback when full. The Solarbank Boombox includes two USB ports and a Micro USB port to fully charge the unit from the wall.
Fully loaded with over twelve standout tech-driven features, the latest backpack includes an upgraded anti-theft lock allowing the backpack to be secured to any fixed object while also locking it shut, a suitcase mounting strap, four hidden zipper pockets for passports and credit cards, drop-proof laptop storage, a removable window cover designed to clip in to the front power bank window when a Solarbank is not in use, and a 'work-zone' and 'life-zone' interior compartment layout allowing for optimal organisation.
Echoing the company's mission to make great products that are good for the customer and good for the planet, the new backpack features a sustainable interior lining constructed from recycled plastic bottles. Furthermore, the company pulls 5 pounds of ocean-bound plastic for each item sold.
Pricing ranges from $165 (with Solarbank included) to $195 (with Solarbank Boombox included).