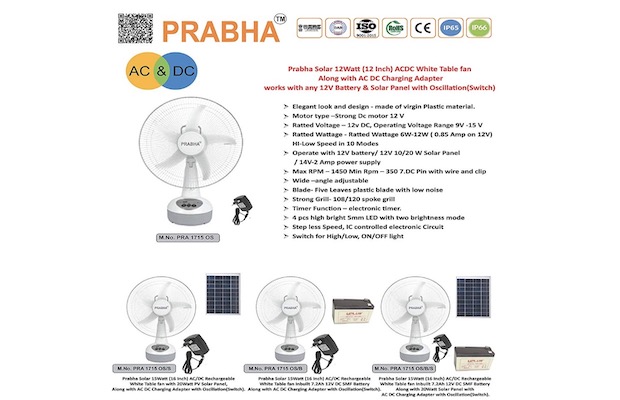 Product Brief: The Prabha Solar 15 W AC/DC rechargeable table fan solves the problem of bearing the heat when there is no electricity. The fan can be run on an AC source in its normal mode, but can also be powered using a battery backup system that the company retails separately.
Product Features: The 15 W table fan comes with an inbuilt LED light and both the. Fan and the light can be worked on a 12 V battery provided by the company. The setup also features an output port which can be used for charging USB based devices like mobile phones.
Application: Home Cooling System
Product Benefits: The product can work on a DC source like a battery. The company has, however, enabled the product to work on just any 12 V battery system. The system can also be powered using power generated by a solar panel which is available as an additional accessory from the company.
Availability: The product is available for purchase on Amazon.in for a retail price of Rs 2790 (3800 without discount)