Trina Solar Co Ltd, a leading provider of integrated photovoltaic (PV) modules and smart energy solutions, has won a contract from Noida-headquartered SunSource Energy to supply 105 MW of its new Vertex modules.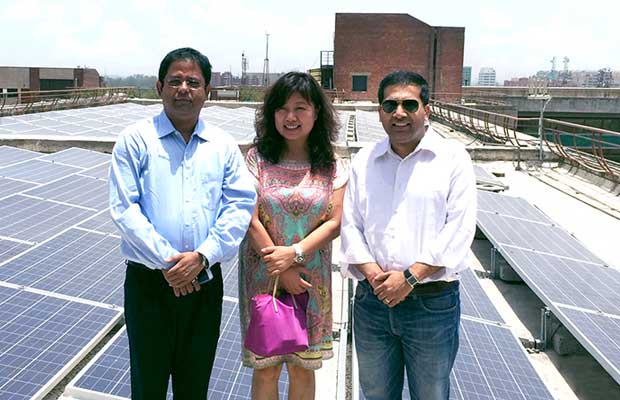 This is the first 100 MW plus contract in India for the company's Vertex bifacial modules, and it is likely to start the module shipment during the fourth quarter of 2020.
SunSource Energy is a leading provider of solar-based energy and storage solutions in India, South East Asia and emerging markets. These bifacial modules will be used by SunSource for its projects across multiple states in India.
Commenting on the order win, Helena Li, President of Trina Solar Asia Pacific, said that "this is the first 100MW plus contract in India for Trina Solar's new Vertex modules."
Li further added that "the fact that such a large order for Vertex modules has come from India says a lot about the demand for renewable energy in this market."
"In the India market, there has been a lot of interest and demand for the Vertex bifacial modules. Going forward, we foresee continuous strong demand for high power solar modules and the reason for this is the Indian market is highly competitive, and conscious of the product performance, BOS and LCOE," she said.
On the benefits of the new Vertex modules, Helena Li commented "everyone wants to achieve a better-levelized cost of energy (LCOE). The Vertex modules are higher power modules, which means you don't need to have as many modules to achieve the desired total power output for the project."
"This, in turn, reduces the balance of system (BOS) cost. Fewer modules equate to fewer mounting systems, less cabling, fewer junction boxes, fewer man-hours required for installation and less land required for the project," she further said.
Vertex is a new product, but it is based on proven technology, which is monocrystalline PERC cell, multi busbars, three-cut cell and dual-glass platform technology, commented Li.
Commenting on the deal, Adarsh Das, CEO and Co-Founder, SunSource Energy, said "at SunSource, we have always focused on upholding high quality and performance standards. Our longstanding partnership with Trina Solar has helped us to continually offer highly reliable power solutions built around solar energy. By combining Trina's solar technology leadership with our applications engineering, we hope to make a significant contribution towards augmenting renewables capacity in India and elsewhere."
"We were one of the first in India to deliver solar + storage and floating solar projects. Bifacial technology adds glass-on-glass durability to the highly proven mono-PERC with Trina's scale benefits and allows us to utilize reflected radiation. We believe this has the potential to be a game-changer, and we intend to use these modules for our projects across the country," said Kushagra Nandan, President and Co-Founder, SunSource Energy.
The Chinese module manufacturer claimed that it's new Vertex series of modules have a conversion efficiency rate of up to 21 percent and can deliver over 500W of power from the front surface, significantly more power than previous modules.
These modules are available in 2 versions i.e. mono-facial back sheet modules and bifacial double-glass modules which can also generate additional power from the backside of the module.