With an aim to further contribute towards India's e-mobility drive, utility giant Tata Power has entered into an agreement with Prakriti E-Mobility, an app-based electric vehicle (EV) cab operator, to set up fifty charging stations in Delhi NCR region.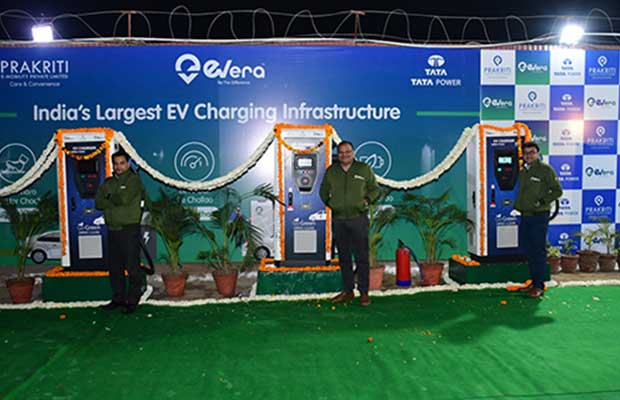 As per the deal signed, Tata Power will set up charging infrastructure in phased manner to support Prakriti's EV Taxi fleet of 'EVERA' Cabs.
Last month, Tata Group has unveiled its plan to create an e-mobility ecosystem, via group companies, to accelerate the adoption of EVs in India.
According to the agreement, the company will be responsible for designing, procurement, installation & management of all charging infrastructure at select locations across Delhi NCR.
Commenting on the partnership, Praveer Sinha, CEO and MD of Tata Power, said "EV charging is the future to ensure a cleaner tomorrow and we are happy to see that partners like Prakriti E-Mobility team share our vision."
During the first phase 5 EV chargers will be installed at Jasola, while the rest will be installed near Delhi Airport, Gurgaon and North Delhi progressively with the rise in Prakriti's EV fleet.
"This partnership with Tata Power is extremely important as it will help us tide over one of the major roadblocks towards adoption on Electric vehicles in India – the lack of sound charging infrastructure. We believe that this partnership will not only help in strengthening our plan of rolling out 5000 EV cabs within the next 2 years, but also give a huge boost to the overall EV environment in India," said Nimish Trivedi, Co-Founder & CEO, Prakriti E-Mobility.
Ramesh Subramanyam, CFO and President New Businesses, Tata Power, commented on the partnership, "we believe EV fleets have a huge role to play in providing greener, cleaner and healthier mobility solutions for our cities. Such partnerships would be key in our journey to be one stop integrated charging service provider to forms of transport and all categories of user."