In an occasional series on firms that are making an impact in the solar space, today we look at Sunport Power, a China based manufacturer, that has made a name for itself, not for sheer scale and size, but for its focus on technology led differentiation. The seven year old firm is interesting in many ways, as you will discover.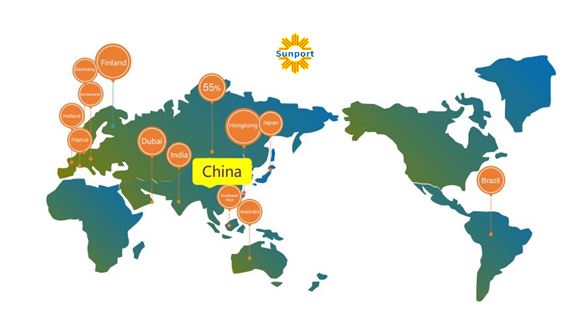 Located at Wuxi, China, Sunport Power exemplifies the new generation of Chinese manufacturers that have changed the template as far selling in China and globally goes.
Wuxi is an important economic city of Jiangsu province, which has become a sort of a hub for solar industry manufacturing in China. The province today hosts multiple solar suppliers, with a combination of enabling infrastructure and state level incentives, besides its own demand for solar installations.
So what makes  Sunport Power different?  For one, the firm was founded and continues to be led by a technocrat, Dr. Fengming Zhang, a leading solar scientist who continues to make time as a doctoral supervisor at Nanjing University.
Sunport doesn't sell its modules and cells on price. It sells them in the mid-range to premium end of the market, thanks to its focus on technology led differentiation. In Sunport's case, that has been its work with MWT, or Metal Wrap Through technology. MWT abandoned the traditional solder ribbon design, to create a conductive backsheet interconnection structure, avoiding welding stress and induced cell crack in long term. MWT is a well established innovation for the sector, to increase the conversion efficiency by reducing the BUSBAR-shaded area on the front side of the cell, with positive and negative electrodes on the same rear side.
Hence also the name MWT Rear Contact cells. For Sunport Power, its work on MWT led innovations has become its calling card for all markets and its product line. Or as Dr. Zhang asserts,  "MWT technology allows more efficient current collection from the front side of the cell through to the back of the module. As the result, MWT module provides higher power and better reliability, the efficiency ranges from 18% to 21%".
For Sunport Power, MWT led production innovations have enabled the firm to compete on both price and quality, opening up global markets for its products. That has seen its production capacity ramping up from  200 MW to 3GW in 2019, effectively in a 4 year period. Not only that, its 60 piece modules have moved to 350W size, while the 72 piece modules have risen to rated power capacity of 420W now. That makes the form well placed to seek markets across the world, something it has done aggressively in recent years, with marketing offices across Asia, Europe, and Australia and South America recently.
The firm claims that by linking its performance to the superior performance its modules and cells offer, it is aligned to the end customer deeply, linking its growth to the meeting of its promises, be it in terms of higher output, lower degradation, and of course, the extra 5 years warranty it offers, backed by PICC and Lloyds. Preparing it for the future is its near 200 odd patents, both domestic and foreign, which it hopes to help power its next stage of growth.