In an historic crossover, the yearly power generation from renewable energy is likely to surpass power generation from coal-based power plants for the first time in the United States (US) in 2021, said IEEFA report.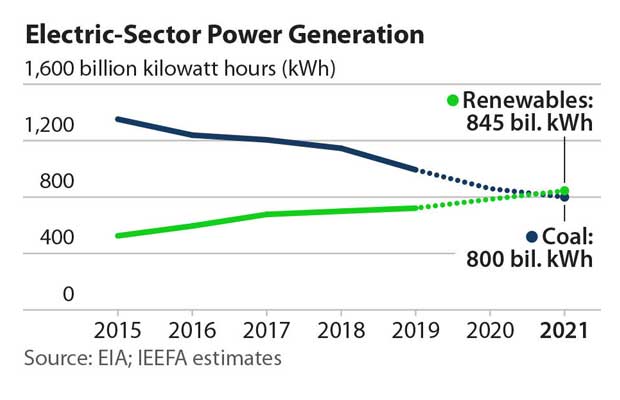 According to the Institute for Energy Economics and Financial Analysis (IEEFA) report, recent trends for coal has been rapidly declining, while the trends for renewable energy shows significant upward trends, which indicated that total power generation by 2021 from both sources will run at least neck-and-neck, and the odds favor renewables.
However, the balance will be affected by unpredictable factors, like weather and changes in public policy.
In terms of market share, both coal and renewables are rapidly headed in the opposite directions, the report further said.
It also added that, if the crossover point doesn't occur in 2021, it will definitely do so by 2022.
One of the major reasons for the rapid change in the configuration of the US electric power generation sector is the recent shut down of the 2 largest coal-fired power plants. The first one is the 3-unit, 2.25 GW Navajo Generating Station in the Northeast Arizona and the second one is the 3-unit, 2.49GW Bruce Mansfield Station in the Western Pennsylvania, cited by the report.
Besides, IEEFA forecasted a closing of an aggregate of at least 24 GW of coal-fired capacity from 2019 till 2021.
The Energy Information Administration (EIA) has also projected that the share of coal for the electric generation market will slip to 25 percent this year, as compared to 28 percent last year. Further, it will also continue to fall in the next year, up to 22 percent.
On the other hand, renewable energy has gained market share over the past 5 years, based on the analysis of EIA's utility-scale renewable resources including – biomass, geothermal, hydropower, solar and wind, plus small-scale solar, primarily rooftop units.
The EIA predicted that these resources combined will produce 721.5 billion kWh this year, up nearly 40 percent, from renewables generated 525 billion kWh in 2015. The EIA sees growth in renewables next year, essentially all from wind and solar (both utility-scale and rooftop additions), pushing total output to just over 784 billion kWh.