A pilot project under an Asian Development Bank (ADB) technical assistance, is bringing 24-hour solar power to this small rural island in Antique Province, Philippines.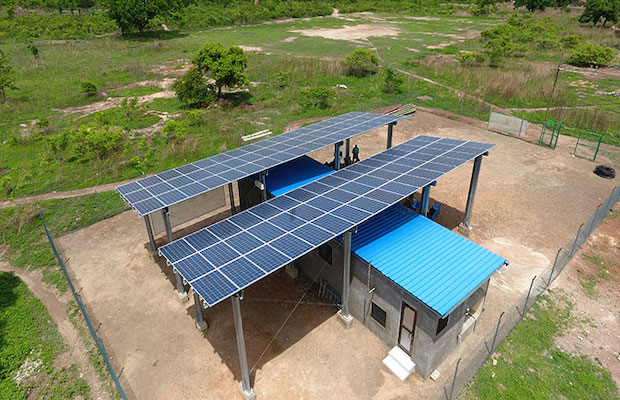 The Malalison Island Solar Photovoltaic (PV) Hybrid Pilot Project is a private sector joint venture with Antique Electric Cooperative (ANTECO), the electric distribution franchise holder, and One Renewable Energy Enterprise, Inc. (OREEI).
Malalison, a 55-hectare island in the municipality of Culasi, Antique Province. Electricity has been generated from diesel-fuelled generators, providing power only four hours a day. Due to the costs and difficulties transporting fuel, the approximately 160 households on the island also have to pay a much higher tariff than those on the mainland where electricity is available 24 hours a day.
Under the pilot project, the existing diesel power plant is augmented by a solar PV system. The solar power generated by day is then stored in lithium-ion batteries. The system is a 50 kW solar PV system with a storage capacity of 273 kWh and supported by a 54 kW diesel generator. Which will provide Islanders with reliable and continuous 24/7 electric services, allowing them greater income-generating opportunities. Lower power prices will also leave more income for the Islanders for other essentials.
ADB Vice-President for Knowledge Management and Sustainable Development Bambang Susantono said the role of the private sector in this project is showcasing a new business model for deploying a distributed renewable energy system.
"ADB's support of this venture is proof of its desire to concretely contribute to the government's target of 100% household electrification by 2022 through private sector participation in the energy sector," he said. "The success of this project will encourage more investors into the country's off-grid electrification efforts using distributed renewable energy system, thereby promoting the goal of increasing energy access and inclusive growth."
The total project cost is $500,548, of which ADB is providing two $100,000 grants for the solar system and prepaid metering, respectively. ANTECO and OREEI are providing the remaining funding for the solar generation of $125,474 and $175,074, respectively.