Entering the Indian renewable energy market, Masdar has acquired a robust minority stake in Hero Future Energies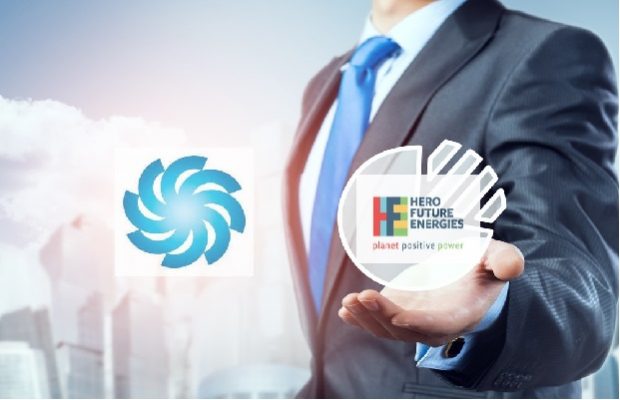 Masdar has developed renewable energy projects in more than 25 countries, including major utility-scale projects and those that improve energy access in rural communities and least developed countries. And now, entering the Indian renewable energy market, the firm has acquired a robust minority stake in Hero Future Energies, the renewable energy arm of Hero Group.
Hero Group is a global company and the largest producer and supplier of motorbikes in India, with 90 million customers around the world. 
Hero Future Energies (HFE), developed in 2012, is currently active in 10 Indian states and has ambitious expansion plans. The company's operations encompass wind and solar power, including rooftop solar plants. HFE has already delivered 1,200 megawatts (MW) of operational wind and solar energy, has 500 MW worth under construction and 200 MW planned. The company aims to have 3.5 gigawatts (GW) of solar power installed by 2022.
The acquisition of a stake in HFE marks Masdar's first contribution to the clean energy sector in India and adds to its growing international portfolio. The company will invest USD 150 million in the company that will be used to help fund the expansion of its renewable energy portfolio, including in selected international geographies.
"Masdar is committed to investing in commercial opportunities in renewable energy and clean technologies across the region," said Yousif Al Ali, executive director for Clean Energy. "Emerging economies like India face the critical need for modern energy services to meet the demand of their growing populations. Further expansion of the renewable energy sector in developing countries has, therefore, a crucial role to play."
India is the second-largest renewables market in Asia in terms of installed capacity after China, followed by Japan, South Korea, Thailand and Pakistan. Masdar's investment into Hero Future Energies supports India's goal to achieve a renewable energy power generating capacity of 175 GW by 2022, including 100 GW of solar energy. 
"After more than 13 years investing in some of the world's largest renewable energy projects, Masdar has developed a definitive strategy: deploying proven technology at a scale to accelerate its commercialisation and to attract further investment," added Al Ali. "We are excited to be working with the team at Hero to explore the great many renewable energy opportunities offered by the India market and other international growth markets."