JERC has issued the generic tariff applicable for renewable energy projects for the financial year 2019-20.
The Joint Electricity Regulatory Commission (JERC) for the state of Goa and the Union Territories has issued the generic tariff applicable for renewable energy projects for the financial year 2019-20.
The commission has pointed out in its final order that since the rates discovered by competitive bidding process are considerably lower than the generic tariffs determined in the earlier years, many of the Discoms have been procuring renewable energy power by way of competitive bidding rather than the generic tariff.  The commission is aiming to amend this change and has imposed that all Discoms which go for the competitive bidding route will have to consider the tariff found by the commission as the ceiling tariff for the procurement of renewable power.
For solar power projects the commission after considering multiple parameters like operation and maintenance costs, interest on working capital, Capacity Utilisation Factor (CUF), and the discount factor of 9.41 percent for mainland areas and 10.51 percent for island areas for levelisation of the tariff, has set the following tariff level for solar projects.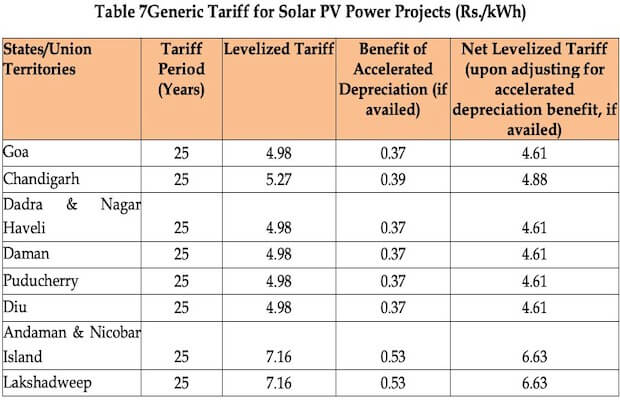 Goa and the four UTs in Dadra and Nagar Haveli, Daman, Diu, and Puducherry have the lowest tariff at Rs 4.98/kWh (Rs 4.61/kWh with Accelerated Depreciation (AD)), and the two islands of Andaman and Lakshadweep have the highest tariff levels at Rs 7.16/kWh (Rs 6.63 with AD).
For wind energy procurement, the commission has fixed the following tariff rates.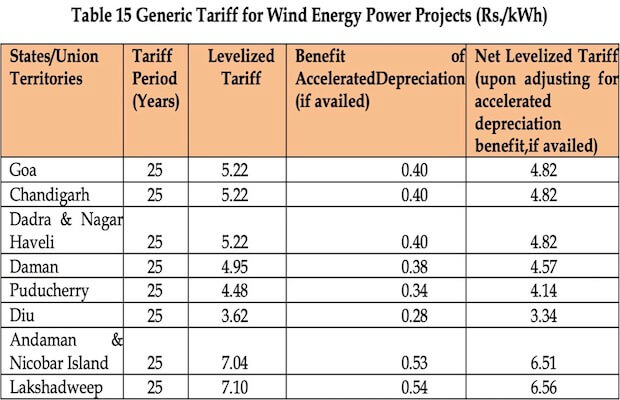 The UT of Diu has the lowest tariff rate for procurement of wind energy at Rs 3.62/kWh (Rs 3.34 with AD). Whereas, Lakshadweep has the highest tariff rates, almost double that of Diu at Rs 7.10/kWh (Rs 6.56 with AD).
Additionally, in response to the suggestion made by Amplus Energy Solution regarding the inclusion of exemption from open access charges such as transmission, wheeling, and system operation charges for lifetime of the project i.e. 25 years as a promotional measure in the RE Tariff Order 2019. The commission clarified that the issues pertaining to the exemption from open access charges as suggested by the stakeholder does not relate to RE Tariff Order for FY 2019-20, and thus can't be included.
For more information click here.