The solar and wind energy installations in India fell short by 70 percent with 720 MW of solar energy and 188 MW of wind energy projects installed during the January-March quarter of 2020, as compared to the previous quarter, as per the research and advisory services provider firm.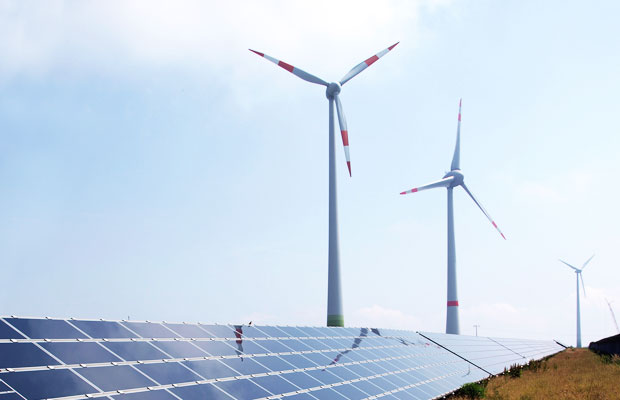 On a yearly basis, India commissioned 35 GW of solar capacity and 38 GW of wind capacity as of March 31, 2020. However, the current pipeline of solar, wind and hybrid projects stood at 37 GW which is likely to be commissioned in the next 2-3 years. While, another 34 GW of projects are under bidding phase where tenders are issued but auctions are not completed, according to the JMK Research & Analytics report.
Also, the utility-scale solar segment saw 5.7 GW of capacity addition, as against merely 2.1 GW was added in wind energy in FY2020.
On next two-quarters projection, the Gurgaon based company predicted that the new solar and wind energy capacity additions are expected to remain about 1.7-2 GW and 0.8 GW respectively in next two quarters i.e. Q2 2020 and Q3 2020.
While on yearly projections, in CY2020 (Jan-Mar 2020), about 5.5 GW of new solar energy capacity and 1.5 GW of wind energy capacity is expected to be added. However, in FY2021, about 6.5 GW of solar and 2.2 GW of wind is expected to be added, the report estimated.
On quarterly market shares for inverters segment, in Q1 2019, Kehua and Sungrow were the leading players in the central inverter category while Sungrow shipped the highest number of string inverters, added the report.
However for the modules segment, in Q1 2020, JinkoSolar topped the module suppliers' category with the highest supplies, while Waaree took the second position.
For the project developers segment, in Q1 2020, Acme and Hero Future Energies installed maximum solar capacity, while SITAC RE commissioned the majority of wind capacity, added the report.
According to the report, in Q1 2020, 48 tenders with the aggregate capacity of 16 GW were issued across the solar and wind sector. While in the rooftop solar segment, 22 new tenders of 153 MW were issued. However, in Q1 2020, about 7 GW of capacity was auctioned, out of which only 5.7 GW has been allocated (i.e. ~20 percent under subscription).
On the investments front, USD 1.8 billion of investments was done in the renewable energy sector in India during Q1 of 2020.
Meanwhile, for module price trends in the Indian market, polycrystalline module prices were about 19-20 US cents/ W in the first quarter of 2020. This is about 11 percent annual decline from the same quarter prices last year.