The plant is expected to be completed in October 2019.
Power projects developer ACWA Power has chosen Huawei, as the sole supplier of inverters to integrate FusionSolar 1500V Smart PV Solution, including the SUN2000-90KTL string inverter and cutting edge FusionSolar Smart PV Management System in Saudi Arabia's first large-scale ground-mounted PV plant.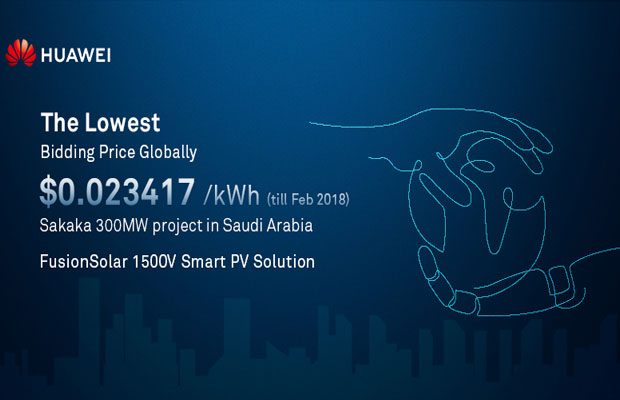 ACWA Power won the bid in February 2018 for the Sakaka 300 MW project in Al Jouf, North Saudi Arabia at 2.3417 US cents/kWh as the lowest price ever recorded at a global level.
The plant is expected to be completed in October 2019.
Huawei FusionSolar 1500V Smart PV Solution with multi-MPPT string inverters minimizes PV string mismatch and increases the energy yield by 1.5%–2%. The IP65 protection limits the damage by wind and sand erosion.
Furthermore, power loss is greatly reduced by an increase in the system voltage and a decrease in current.
Consequently, the workload in transportation, installation, and maintenance drops, which reduces human resource and system investment costs.
Huawei FusionSolar Smart PV Solution offers higher energy yield, same CAPEX, efficient O&M, and lower OPEX, which leads to lower LCOE and makes the solution most competitive.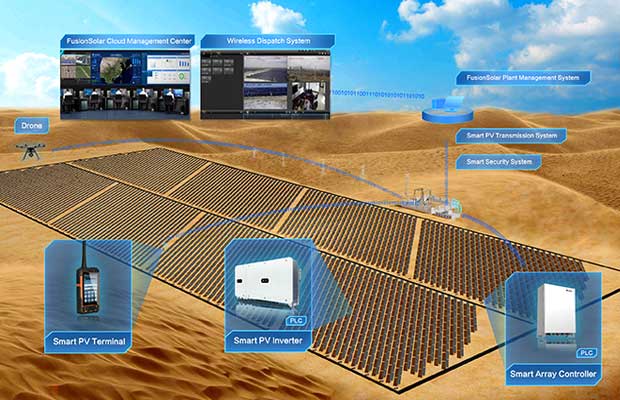 Commenting on the development, Mohammad Abunayyan, Chairman, ACWA Power, said, "We are immensely proud to take part in the first clean energy project in Saudi Arabia that contributes to the sustainable transition of the Kingdom. We look forward to working with Huawei to utilize our collective expertise gained from renewable projects across the globe to develop and advance the capabilities of the renewable energy sector in the Kingdom. In line with the objectives of the Saudi Vision 2030 and the directions of King Salman bin Abdulaziz Al Saud, we are encouraging active participation of the sector and creating employment opportunities to Saudi nationals while cultivating a knowledge-base for the future of renewables within the country."
It is estimated to generate enough clean energy that will be sufficient to power 45,000 households in Al Jouf region while offsetting over 430,000 tonnes of carbon dioxide a year.