Huawei, a leader in inverter shipments, has announced the launch of its latest utility scale 1500V smart string inverter, the SUN2000-185KTL-INH0 ("SUN2000-185KTL") for the Indian solar market.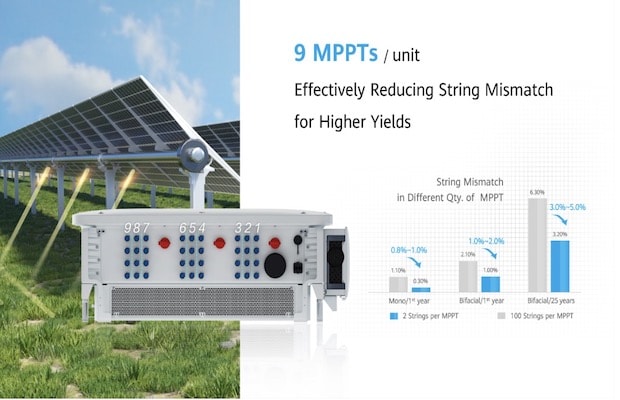 The SUN2000-185KTL comes integrated with an AI algorithm, that makes a good case for the model to be the best choice for 1500V solar system, trackers and bifacial PV modules. Huawei has updated the traditional astronomical algorithm and adopted intelligent trackers and bifacial PV modules based on AI algorithm to achieve the integration of tracker control, power supply and communication, maximising energy yields.
The new inverter has a maximum efficiency of 99.03% and European efficiency 98.66%, ensuring high power generation; 9 MPPTs (Maximum Power Point Tracking) for versatile adaptions to different layouts and string-level fast trouble-shooting; multi-MPPT design reduces mismatch impact caused by shading and dust; no fuse design reduces the fire risk caused by DC side malfunction and decreases O&M cost.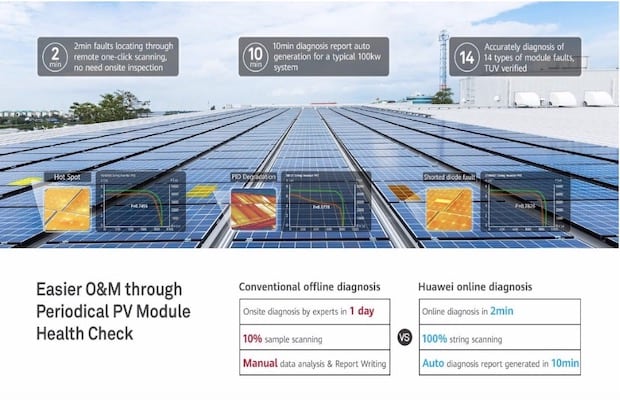 Mayank Mishra, regional sales director of Huawei Smart PV Business India, said, "The SUN2000-185KTL power density is further enhanced and it is the industry's first on-grid solar inverter that incorporates AI technology. It integrates smart tracking system control functions to stably adapt to various power grids and complies with the latest CEA guidelines of India and IEC certified. Based on reports released by global consultancy IHS Markit, Huawei was ranked No.1 globally in inverter shipments for four consecutive years, 2015 to 2018."
Comparing to the traditional solution, FusionSolar Smart PV Solution with SUN2000-185KTL makes yields increased by over 3% and O&M efficiency increased by over 50%; AI auto-learning enables the trackers to fit the bifacial PV modules better by optimising the tracking algorithm, which brings an additional 0.5% to more than 1% of energy yields; Huawei patented multi-peak algorithm achieves tracking the highest power peak in 200 milliseconds; Smart I-V Curve Diagnosis can proactively discover low-performance strings, achieving the revolution from passive maintenance to active preventive maintenance.