With CIGS thin-film solar chips incorporated inside it, the panel can achieve conversion efficiency, as high as 18.7%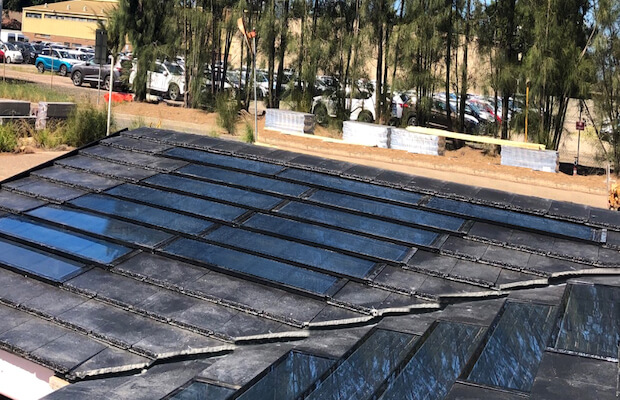 Hanergy Thin Film Power Group has announced that it is all set for the global launch of its Thin Film Flat SOLARtile. Which the company claims is its cutting-edge solar roof tiling solution developed in collaboration with CSR Group, the largest roof tiles producer and roofing solution provider in the southern hemisphere.
Ahead of the global launch later this year, the firm is ready to debut its brand new development at Renewable Energy Roofing Display Center in Sydney. The two companies will also sign an agreement to officially commence the pre-sales of the product in Australia, New Zealand, South East Asia, Japan, and the United States markets.
The SOLARtile is specially designed to meet overseas market needs. Unlike the curve shape of HanTile, SOLARtile is flat and has a square shape, which enables the house to meet local housing standards and harmonise better with the neighbourhood. It adopts the cross bond structure, where the tile-to-tile interlock is put right in the middle of next row's tile to ensure best waterproof performance. Junction boxes are covered by 2mm steel and safe trays are used to protect cables.
Lv Yuan, Vice President of Hanergy Thin Film Power Group said, "We're particularly excited about the launch of Thin Film Flat SOLARtile in the global market. We're confident that our latest solar roof tiling solution will set a new standard in the global solar market. Further, we're thrilled to join forces with CSR group and hope to create yet another case study pronouncing the huge success of our soon to be launched solar roof tiling solution."
With CIGS thin-film solar chips incorporated inside it, the panel can achieve conversion efficiency, as high as 18.7% which is a record. The product has received a high rating for having been exceptionally wind, waterproof and fire resistant. It can work under extreme conditions from -40 degrees to 80 degree Celsius. Along with thin-film technology's characteristics of being light, thin and flexible, as well as being able to work under low light conditions, it has great adaptability and can be applied in varied scenarios.
Earlier in December 2018, Hanergy had signed a co-operation agreement with CSR Group to co-develop Thin Film Flat SOLARtile.