The global wind turbine materials market is forecast to witness a significant growth of around 7% CAGR to surpass USD 8.5 billion by 2029
The global wind turbine materials market is estimated to be valued USD 5,012 Million by 2019 end and is forecast to witness a significant growth of around 7 percent CAGR during the forecast period to surpass USD 8.5 billion by 2029, a new report has revealed.
As per Fact.MR which has published the report, the key driving factor in the global wind turbine materials market comes from an increasing number of wind power projects worldwide. There has been a significant rise in the number of wind projects, which is the main outcome of the rising demand for conventional energy resources.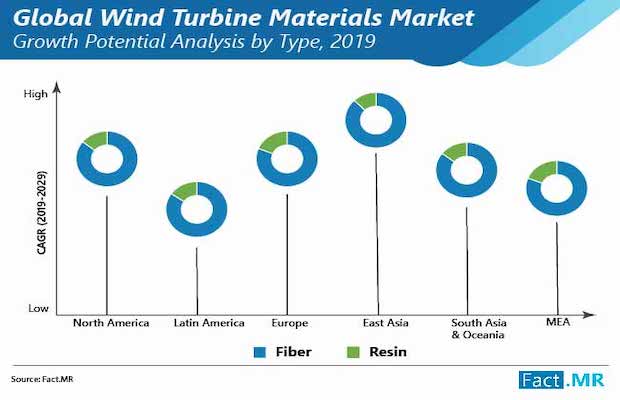 Furthermore, favoUrable government stances towards the installation of wind power projects have raised the standard consumption of wind turbine materials globally. In addition, the rising need for energy security and energy independence has also promoted the consumption of wind power materials. On the backdrop of the aforementioned factors, the wind turbine materials market is experiencing an upward trend globally. However, the heavy cost of installation is set to obstruct growth.
The report further added that from the regional point of view, East Asia along with South Asia & Oceania are forecast to lead with over half of the market share by 2019 end owing to the increasing wind energy infrastructure in the region. China is at the forefront of demand, with around one-third of the global supply of wind turbines materials. The country also ranks first in terms of total number of wind power system installations. In the past two years, the Chinese government has raised the total investment on renewable energy to about USD 360 Mn till 2020 end. The country has also shut down several key projects involving coal-fired power plants. This situation is likely to boost the number of wind power installations in the country, which creates opportunities in the global wind turbines materials market. Further, India ranks fourth in terms of installed capacity of wind power currently.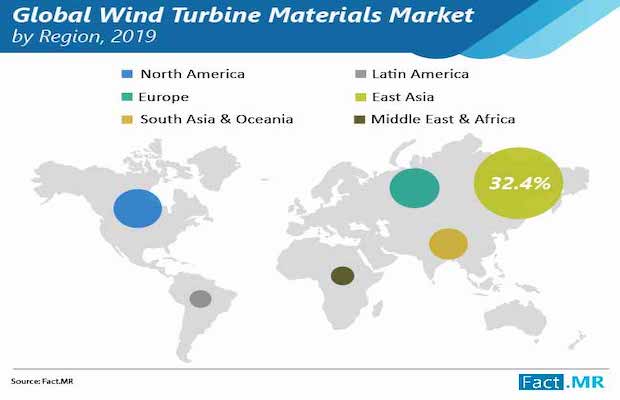 Wind turbine materials market in Latin America and the Middle East and Africa are still in its nascent phase. These regions have limited large-scale wind farms in comparison with other regions. However, several countries from these regions have come up with regulations to reduce the dependency on non-renewable resources such as petroleum. This situation is providing lucrative opportunities for wind turbine material manufacturers to expand their geographical reach in a largely unexplored market.