EESL and BSES have joined hands to implement a 12-month pilot of the Super-Efficient Air Conditioning programme.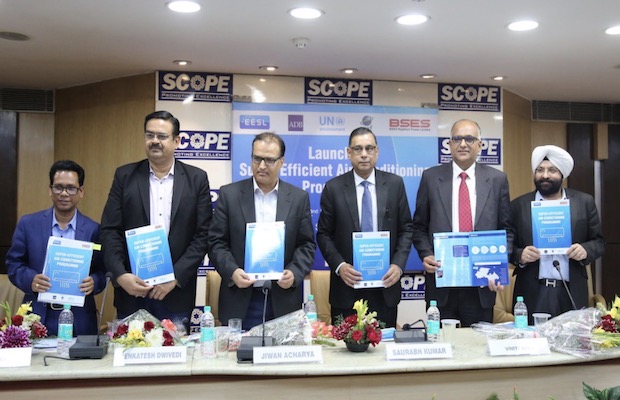 Energy Efficiency Services Limited (EESL), a joint venture of four National Public Sector Enterprises under Ministry of Power, Government of India, has launched its Super-Efficient Air Conditioning Programme for residential and institutional consumers in the BSES area.
EESL and BSES have joined hands to implement a 12-month pilot of the programme by exchanging an agreement through which BSES Rajdhani Power Ltd. (BRPL) would assist in aggregating demand and providing local marketing and outreach support to promote energy efficient technologies in the areas it currently services, thereby covering over 25 lakh residential and institutional consumers in South and West Delhi.
EESL will conduct all activities related to the source, supply, complaint management and redressal, and fulfillment of warranty obligations for the products.
With Super-Efficient Air Conditioning programme, EESL endeavours to distribute air conditioners that are 40 percent more efficient than, but priced comparably with, the 3-star ACs currently available in the market (ISEER 3.8).
Applying its proven business model of demand aggregation, EESL will mobilize the capital of Rs 150 crore for the programme while redeeming its investment through upfront payments for the super-efficient ACs from customers.
EESL has initiated the procurement process of super-efficient ACs, thereby capitalising on opportunities for leveraging economies of scale through demand aggregation, and so reducing the cost of this superior green technology to consumers. Based on its past experiences with bulk procurement for other technologies and programmes, EESL expects to discover prices that are 20- 30 percent less than the retail costs of similar technologies currently available in the market.
Besides promoting energy efficiency, the Super-Efficient AC programme will also help to reduce the peak power demand in South and West Delhi by 22MW, enabling the two organisations to harness synergies to promote energy security and sustainability. The programme directly addresses the prospect of the nearly four-fold increase in energy consumption from buildings and cooling appliances in India by 2032, while also addressing goals of India's Cooling Action Plan and Hydrochlorofluorocarbons Phase Out Management Plan, enabling achievement of India's targets under the Kigali and Paris Agreements.
Saurabh Kumar, Managing Director, EESL stated: "Our UJALA programme gave us the confidence that the Indian consumer is receptive to awareness and demand cultivation efforts for energy efficiency. Through the Super-Efficient AC programme, we are endeavoring to not only redefine standards for efficiency and widen the gamut of energy efficient appliances available to Indian consumers but to also significantly improve upon our previous efforts to make these technologies universally and conveniently accessible. We are grateful for the confidence that BRPL has expressed in our capabilities and potential to deliver on this mandate by partnering with us for this programme. We are working towards making this programme and its benefits available to all consumers across the nation."
During the event, EESL also launched its eCommerce website, EESLmart.in, through which customers of BRPL, and of other DISCOMs that partner with EESL in future, can purchase the super-efficient air conditioners. With a focus on increasing consumer adoption of, and access to, energy efficient technologies, the website will also allow customers to purchase other appliances distributed by EESL, including induction cookstoves and products sold under the UJALA programme – 9-Watt LED bulbs, LED luminaries, and BEE 5-star rated energy efficient fans.
The website will also feature a catalog of products, a payment gateway, product specifications and images, stock status and order completion and shipment information, as well as 24×7 customer service, query address and post-shipping support. Once the website is opened to the public in March 2019, customers can create a profile and register on the website free-of-charge after submitting requisite documents, such as electricity bill number and/or government-issued identification documents, and place orders for doorstep delivery of eligible products.
EESL's investment in the programme is partially supported by a grant from the Global Environment Facility (GEF), an independent financing mechanism that was established on the eve of the 1992 Rio Earth Summit to address global environmental issues. The GEF is an international partnership of 183 countries, international institutions, civil society organizations, and the private sector. Further,
Asian Development Bank (ADB) is providing necessary grant support and loan while United Nations Environment (UNEP) is providing technical assistance support to the Super-Efficient AC programme.