Grid Tie Solar PV inverters are designed to adhere to extreme weather conditions with maintenance efficiency.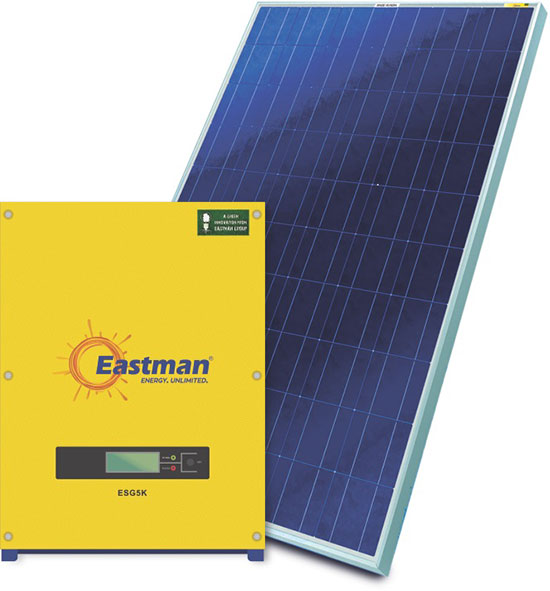 Solar solutions provider Eastman Auto and Power Ltd (EAPL) said it has launched its one of the most advanced 'State of the art Grid Tie solar PV inverter' in the Indian market.
The company said in a statement that these inverters come with modular design, stronger grip, and support.
The grid-tie solar PV inverters of the company are 40 per cent lighter as compared to industry standards and they are compact, light-weight and energy efficient too.
The company further said that these inverters are designed under the latest applied scientific automation and are technologically exceptional solar devices for residential homes and commercial segments.
Moreover, their light-weight and compact design features make them suitable for long-distance transportation and favourable for indoor and outdoor installation, it added
Besides, Eastman's Grid Tie Solar PV inverters are specially designed to adhere to extreme weather conditions with maintenance efficiency.
While explaining about features in detail, the company said that, the advanced MPPT algorithm gives a peak efficiency of 99.9 per cent and wide MPPT voltage range of 100-490Vdc and guarantees maximum power generation in compliance with the IEC standards of safety.
Adding to it, Eastman said that these inverters are available in four different models – 1KW, 3KW, 5KW and 10KW respectively which are also certified under IEC standards.
Commenting on the launch, Eastman Auto and Power Ltd, President Sales & Marketing, Harinder Singh said, "With the present government's thrust on solar, the segment is gaining a larger share in India's energy basket. We at EAPL have been doing our best to strengthen and upgrade the power back up industry."
"We are now focusing on advanced, easy to afford and futuristic solar power products to offer more energy efficient choice to our customers. The solar powered grid tie PV inverter is perfect to offer power solutions for households & commercial setups. We are confident that our customers will appreciate the product," Singh added.
Eastman further lists some core features of its grid-tie solar PV inverter that makes them a smart option for customers such as – IP65 Protection, wide operating PV voltage range, compact and light weight, peak efficiency up to 98 per cent, quick and easy installation and maintenance free.
The company's grid-tie solar PV inverters offer user-friendly LCD display and its grid-tie series assure a recovery of investment within 3 to 4 years by making them the most efficient after premium on-grid inverters available in the market.