The last date of bid submission has been extended from April 1, 2019, to May 5, 2019.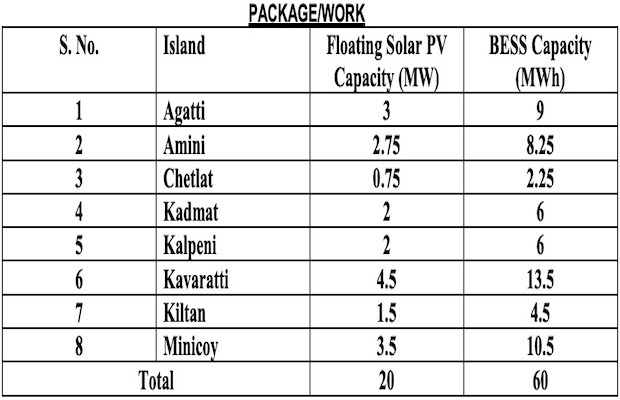 The Solar Energy Corporation of India (SECI) has extended the deadline for bid submission on its tender for setting up of 20 MW floating solar PV power plants with associated 60 MWh Battery Energy Storage System (BESS) at Lakshadweep.
The last date of bid submission has been extended from April 1, 2019, to May 5, 2019, and the techno-commercial bids will be opened on the same date i.e. May 5, 2019.
The brief scope of work for selected bidders will include the Design, engineering, procurement & supply of equipment and materials, testing at manufacturers' works, multi-level inspections, packing and forwarding, supply, receipt, unloading and storage at site, associated civil works, services, permits, licences, installation and incidentals, insurance at all stages, erection, testing and commissioning of 20 MW (AC) Floating Solar PV Power Plant with 60 MWh BESS.
Along with comprehensive operation and maintenance (O&M) of the projects for a period of 10 years from the date of commissioning.
All bidders must submit an Earnest Money Deposit of Rs 5 crore and 4 lakhs along with their bids. The estimated cost of the project which will be developed across 8 sites in the UT is Rs 252 crore, and winning bidders will have a period of 18 months to complete the project.
Each bidder will only be allowed to submit one bid in the same bidding process. A bidder who submits or participates in more than one bid will cause all the proposals in which the bidder has participated to be disqualified.
In January, SECI had issued the first notice for the deployment of Renewable Energy Projects under its ownership at Lakshadweep Islands. The projects will be developed under a Build-Own-Operate (BOO) basis and will be spread across the 11 islands of Lakshadweep.
Recently, SECI issued an NIT for deployment of 50 MW solar PV power plant with associated battery storage facility.
For more information click here.