Amidst lockdown across the country to contain the spread of coronavirus, Gurugram-headquartered Amplus Solar is supporting the local community of Gurudev Nagar village in Mirzapur district, which is in the vicinity of UP's first open-access solar park of 75 MWp owned by it.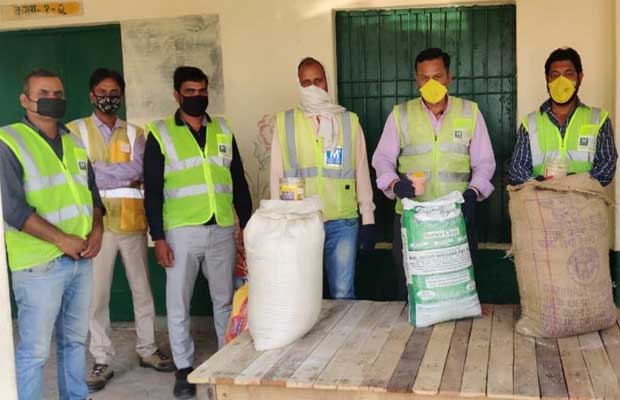 The company, which is a 100 percent subsidiary of Petronas Holdings, Malaysia, said that it came forward for the community when the situations worsened for the people due to inability to commute to procure common essentials.
This village is situated in a remote area harbouring around 350 people and the company reached out to these families in need by offering ration to them.
The company has carried out ration distribution in the association of local authorities including District Magistrate and with the help of the local police.
On this CSR activity, the company said that this was in continuation of Amplus' efforts to contribute to the local community and not just provide green energy through setting up and operation of the solar park.
The global pandemic has severely shaken the world and has had catastrophic effects on the livelihood of millions across the globe.
It would not be wrong to say that in the case of India, the maximum brunt of the unprecedented scenario is being faced by the poor labourers and daily wage workers.
Amidst these dark times when life, as we know it has come to a slow-down, citizens and corporates, are uniting to provide rays of hope which can better the situation of the people in dire circumstances.
Amplus Solar is Asia's one of the leading distributed energy company providing low carbon energy solutions to industrial and commercial (C&I) customers. The company provides clean energy to its clients by setting up both on-site solar projects (rooftop and ground-mounted) and off-site solar farms.
Currently, the company owns and manages a portfolio of 650+ MWp of distributed solar assets across Asia. It has also forayed into the open-access segment and has a capacity of almost 200 MWp ground-mount projects – one in Chitradurga and one in Gadag, Karnataka. It is also working on an additional 200+ MW of open access Solar parks in states like Uttar Pradesh, Andhra Pradesh and Karnataka.