I handpick bifacial modules in addition to solar plus storage solutions that would be most relevant for meeting requirements. Also electric vehicles plus solarised charging stations will embark upon new era of energy revolution. Floating solar and agro PV (Being newer applications though!!) will open up yet another horizon of mass consumption of solar energy in our lives, believes Rajneesh Khattar, Group Director, Energy Portfolio – India, Informa Markets, a leading international events, intelligence and scholarly research group. In conversation with Manu Tayal, Associate Editor, Saur Energy International, Khattar shared his views on various issues which the power sector is currently dealing with along with the new highlights of the RenewX expo, which offers various opportunities for the renewable energy sector. Here're the excerpts from that exclusive interview published in the Saur Energy International Magazine's February 2020 edition:
Q. RenewX is scheduled in April. What can we expect in this 5th edition of the much awaited renewable energy expo?
In no time, we are into our 5th epic edition of RenewX this year. The forthcoming edition of RenewX 2020 has so much to offer to the sector. A congregation of leading 150+ exhibitors, 7,000+ trade visitors representing captive industries, Chinese pavilion, launch of white papers and sector reports, skill competition on the floor, rich technical conference sessions focusing on AgroPV, rooftop solar, solar pumping solutions, EVs + storage, CEO conclave powered by World Bank / E&Y and bio energy sessions are destined to enrich the knowledge landscape of the participants. Very compact and closely knit environment will make business happen at ease.
Q. What are the most promising and emerging technologies which would be most relevant for meeting future renewable requirements?
I handpick bifacial modules in addition to solar + storage solutions that'd be most relevant for meeting requirements. Also electric vehicles + solarised charging stations will embark upon new era of energy revolution. Floating solar & agro PV (Being newer applications though!!) will open up yet another horizon of mass consumption of solar energy in our lives.
Q. What are some of the new and emerging challenges for the renewable?
The RE sector currently stands at the cusp of yet another era of explosive growth. The mandate, and approach, of the Government is clearer than ever before with the magnitude of tenders being announced telling the story. However few of the key challenges that glare this sector for quite some time now are: Continuous shrinking margins of the developers, thus, stressing the bottom-lines of many corporates, tariff caps currently in place, thus, demotivating developers to bid for Govt projects, expanding the net of BIS certification & safeguard duties on multiple components that's not only expensive, but, time consuming as well.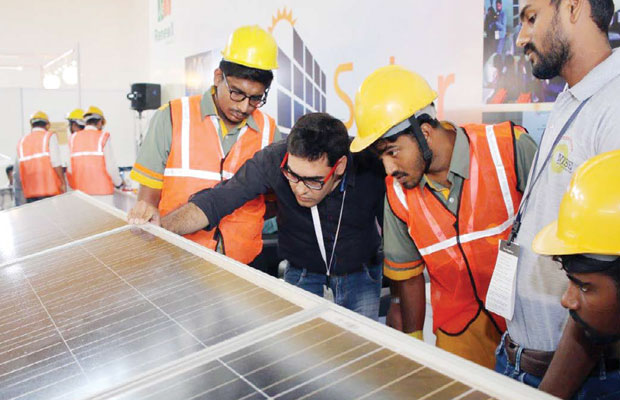 This puts entire value chain at strain, thus, impacting elasticity of the market. Top of all challenges is de-clotting of payment pipeline by state Discoms i.e. improving financial health of power distribution companies. Another critical challenge is ensuring quality quotient of the modules in long run i.e. to continue deriving more power per WP. This needs technological innovations of designing & improvising module layout. Not too far is yet another challenge that glares this sector and would need redressal is the disposal of modules in environmentally friendly way.
Q. How do you analyze the Budget 2020 for the renewable energy sector as a whole?
Budget 2020 has been a mix bag for RE sector. Probably industry expectations were way too high especially in the wake of the multiple challenges sector is passing through currently. Whilst the Government has announced major thrust on expanding PM KUSUM Scheme for solar pumps targeting to cover 2 million farmers to be provided funds to set up standalone solar pumps with an idea of removing farmers' dependence on diesel and kerosene and link them up with solar energy. It also encourages farmers to sell the surplus power back into the grid.
Yet another positive is that Govt has mandated to extensively use the barren land alongside lacs of kilometres on either side of the Railway tracks, thus, fulfilling twin objective of land usage & power generation in environment-friendly manner. However, sector also expected partial relief from duties structure paralysing the sector, mandates & net of BIS certifications, bids to be more market-driven & dynamic by knocking off tariff caps and push "Make in India" dream forward in this sector….Unfortunately the wait has been made bit longer it seems !!
Q. Will the show feature exhibitors from the EV space too? Do you see electric vehicles space as a separate category, or a potential addition to renewable energy exhibitions?
Yes for sure. The EV space is gonna be pretty busy as we move forward in this decade and RenewX 2020 will be no different. We are leveraging RenewX 2020 as a curtain raiser for the launch of our new venture "The Battery Show and Electric & Hybrid Vehicle technology expo" being launched during our global endeavour REI 2020 in September this year. This will include TED-format Spotlight Session by the expertise in Bloomberg besides standalone knowledge-rich sessions by the domain experts. Looking at the synergy between the two domains, we will co-locate this event alongside REI 2020 rather than a separate category.
Q. What is your message to your exhibitors and to end users who look forward to visiting RenewX 2020 event?
My message to all participating stakeholders @RenewX 2020 is to leverage the 2-days of intense business opportunities to the maximum, network with domain experts, generate business leads, learn new technologies, recent product developments trending RE sector these days and newer applications that have potential to contribute to the growth story of the region. Enjoy, Appreciate and go home richer in knowledge and connections established.