In a year when the country heads for general elections, the renewable sector has reason to look forward to a good final budget, from whoever comes to power. This is because the renewables sector has been an undisputed success story for India, and no government should be doing anything to slow it down.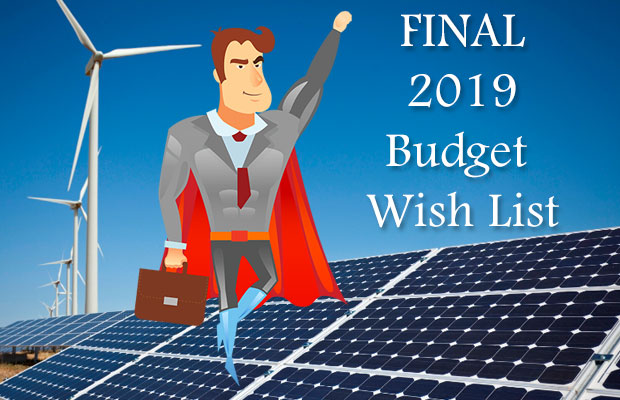 For the current government too, from growth in capacity to the establishment of the International Solar Alliance, the renewables sector has provided a lot to be proud of.
So, this time we decided to explore the Modi government's last Budget (or interim budget) which was tabled recently in the Parliament. In our journey of gathering the views of industry stakeholders on this Interim Budget of the Modi government, from Jaideep N. Malaviya, Secretary General, STFI; Tulsi Tanti, Founder, Chairman and Managing Director, Suzlon Group; Sunil Rathi, Director, Waaree Energies; Animesh Damani, Managing Partner – Artha Energy Resources; Ashit Maru, Co-Founder, MYSUN; Manish Aggarwal, Managing Director, Enkay Solar Power; and Pranesh Chaudhary, Founder and CEO, Zunroof Tech; they discussed openly about their expectations from the Modi government's last interim budget and the hope that some of the unfulfilled expectations will be addressed by the policy makers in the Final Budget in July after formation of the New Government…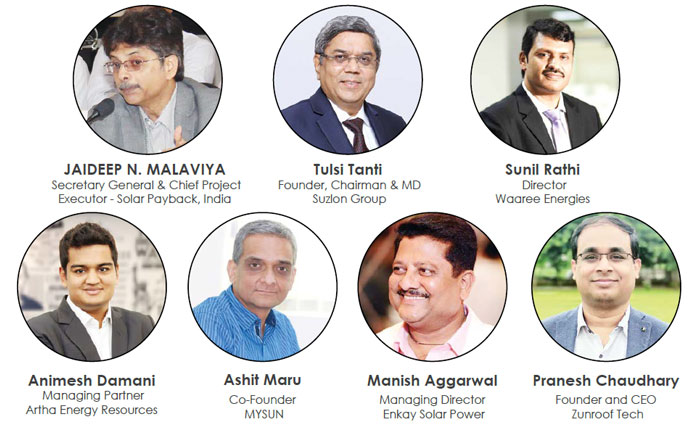 How do you see Modi government's Interim Budget 2019 for the renewable sector? Are your expectations fulfilled?
Jaideep N. Malaviya
Nothing significant as an announcement although it was expected to address the issue of a uniform GST for any solar energy system. An incentive package for DISCOM's to accelerate rooftop solar PV and solar water heaters could have helped achieve the ambitious target set.
Animesh Damani
This budget has let down the renewable sector again. There has been no announcement on incentives or ease in policy. Overall, the renewables sector is left to fend for itself.
Manish Aggarwal
Modi government's interim Budget 2019 was largely based on farmers/poor community nothing for middle class Business or MSME. We have stopped expecting from our government which is mainly focused on Big Industries and small people nothing for middle business.The budget failed to cater to the needs of the renewable energy sector, as no subsidies and incentives were announced. In a situation where there is scarcity of financing options for renewables and manufacturing units are dying a slow death, the Budget provides no ray of hope.
Sunil Rathi
The Interim Budget 2019 laid out the Government's vision for the coming decade and it was reassuring to see Renewable Energy as a core dimension of the same. Given the focus on domestic trade and services and PSUs now sourcing from local entities, the emphasis is now going to be towards growth of domestic solar manufacturers.
This will help in job creation in the solar sector and in achieving economies of scale for domestic manufacturers. We applaud the Government's 2030 vision of reduced dependencies on foreign entities for fossil fuel and believe that given a sustainable ecosystem for domestic solar manufacturers, solar energy will be a prime source of energy. This in turn, will reduce imports, thus strengthening the Rupee denomination and contributing to the nation's GDP.
With technological evolution leading the sustainable efforts of the country, we are confident that, if implemented, the proposed vision will help attain energy security and generate employment.
What are the challenges you think that need serious attention and should be attended to by the government through the final Budget in July?
Sunil Rathi
The Government needs to focus on minimising or eradication of dumping of low quality imported solar equipment, which leaves little to no scope for domestic manufacturers to focus their efforts towards enhancing their capabilities or capacity. Instead, Indian manufacturers have to direct their efforts towards competing with these low quality products at unsustainable prices.
With a focused and universalanti-dumping measure, coupled with Safeguard Duty that extends to Thailand, Vietnam and other neighbouring countries, the demand of solar products will shift to domestic manufacturers. This will, as a result, act as a boost to the domestic solar manufacturing sector.
In addition, the stability in the imposition of GST across the country will help in the execution of more projects.
Animesh Damani
It is very clear that utility scale project does not require any support whatsoever as the developers are bidding at tariffs close to the government's expectation. The sector that is struggling is off-site Captive plants and roof-top solar. We need to bring back accelerated depreciation at 80% for both these segments to boost the confidence of consumers and investors who are currently shying away due to lack of incentives. RESCO developers are clearly the growth engine for roof-top solar in the country.
Subsidy for the residential sector has not resulted in major capacity addition. Hence, it would be more prudent to focus resources on segments that are already working and could do wonders with a boost. Hence, I propose, for C&I roof-top solar, 80IA benefits should be made available to RESCO developers.
Manish Aggarwal
MSME should be offered some compensation on interest rates paid to Bank. Solar industry should be exempted from any taxes as it was before GST.
Jaideep N. Malaviya
A three-year plan to remove cross subsidisation of electricity tariffs will make rooftop solar targetsa possibility. Also, with higher tariffs masses will opt for solar thermal heating instead of electrical heating. Unfortunately the solar thermal is grossly ignored and it would be prodigious if aggressive demand is created for industrial process heat since it has the potential to reduce the fuel oil thus save on precious foreign exchange.
At this rate, can the country achieve the ambitious target for the renewable?
Sunil Rathi
The target of 100 GW to be generated through solar power is definitely ambitious and while it might be difficult, it is not impossible to achieve. Given the vision of the Government which focuses on and supports the country's transition to sustainable energy, we foresee more incentives and schemes that can create a conducive environment towards achieving the targets. However, for this, domestic manufacturers need to become active partners and need the right platform to deliver.
In addition, technologies like floating solar and flexible module have the potential to further the penetration of solar in the country, and we foresee verticals like Rooftop solar and Energy Storage Solutions play a big role in this transition by bringing solar energy to the masses.
Animesh Damani
No.Our roof-top target failure is a forgone conclusion. On the Utility front, we should get close.
Manish Aggarwal
The ambitious target cannot be achieved by 2022 as after implementation of safeguard duty all the big projects had come to a halt as big EPC players or developers mainly procure solar modules which are 60% of the cost of EPC project from China. But after implementation of safe guard duty project which was quoted by developers cannot accommodate duty so project has to come to a halt. Till date no decision has been taken by the government to see what is the solution of this problem.
Jaideep N. Malaviya
Targets are good to accelerate the market but merely achieving the targets at the cost of quality will be deterrent. Country has the potential to achieve much beyond the set target provided conducive policies are in place as we are sunlight rich country and technologies are competitive.
As an industry expert, what do you think is the one single thing the government can do to boost manufacturing?
Sunil Rathi
Given that the Safeguard Duty is currently implemented in select countries, imports are being re-routed through Thailand, Vietnam and other neighbouring countries that are exempted. This makes it easy for low quality solar modules and cells to be dumped in the Indian market. A universal anti-dumping policy can change that and allow an equal platform for domestic manufacturers to innovate and compete with global counterparts on a level playing field.
Manish Aggarwal
Government should stop the import of solar modules for the promotion of make in India. All units should come on one platform and there should not be any difference between SEZ (who are selling their products in DTA) and DTA manufacturing units. Safeguard duty on import of solar cells should be waived off as this will help local manufactures to give competitive rates compared to China market. Loans should be provided on low interest rates to solar manufacturers which will invite more people to start manufacturing.
Jaideep N. Malaviya
This is crucial and concerning issue. Unless domestic manufacturing is not made attractive renewable energy will be last in the race for creating jobs. Higher anti-dumping duty, easy finance from lending institutions and tax rebates to individuals can boost demand hence manufacturing.
Animesh Damani
I don't believe we can develop the scale, cost, efficiency of the Chinese manufactures. They have already gone long ahead in that race and it is foolish for us to join that race now. Instead our focus should shift towards battery manufacturing and ensuring all kinds of incentives are made available to make India the hub of battery manufacturing in the World.
Besides, a few other industry veterans – Tulsi Tanti, Founder, Chairman and Managing Director, Suzlon Group; Ashit Maru, Co-Founder, MYSUN; and Pranesh Chaudhary, Founder and CEO, Zunroof Tech said that:
Tulsi Tanti
The interim budget is pro-growth and provides a massive boost to propel domestic consumption through a) Income Tax sops for nearly 30 million income taxpayers b) Improved financial health of 120 million marginal farmers. The budget also gave a boost to 'Make In India' by focusing on manufacturing and enhancing infrastructure and rural connectivity. It is aligned to the objective of overall economic growth, Nation building and job creation. This budget, takes into account various stakeholders across the spectrum, right from the agriculture sector, social sector, industry, young India and the senior citizens.
The RE industry welcomes the government's focus on clean energy being the major source of energy security for the country. Prime Minister's mission of bringing an Electric Vehicle revolution to India by 2030, where renewable energy will be used to power EVs to tackle the issue of climate change is a great initiative and will boost the clean energy market. Also, we hope that with the capital infused in the banking sector and banks coming out of PCA will help in infusing more funds to renewable energy projects.
However, it will augur well for the industry if the FM will consider the following in the full Budget:
Re-introduction of Accelerated Depreciation and 80IA for renewable energy projects – Accelerated depreciation @80% and 80-IA benefits should be re-introduced for windmills and solar projects to retail investors with project size less than 25 MW. This will also benefit Central Public Sector Enterprises (CPSEs).
GST Related – GST on services relating to setting up, power evacuation and operation & maintenance services (OMS) of a Renewable Energy Project should also be kept at 5% (that is the same GST rate as applicable on renewable energy equipment) from the present 18%.
Export incentive – To achieve manufacturing target of 10,000 MW+ per annum, by increasing export incentive from 2% to 6%, to make Indian exports competitive in the global market.
Concessional Rate / Preferential Rate of Finance – 2% Rebate – RE sector is growing, however cost and availability can potentially impact viability, hence concessional rate/ preferential rate of Finance is required with 2% rebate.
Overall the measures on ease of living, job creation, encourage consumption, digital, clean and green India, it is definitely a well thought out budget.
Ashit Maru
While prices for solar have continued to drop over the last year, it is the lack of financing options for solar projects that have hit the industry hard. And the 2019 interim budget has missed addressing that challenge yet again.
We have been suggesting that solar loans should be treated like home loans, as an instrument for individuals to claim a tax rebate. But it seems like the solar industry will have to wait for things to proceed in this direction.
There still may be some consolation with the announcement that MSME units registered with GST can now get a 2% interest rebate on fresh or incremental loans up to a limit of Rs 1 Cr. This may incentivise some of these MSMEs to utilise this facility to install solar systems on their rooftops, thereby reducing their energy bills. With the country targeting 40% of power generation from non-renewable sources of energy by 2030, the potential for solar energy is immense in India and its adoption should see an exponential rise in the coming years.
The government has observed that this is the right time to invest in solar infrastructure, citing an investment potential of approximately Rs. 80,000 crores, which would not only help save a significant amount of electricity but will also contribute to a balanced ecosystem. However, the government needs to allocate a lot more dedicated attention and resources to the sector. Awareness, financial assistance and simplification of regulations need to be given top priority for the solar industry to live up to India's Vision 2030.
Overall, it is a very positive budget for the farmers, the middle class and the small traders/industries, with an eye on the upcoming 2019 general elections.
Pranesh Chaudhary
My views are heavily biased towards solar rooftop as that is the only sector we are currently focused on. So, I think the budget not having any big announcements/changes on subsidies/duties/ etc is a welcome move on easing out the government role. Government needs to gradually ease out policies around net metering (single window approvals are needed) and market dynamics will take care of the rest. Additionally, they can liberalise electricity tariffs a bit like introducing time of day billing for residential customers too so that energy efficiency becomes a talking point.
But to summarise, we are fairly satisfied with the way government agencies have ushered in solar rooftops and how they are moving forward. India is very near to an inflection point and will meet the right targets in the next few years.