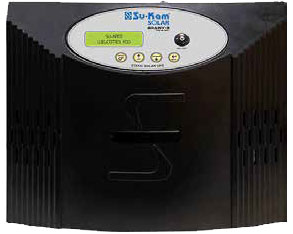 Product Brief
Su-Kam Solar presented the world's first zero change over time solar static UPS- Brainy S 5.5VA/96V at REI 2017. The Brainy-S is the perfect system to run all kinds of sensitive appliances through solar power and mains when connected with Su-Kam's MPPT or PWM solar charge controller.
Product Feature
This brilliant product combines the features of Online UPS and Solar Power Conditioning Unit to give reliable and steady power to your computers, modems, servers and other sensitive appliances. It can operate on both solar power as well as power from grid, but it always gives priority to solar power. Capable of saving battery from deep discharge
Application
Commercial and Residential
Benefits
The Brainy S 5.5VA/96V can run load simultaneously while battery charging. It has been designed to give priority to solar power and uses grid power only when the solar energy/battery power is insufficient to meet the load requirements.
Availability
Available