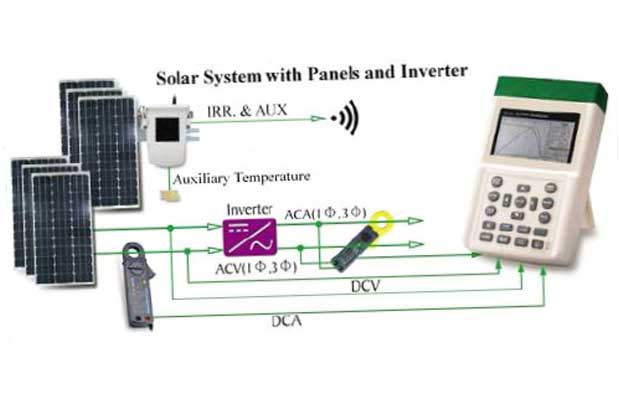 Product Brief: MECO Solar System Ana-lyzer- 9018BT is a portable analyzer used for testing, monitoring, measuring, analyzing and troubleshooting various parameters of solar system.
Product Feature: Solar System Analyzer- 9018BT draws I-V curve with parameters such as Voc, Isc, Vpm, Ipm with efficiency (%) calculation for solar system. This analyzer comes with Remote Solar Detector for mea-suring and monitoring solar irradiance and temperature. The Analyzer and Remote Solar Detector are connected by Bluetooth Wireless technology (Bluetooth 2.1 + EDR Class 1).
Application: Solar analyzer has Intelligent Test Logic with no personal attendance required. Solar System Analyzer waits and tests the system until appropriate sun light Irradiance is detected. The system con-tinuously monitors DC output of Solar System and AC power output of inverter; calculate Efficiency of DC to AC power conversion and maximum output power. The analyzer can be used for quality control at production line, warehouse or site of installation, maintenance of solar panels, identify requirement of solar power system, verify best angle of installation and for Research and Development.
Benefits: Analyzer is supplied with user friendly software for Data Storing and Analysis. Users can store data (.CSV/.TXT) that can be read in MS Excel and print Waveform / Graph via printer. Users can generate test report with testing data and curves of information. This report can be viewed by browser and printed out. Report can vary according to the selected curve items (OPC/STC/OPC, STC).
Availability: Available for purchase