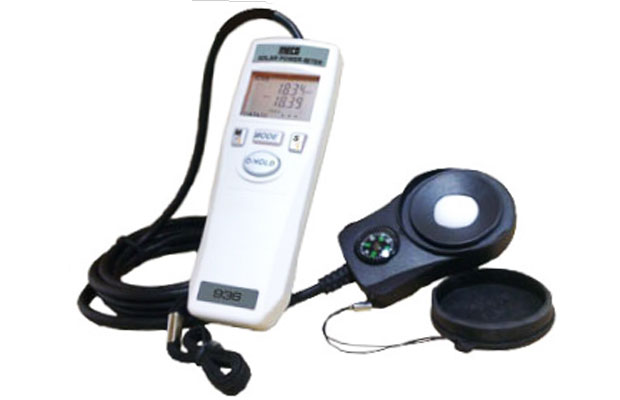 Product Brief: MECO Solar's Power Meter-936 is used for measuring solar power or solar irradiance. The portable meter uses high sensitivity silicon photodiode to measure solar power. MECO solar power meter can also detect solar tilt angle with orientation.
Product Feature: This instrument is desi-gned to measure solar power in the range from 400 to 1100 nanometers. It measures the solar power and transmission up to 2000 W/m2. Solar Power Meter has Max / Min / Avg and data hold functions to indentify locations with maximum or minimum power. The good spectral range, orientation and angular detection of meter allow users to conduct the most precise quantitative measurements of solar power radiation.
Application: MECO Solar Power Meter-936 is best used for Solar radiation measurements and comes handy for Solar power research for location of the solar panels or solar water heater. It is suitable for physics and optical laboratories, meteorology, agriculture. Windows performance – calculation and verification of the heating or heat reduction caused by direct sunlight.
Benefits: The device offers solar power measurement with Orientation and Tilt angle, also provides easy measurement for rate of daylight penetration. It facilitates auto change for measuring range and Auto power off with disable function. It displays instantaneous display Ave/Min/Max values and 20 points memory. It comes with socket of tripod mou-nting, magnetic mount and includes backlit LCD and 4 digits triple display.
Availability: Available for purchase