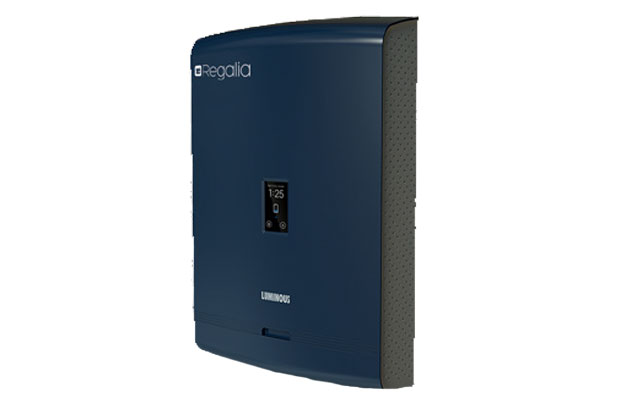 Product Brief: Luminous Power Technologies has announced the launch of Wall Mounted Power Backup System named Luminous Regalia. The Company is touting it as the most compact power back-up system available in India. The new product from the house of Luminous comes with in-built lithium ion battery technology – just like mobile phones. According to the company Regalia is maintenance free and offers battery life of up to 10 years
Product Feature: Luminous Regalia comes with rated capacity of 500W-750W and includes 1kWh & 1.45kWh of Energy Storage Capacity with >95% Battery Efficiency. The power backup system takes around 2-3 charge to get fully charged. Luminous claims that Regalia is maintenance free and offers battery life of up to 7-10 years.
Application: Luminous Regalia enable users to stay connected using Wi-Fi and access information and diagnostics via their smartphones. It is safe, eliminating the risk of accidental contact by doing away with wires, terminals and includes an in-built safety mechanism to protect appliances from voltage surges and short circuits. It can be used in home and offices for power backup.
Benefits: The power backup system has the option to be charged with regular mains supply or through solar panels harnessing abundant solar energy. The fast charging technology incorporated in the system cha-rges battery completely in less than three hours.
Availability: Luminous Regalia will be available at Rs. 64,999 from luminouseshop. com, electronic retailers and existing premium partners.