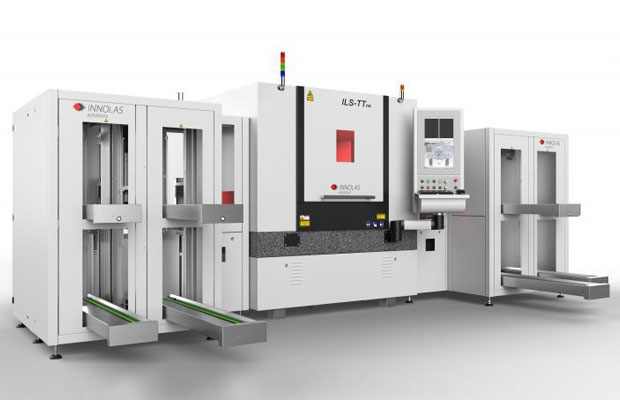 Product Brief: InnoLas Solutions has launched its new high throughput laser workstation for various applications with throughput up to 6000 wafers per hour (WPH). The ILS-TTnx (InnoLas turntable next generation platform) is based on InnoLas' existing and proven rotary table machine platform with a multi process head configuration and a dual lane automation system.
Product Feature: The InnoLas Solutions, ILS-TTnx enables an increase in the throughput beyond 4000wph without increasing the tools footprint. The enabling innovation for the ILST-Tnx comes out of InnoLas know how in laser optics, such as multi-beam splitting as well as multi-pattern scanning. The compact design of the ILS-TTnx saves factory space and lowers the overall cost of ownership. With the ILS-TTnx InnoLas follows the ITRPV roadmap and enables the reduction of solar cell product costs, according to the company.
Application: The ILS-TTnx laser workstation is suitable for various process applications such as Laser contact opening (LCO) for PERC solar cells, Laser doped selective emitter (LDSE), and front side LCO for the upcoming copper plating on Silicon (PoSi) metallization technology.
Benefits: The ILS-TTnx can reach a throughput of up to 6000 wph and beyond. The machine can be configured as fully automatic standalone platform with cassette to cassette operation, or integrated into any inline production system such as e.g. a screen printing line.
Availability: April 2017, onwards.