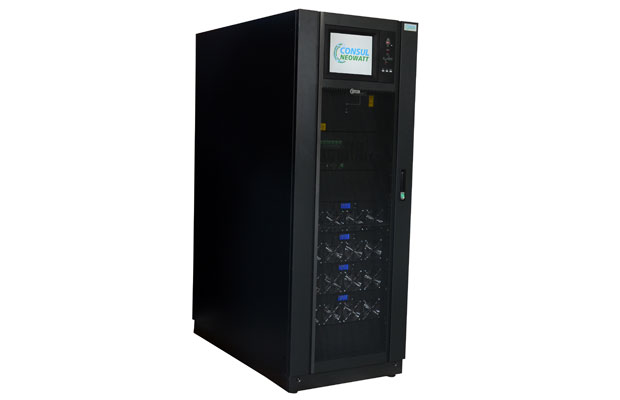 Product Brief:
Consul Neowatt has launched Falcon 7000M, a three phase modular online UPS. The Falcon 7000M available in a range scalable up to 900 kVA. Falcon 7000M is designed with hot swappable power modules, centralized static bypass module and inbuilt manual bypass switch with special attention in design to avoid single point of failures in the system. Each module has its own controller which eliminates the need of a common controller. It becomes the right choice for all infrastructures with a compact footprint of less than 2m² for providing 900kVA of uninterruptible power protection
Product Feature:
The Falcon 7000M UPS has been developed to deliver on three key areas – Flexibility, Availability and Lower Total Cost of Ownership. Clients can pay as they grow by adding the required UPS modules to provide the required redundancy and capacity as their power needs evolve and change with time. This provides the flexibility at a lower total cost of ownership as it avoids over sizing the initial design. Falcon 7000M is available in two flexible configurations of 25 & 30 KVA modules for vertical scalability with a maximum of 6 &10 modules in a frame, based on the requirement.
Application:
Ideally suited for critical applications like Datacenter, IT/ITES, E-commerce, BFSI, Retail, Education and Entertainment segments.
Benefits:
Falcon 7000 Musesan advanced topology to provide 96% efficiency when operating in online double conversion mode. The Falcon 7000M also uses a unique active hibernation feature which allows the unused UPS Module to go into the sleep mode thus improving the efficiency of UPS at light load conditions.
Availability:
Available