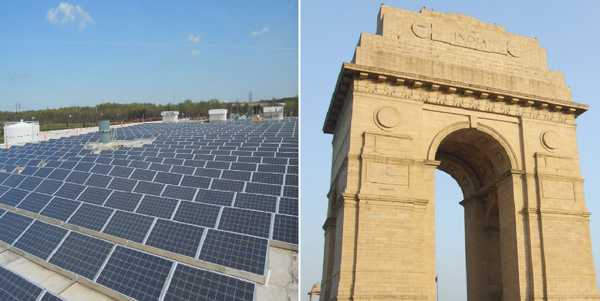 Government of India has set a target of 100 GW of solar energy generation in India by 2022, of which 40 GW is spectated for rooftops.
The Delhi government on 10th September 2015 released a solar policy draft that would remain valid till 2020. Delhi is well positioned to lead India's rooftop solar revolution and has consequently established solar generation targets of 1 GW by 2020 (4.2% of energy consumed) and 2.0 GW by 2025 (6.6% of energy consumed). With a target of 1 GW, the solar policy is ought to drive the market estimated 150 times in the next five years. Energy Efficiency and Renewable Energy Management Centre (EE&REM) will act as the Nodal agency responsible for implementation of the policy.
Delhi is quite a small state and have low potential for wind or hydro power so the policy had to be rooftop solar focused. The state is blessed with almost 300 sunny days and the rooftop space available for solar panels is estimated to be 31 km2, giving Delhi a solar energy potential of 2.5 GW (annually approx. 3,500 million kWh). Of this potential, 26% is in the government/public sector, 25% in commercial/ industrial sector, and 49% in domestic sector.
The policy focuses on promotion and positioning of rooftop solar plants by way of directives, incentives, and revisions in regulation.
The policy has built a comprehensive framework around rooftop solar generation and net metering. To give access to the solar net metering facility for consumers who do not have a suitable roof for installing a solar system (e.g. residential consumers who live in apartments, consumers with shaded rooftops) there will be the facility of Virtual Net Metering. In Virtual Net Metering consumers can be beneficial owners of a part of a collectively owned solar system. All energy produced by a collectively owned solar system will be fed into the grid through an energy meter and the exported energy as recorded by that meter will be pro rata credited in the electricity bill of each participating consumer on the basis of beneficial ownership. Collective ownership of solar plants may be established through societies, trusts or section 25 Companies or any other legal entity that safeguards the interests of participating consumers, including rights which are at par with the rights enjoyed by consumers who have solar net metering with a solar system installed on their own roof. The State government shall work with DERC to approve and announce Virtual Net Metering for all consumers no later than 1 April 2017. To encourage solar plants on rooftops of buildings that cannot consume all of the energy generated locally, DISCOMS shall facilitate Group Net Metering, whereby surplus energy exported to the grid from a solar plant in excess of 100 percent of imported energy at the location of the solar plant can be adjusted in any other (one or more) electricity service connection(s) of the consumer within the NCT of Delhi, provided these connections are in the same DISCOM territory. At this time, Group Net Metering has been approved for all government buildings.
Delhi Govt. following footstep of its neighboring state of Haryana has also introduced mandates. The solar policy mandates all government and public use rooftop of buildings with a minimum shadow to install a solar PV plant. However, the policy does not mention if any penalties would be applicable if rooftop solar is not adopted.
The policy comes with a number of incentives like exemption of electricity tax, open access charges, VAT, Entry taxes, CSS, Transmission and Wheeling and Banking charges. Generation Based Incentives (GBI) of Rs. 2/kWh will also be offered to consumers under this policy.
An amendment has been also issued to various building by laws which further ease the process of getting approvals from Municipal Corporation for developers.
To oversee, monitor and resolve various issues arising out of this Policy, an Empowered Committee has been constituted under the chairmanship of the Chief Secretary of the GNCTD. The Chairman of the Committee is empowered to co-opt subject matter experts, as required.
To help achieve the solar capacity targets outlined in the solar Policy, the Delhi Electricity Regulatory Commission (DERC) will determine annual Solar Renewable Purchase Obligation (RPO) targets for the DISCOMS, separate from the non-Solar RPO targets. The annual Solar RPO targets must be at a commensurate level with the target capacities of this Policy. The DISCOMS must source at least 75% of their RPO targets within the state of Delhi. Currently DISCOM purchases green power at an expensive rate from outside the state.