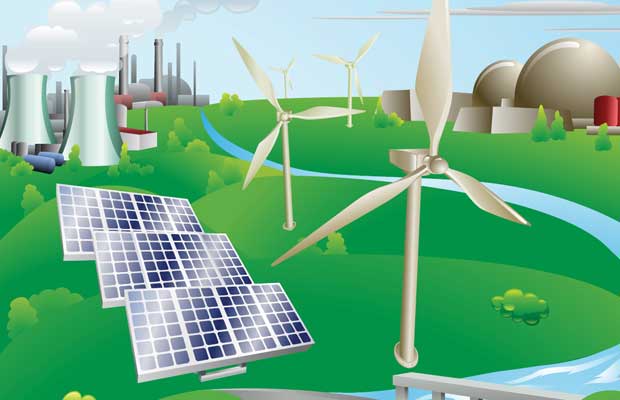 "Governments need to champion and commit to COP21 targets and organisations need to be bold and agile in order to achieve an energy system built mainly on renewables by 2050."
Oliver Wyman in its latest report notes that a global energy system based mainly on renewables can be achieved by 2050, but governments need to fully commit to a switch over from existing systems and energy companies need to scale up their efforts to transition to a low-carbon world.
The global management consultancy highlights four mega-trends set to reshape the global energy industry, the firm maps out a dramatically changed relationship between the energy producer and the energy consumer, a shift from West to East in the production of technologies used to power a low-carbon energy system, and the emergence of an oil and gas sector that will be dominated by four distinct business models.
The Four Mega-Trends Are:
Coal-fired power and nuclear will no longer be viable sources of power in OECD (Organisation for Economic Co-operation and Development) countries by 2050:
Coal-fired generation in OECD countries is in terminal decline, initially displaced by cleaner natural gas, but increasingly by renewable generation sources that continue to grow faster than predicted. The share of renewable generation has doubled every 5.5 years. If we continue on this trajectory, by 2050, up to 90% of OECD generation will be from renewables. As the cost of renewables decline with increased scale of deployment, the economics of new fossil fuel or nuclear investments will become uneconomic, especially when considering there is no 'fuel cost' for renewable generation.
The speed of adoption of renewable generation and distributed energy resources (DER) will result in a mostly decentralised and highly democratised energy system by 2040:
There will be a rise in the number of 'prosumers' (those that both consume and produce electricity) at a local level. These participants will trade power among themselves at a local level, operate flexibly (through demand side response, aggregation and choices around when and through which mechanism they consume or sell power) to ensure the system is in balance. They will also play a far more active role in the energy system as a whole.
The engine for developing the technologies that will power the energy revolution will reside in Asia and to a lesser extent in the US:
China in particular will set the pace of technology development and low-cost scale manufacturing by using its domestic market to drive mass production and drive down costs – from wind turbines and solar solutions to battery storage technologies for large, grid-scale usage as well as to power Electric Vehicles (EVs).
The energy transition will change the economics of oil and gas industry, leading to the emergence of four distinct business models:
Low-cost, high-volume producers – local oil and gas companies that operate in regions where costs of exploration and production continue to be very low, such as Saudi Arabia
Onshore unconventional operators – agile, low-cost operators. These companies will look to minimise upfront capital investment in projects. They will focus on using new technologies and very lean, efficient operations to maximise a shorter well lifecycle where production can be ramped up/down and brought online quickly
Integrated asset-owning service companies – highly-integrated, multi-disciplinary energy businesses that will emerge as international oil companies and oilfield services companies combine to bring their respective capabilities to the post-transition global energy sector – including engineering, project management, large-scale logistical, technical and operational capabilities; as well as international and national political insight and negotiation skills
Finance-backed operators – private equity and infrastructure funds investing in mature oil and gas assets. This will allow international oil companies to divest and redeploy capital investment in higher growth regions while also participating in the new power business models and solutions
Francois Austin, Global Energy Leader, Oliver Wyman, said: "Governments need to champion and commit to COP21 targets and organisations need to be bold and agile in order to achieve an energy system built mainly on renewables by 2050. Our four mega trends represent the major drivers for change and disruption that lie ahead for the industry in the coming years. Those players willing to invest boldly in innovation and re-think their operating and financial models will be best placed to succeed during this period of transition."