We need to remove all obstacles and scale up, Macron added.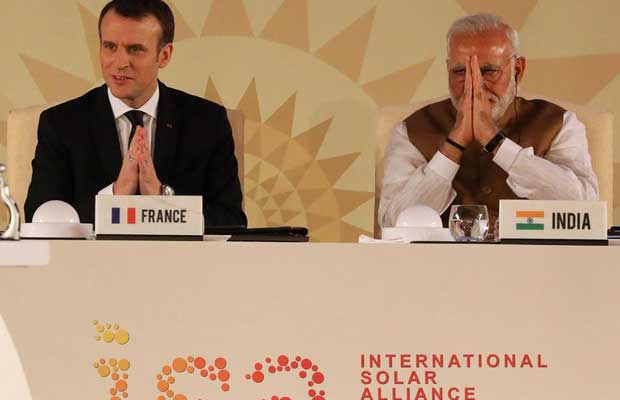 French President Emmanuel Macron has pledged an additional investment of 700 million euros for solar projects in developing countries, as world leaders met in India to promote greater investment in renewable energy.
Macron said France would extend an extra €700 million (Dh3.16 billion) through loans and donations by 2022 for solar projects in emerging economies.
France had already committed 300 million euros to the initiative when it co-founded with India a global alliance in 2015 to unlock new cash for solar projects in sunny yet poor nations.
While speaking at the first meeting of the International Solar Alliance (ISA) in New Delhi, President Macron hailed the "solar mamas", a group of women trained as solar engineers, and without mentioning the name of his American counterpart, he said the women had continued their mission to promote solar energy even after "some countries decided just to leave the floor and leave the Paris agreement".
"We need to remove all obstacles and scale up," Macron added.
Prime Minister Narendra Modi said it was vital that nations were not priced out.
"We have to make sure that a better and cost effective solar technology is available to all," Modi told the gathering of investors and world leaders from about 20 mainly African nations.
"We will have to increase solar in our energy mix."
Both leaders hope the alliance will spur $1 trillion in new solar spending by 2030 in 121 countries lacking investment in the sector.
These countries have "the paradox of being the sunniest in the world while enjoying the least solar energy", said Segolene Royal, a former French minister in India as a special envoy for the alliance.
Source: AFP