Q. FM Arun Jaitely in presenting Budget for 2017 announced decrease in customs duty on solar energy panels. What type of impact do you see in the solar industry, will this year witness strong development of solar projects in the country? Does the budget looks sunny for the EPC players?
The basic customs duty on solar tempered glass and other components used in the manufacture of solar cells, panels and modules has been reduced by 5-6%. However, this will have a marginal impact on the cost of solar panels as solar tempered glass is a low-cost component. Moreover, much of the solar tempered glass used by domestic manufacturers is locally procured. There has been some concern about the sluggish growth in demand for power and the rising incidence of grid curtailment, but a steady reduction in module prices and the downward trend in interest rates will set things right. With the effective implementation of the Uday scheme, the financial health of power distribution companies will improve, thus enabling them to keep renewable energy going.
India is projected to add 1.1 GW of rooftop solar capacity this year, a 75% increase as compared to 2016, driven by capital subsidies and substantial demand from the public sector. We expect 2017 to be a great year for the solar power sector in India with the total installed capacity expected to reach 20 GW by the end of the year. Making the most of the solar boom, EPC companies are contributing to the development of solar power projects like never before.
Reduction in taxes on machinery and components used in solar power projects will bring down the cost of these projects. Higher spending on electrification and development of transmission network through Green Energy Corridor projects will result in more orders for companies associated with the transmission sector, especially with the Ministry of New and Renewable Energy directing the Power Grid Corporation of India Ltd to take decisive steps to strengthen the grid and transmission infrastructure in the country.
Q. The total allocation for infrastructure development in 2017-18 stands at Rs 3,96,135 crores, this is definitely going to boost economy, jobs & consumption. How these allocations will affect the energy sector?
The increase in allocation for infrastructure development will result in rise in energy demand in the industrial sector. The government has decided to set up two more strategic crude oil reserves in Chandikhole in Odisha and Bikaner in Rajasthan and take up the second phase of Solar Park development for an additional 20,000-MW capacity to meet this demand.
The country is well on its way to achieving 100 per cent rural electrification by May 1, 2018, and an increased allocation of Rs 4,814 crore has been proposed under the Deendayal Upadhyaya Gram Jyoti Yojana in 2017-18. The government must continue to take steps to further develop key infrastructure components like power, energy, inland waterways, rural housing, etc. It should promote projects which harness renewable energy sources by giving them special emphasis and announcing incentives.
Q. Arun Jaitely has also proposed to take up the second phase of Solar Park development for additional 20,000 MW capacities. According to a research firm, India will add 9GW of solar power during the calendar year. How confident are you that the 20GW target can be achieved?
The rapid pace at which large solar projects are coming up across the country, India is well on its way to reach the 20-GW target by the end of this year. Tendering for solar projects with a total capacity of 15,177 MW has already been completed and a total installed capacity of 12,161 MW is likely to be achieved by the end of this financial year.
Q. What are the current and potential challenges that solar EPC sector facing in India?
The most crucial aspect of any solar power project is its timely completion without compromising on quality. We, at Hartek Group, have commissioned more than 500- MW solar EPC projects, and quality and timely execution have been the hallmark of all these projects.
Since solar power is intermittent in nature, its integration to the grid is extremely important. Our transmission system should grow in sync with the increase in solar power generation. The widening gap can put immense pressure on the existing transmission lines. Clearly, upgrading grid infrastructure will pose a huge challenge in times to come. Considering the pace at which the solar industry has grown from 500 MW in 2011 to more than 10 GW now, manpower has become another big challenge. Getting the right kind of manpower to deliver 10-15 GW a year will be a formidable task.
Operation and maintenance is another area where the Indian solar EPC industry has a lot of catching up to do. After all, solar plants have to operate optimally for the next 25 years, for which the focus should be on operation and maintenance like never before. However, Hartek Group has been taking care of this aspect right from Day One by carrying out the complete Annual Maintenance Contract (AMC) of every project completed by the company. We have also launched a mobile testing van called "Grid Doctor", which instantly caters to all gridrelated failures and problems.
Q. How Hartek Group is planning to create competitive advantage and emerge as formidable player in rooftop segment?
Pursuing an uphill target of 40 GW by 2022, India's rooftop solar industry is finally getting the thrust it needs to reach the magic figure. Growing by 113 per cent over the past one year, India's rooftop solar capacity recently crossed the 1-GW mark. Though full of challenges, the rooftop market is bound to grow by leaps and bounds in times to come. Having forayed into the rooftop solar segment couple of years back Hartek, has been involved in more than 13-MW + rooftop projects already.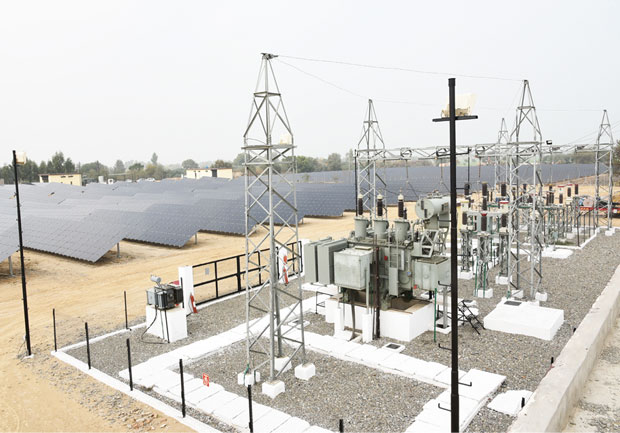 We are striving to create a competitive advantage and emerge as a formidable player in rooftop solar by focusing on the operation and maintenance part, which is dissuading many people from opting for rooftop solar despite its immense potential. Hartek Group, which is credited with installing Chandigarh's first rooftop project in the commercial category, a 436- kWp plant spread over six buildings, is also firming up its plans to enter the residential category with its solar solutions across India. Having provided power solutions to and worked closely with the industry for more than two decades, we are particularly focusing on the commercial and industrial segments pan-India. Rooftop solar is a win-win proposition for the industry as it helps save on electricity costs and reduce carbon footprint.
Q. Share your views on how adoption of rooftop solar can be propelled in the country.
India's rooftop solar capacity recently crossed the 1-GW mark, a high point that should set the tone for unprecedented capacity additions in years to come. Rooftop solar in India has everything going for it—favorable government policies, streamlined processes, an efficient regulatory mechanism and an investor-friendly business environment. But the real difference will come if the government gives a practical shape to bidirectional net metering, especially in the residential category. Though some states have introduced policies making rooftop solar plants mandatory, the enforcement is lacking.
The 500-MW and 1,000-MW tenders floated by the Solar Energy Corporation of India (SECI) last year will set the pace for rapid rooftop solar capacity additions. The government should keep up this momentum by ensuring the effective implementation of these policies.
With leading global solar panel manufacturers keen to set up base here under the Make in India campaign and domestic manufacturers heavily investing in R&D to come up with new low-cost materials and mechanisms for solar panels, these panels will become increasingly affordable. As the industry introduces more and more costeffective solar PV technologies, off-grid solar opportunities are also poised to grow proportionately. Ultimately, energy storage solutions will prove to be the turning point for the rooftop solar industry by acting as a catalyst in spurring its growth.