"While India tenders for storage + PV projects are beginning to take root after a year or so of fits and starts, NEXTracker has been building a solid foundation of brain power and boots on the ground staff in our Hyderabad office from design engineers, product and project managers. We look forward to enhancing India's existing infrastructure with our world-class products and services."
Q. What kind of ROI can NX Fusion Plus deliver to owners of solar power plant and what unique value proportion does it offer to its customers?
Alex: By adding storage to our award-winning single axis tracker system, we have incorporated battery storage technology into our flagship single-axis tracker, NX Horizon, which Increases the energy output and duration of solar power plants, just as tracking technology did for fixed-tilt solar applications. Our solar + storage solution will ultimately off-set grid load and allow customers to use more solar and storage throughout the day, broadening the shoulders of the PV generation curve. See the below diagram for an explanation for how the PV generation curve is extended with storage.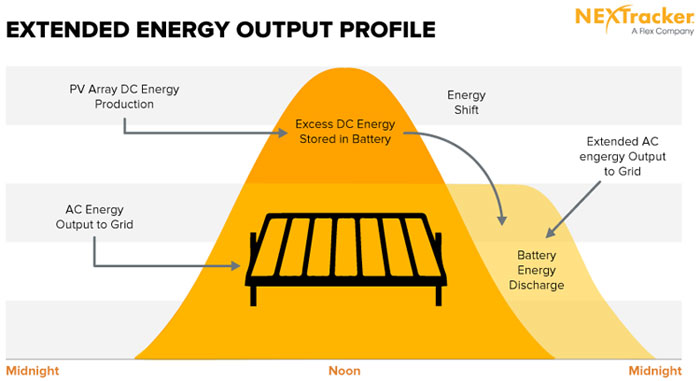 As of 2016, energy storage was included in India's state-run solar energy tenders for the first time. This is truly exciting for us. Similar to India, we are entering this market first in California, our backyard, to pilot our solution with distributed generation applications.On local farms, for example, where they are smaller projects – again to test and learn – and optimize our solutions small scale at first. By installing smaller solar + storage systems such as ours, it will not influence the overall costs of the projects that much but it will benefit end-users, such as California farmers, tremendously. We are just beginning to get interest from Indian customers for the same benefits.
Just last month we saw huge news about the utility scale tenders of about 50 MW each in Kadapa Solar Park with 13 developers submitting bids. We would have never predicted this for the Indian solar market even a year ago. There's massive early interest and we are keen to offer the Indian market our storage + PV solution.
Q. According to cyber security experts solar is much prone to cyber-attacks, how does NEXTracker take care of the data security in its smart control software for its customers?
Alex: Data from our tracking and storage system is integrated with Flex's cyber secure software platform, Flex Connect. Thanks to our parent company, Flex, we are backed by a $26B parent company that has a state-of-the art cyber secure platform. Our Digital O&M™, SCADA software and other programs are integrated into this platform. What's truly unique about our system vis a vis other tracker and fixed tilt systems is that our customers can enjoy data from every row on any given solar power plant with NEXTracker systems. We model, test and learn and optimize for our customers so they can maximize their NX assets.
Q. Shed some light on the design of the new trackers, what aspects have been taken care while designing so that it can sustain variable climates of India. Adding to these weather challenges there are construction constraints by the hilly terrains and topography, which can be problematic when it comes to solar plant construction.
Alex: NEXTracker systems are both engineered for balance and flexibility so EPCs and developers reap the rewards in energy gain and affordability. For example, we have slope tolerances at 15%, closed motor gears/ slew drives, and structures well above flood clearance, leaving, the entire PV system out of harm's way in the event of flooding during monsoons, sand storms, among other micro-climate variabilities. Site design is considerably more flexible versus centralized tracker designs.
Q. NEXTracker is selling Ideal Power's SunDial solar PV plus storage string inverter as part of newly launched solar plus storage tracker NX Fusion Plus. Share us the reason behind integrating SunDial solar PV plus storage string inverters?
Alex: We have partnered with Ideal Power because they are an excellent, collaborative partner. From early on, Ideal Power was willing to explore different solutions.
Q. Currently is there any project in India that is using NX Fusion plus? Will you be partnering with any other company for string inverters to sell in Indian market?
Alex: We are anxious to bring this solution to the Indian market. It is poised for tremendous growth in the PV+storage space. We are in discussions with our Indian EPC partners but it is early stage at this point.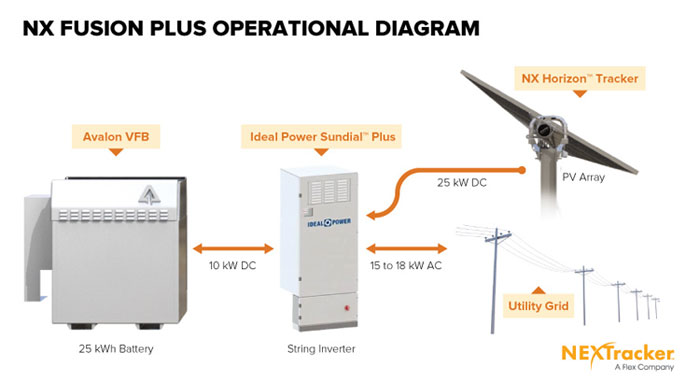 Q. Trackers are a more complex system than fixed racking. This means that typically more site preparation is needed, including additional trenching for wiring and some additional grading. How challenging it is in the case of integrating your systems in the course of Indian ecosystem?
Alex: we have a proven solution for the Indian market and we're working closely with our Indian partners, Adani and CleanMax, for example to find the most optimum solution for their projects. If that means adapting to certain project conditions, we do so without compromising quality, reliability and our core product. The project economics for single axis trackers has proven itself in the Indian market. We were the first SAT Company to develop the largest tracker project in Punjab with Adani. It is going well and yielding terrific performance.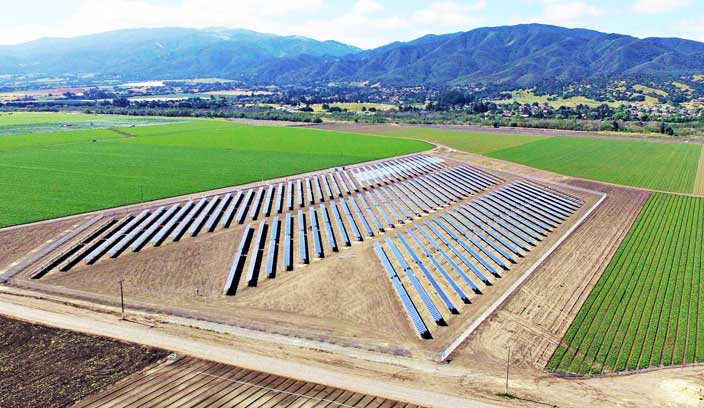 Q. Traditional trackers have an added value proposition of maintenance. Do your trackers also need a regular maintenance, if no, then how you make sure that it delivers low-maintenance and offer high-resiliency?
Alex: Developers must think of the long term investment opportunity that decentralized (unlinked) trackers offer versus linked row trackers, or centralized. For any installation, planning and budgeting for system O&M is a key step in project development. This is even more critical for utility-scale systems because the effects of downtime are exponentially greater. While budget pressures can cause some developers to offload O&M strategy to later in a project's life, successful upfront O&M planning can help inform decisions on system design and componentry. Basing these decisions on installed cost alone often results in a short-sighted project plan that turns investments upside down.
The specific type of horizontal tracker selected for a project can have a profound impact on O&M planning and costs. In determining which type of tracker to use, it's important to think through system architecture. SATs can generally be categorized in two ways: centralized and decentralized. In a centralized or "linked-row" system, rows are connected via drive lines and cables and typically require trenches. Decentralized trackers, on the other hand, are composed of independent rows, with no hard links between them since each row is powered by its own self-powered motor drive and controller.
From an O&M perspective, row independence is an important consideration because it enables more flexible layouts and easier access between rows. In the comparison below, we can see that there are unutilized areas of the site layout and that access roads must be developed during the engineering design phase of the project to allow service vehicles to access the site for routine service. In addition, decentralized trackers enable a system tooptimize land use — allowing more PV to be installed and thereby increasing the plant's power output.
Q. What key technologies does your trackers embed to keep it low-maintenance and deliver high output?
Alex: Inherent in our design is a self-powered mechanism utilizing a small solar panel fixed to the tracker device itself which powers the motor – it's self-sustaining. If one row goes down, you're talking 25kW, not the whole site – which is the case for linked row trackers.
Q. Share us about your Make in India plan and how do you see the tracker market growing here in the country?
Alex: Funny you should ask. Our CEO, Dan Shugar, will be on a business trip in the next month to discuss some interesting opportunities for sourcing in India. We'll keep you posted. We're keen to empower local resources, installers and components from India as much as possible. The long-term sustainability of India's renewable energy industry is dependent on it.
Q. What additional support does the company need to remain competitive in the Indian tracker market?
Alex: We find that if we invest in our relationships with our customers, on a much deeper level – such as what we do with our localized PowerworX training Academy, we are in India for the long term, working on deepening those relationships with our partners do co-design and optimize with them for lowest cost and maximum energy yield. We hold Prime Minister Modi's renewable energy charter to the highest esteem and have every intention of helping our customers in India move forward at a steady, yet methodical pace so as to test and learn as much as we can with them and course correct quickly when we need to.
Q. What kind of market share will you have by end of this year?
Alex: Currently NEXTracker enjoys leading market share in India but no doubt, we have healthy competition – and this is a positive thing for a thriving renewable energy marketplace. The Indian solar industry wants this to be the case so we strive to craft the best, highest quality product at an affordable price – and a solution that will truly be around for the lifetime of the plant. With our parent company, Flex, we are also able to afford scalable solutions with a robust supply chain – which will ultimately assist India to achieve its ambitious clean energy goals.