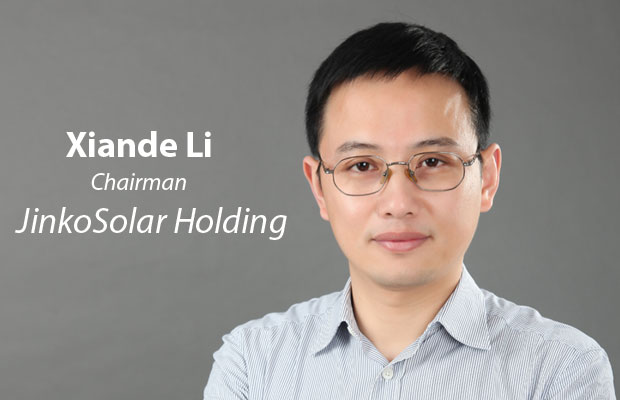 JinkoSolar recently completed financial agreements for 1,177 MW Sweihan PV Power Project in Abu Dhabi, this is not the company's first participation in a large international bid of the highest level, JinkoSolar has already bagged 250MW project in Mexico and 94MW in Argentina. However, this Abu Dhabi project is of 1.177 GW so what does this project means for the company?
Our vision is to be the world's lowest-cost producer of solar energy. This result shows us that we are on track. This will enable us to build credible international development partnerships and will have shown that we are capable of competing with the best in the world.
It is the largest single-site solar project in the world and also with the world's most competitive bidding of 2.42 US cents per kilowatt.
The agreement was closed at USD 870 million financing for the 1,177 MW solar project, share us how JinkoSolar finance its energy projects?
Speaking in general terms, JinkoSolar already has a proven track record of leveraging international and domestic financial resources. In fact, JinkoSolar is a pioneer in terms of establishing a sustainable independent power production business across the world. We were the biggest winner in China's Top Runner Program in 2016 awarded with 400MW Top Runner Projects. Now we have connected, owned and operated over 2GW solar plants in China, including 63 utility scale ground-mounted plants and 100 decentralized commercial rooftops covering close  20  provinces, in addition to 7.7 GW in pipeline. In emerging market, JinkoSolar obtained 250MW project in Mexico with investment of 250 million US$ and 94MW in Argentina of 94 million US$. The combination of its strong track record and financial stability makes JinkoSolar an attractive proposition for lenders looking to participate in our renewable energy projects.
What type of special preparation is the company doing/ has done for the world's largest single site project?
For this project, all of JinkoSolar's premium Mono PERC 72-cell modules will be used and we are also financing the project with Marubeni and ADEWA. Total project investment to be 870M USD.
Tell us what made JinkoSolar bag this project though few major players were still there in the last phase of the bid?
There is no doubt that as the world largest solar module producer, we have a substantial competitive advantage on the pricing. The challenge to bidders was to maximize the power output from the site. We put forward solutions with more power than our competitors based on our leading Mono PERC technology.
Furthermore, other key items that drive the LCOE levels are usually the EPC costs, the financing conditions and irradiation. In this particular Abu Dhabi case, module prices and highly competitive financing terms have played a crucial role. We got the best financing support from our partner Marubeni. And Abu Dhabi, and the UAE in general, is a fantastic location for solar, thanks to the natural advantage given by an attractive solar irradiation of more than 2,240 kWh/sqm.
There are number of potential benefits associated with oversea investment, but at the same time there are risks too.  How JinkoSolar overcomes these risks?
We have a professional overseas development team covering legal, commercial, financing, also we committed to foreign influential consulting firms for consultancy of local laws and regulations, to handle and mitigate these risks. We fully understand that variances in legal culture and thinking may breed differences between a Chinese company and its foreign counterparts in a consortium or between the Chinese entity and the foreign government regulatory body, so the communication before project kickoff is necessary.
Share with our readers on the profit margin of this project and how this projects going to effect on GCC regions? Will this project fan the solar power installation in the region and beyond?
Cheaper costs of solar energy are creating new growth opportunities, even as the profit margins of generating companies may narrow in the low-price environment. Regarding the earning of the project, I think it should be still attractive, or as a sustainability and business oriented company, we will not do it just out of reputation. This is in incredible time for both the industry and JinkoSolar.
This result will further increase the development of solar power globally, particularly in sun-rich countries with growing energy needs. Dubai and neighboring emirates and Gulf countries will build on the now proven approach to procure solar power plants on a similar scale to conventional power plants. Its neighboring Saudi Arabia should finally also take note of the compelling nature of solar power, hence the announcement of a 9.5 GW renewable-energy pipeline.
The quality of tender and the pitching process was fair, transparent and efficient. Abu Dhabi Water and Electricity Authority ("ADWEA") has done a fantastic job putting together a world class tender, which only allowed the very best players to compete.
Such strict requirements, transparent process, and focus on pure competitive mechanism of the Sweihan project tender, has made it a new benchmark for the industry and for the region, and created a template right for other GCC countries who have similar scenario. UAE has now firmly established itself as the forerunner of solar energy in the Gulf region.
What type of market do you see for N-Type Bifacial and Half-Cut PERC Modules in India?
As far as N-Type Bifacial is concerned, there is limited demand in the Indian market. Half-Cut PERC is welcome among the developers and they are willing to experiment with the technology as it enables better output with same specifications. However, the common trend on the Half-Cut PERC product is price parity, sought by most Indian developers.