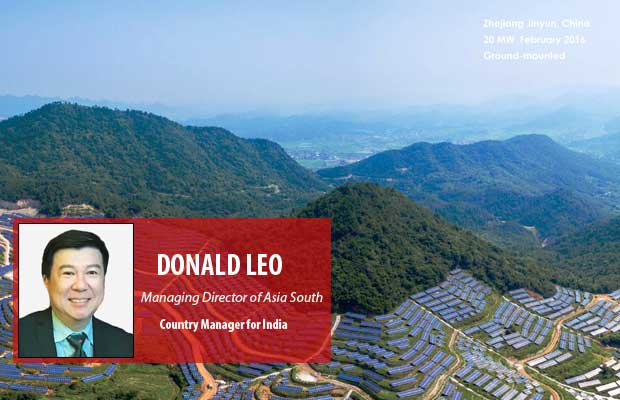 Q. How significant is the Indian market for JinkoSolar? Please give us an overview of the company's India ope-rations and product offerings?
2017 is going to be a significant year for India's Solar market with a strong pipeline of approximately 14 GW of utility scale projects underway. Out of this, 7.7 GW of capacity is expected to be commissioned this year. Combined with 1.1 GW of expected rooftop solar capacity, India will add a total of 8.8 GW in 2017, securing position in the world's top three solar markets after China and the USA.
Fulfilling India's energy needs is central to the nation achieving its lofty development ambitions. JinkoSolar has a whole team dedicated to the Indian market, located in Aerocity, Delhi, and BKC Mumbai. Jin-koSolar India has a local team in sales, marketing, legal, technical, finance, and human resource, providing clients real-time sales and technical support response. Considering high temperature and humidity environment in India, JinkoSolar offers its Eagle Series to the market. Eagle Series are the first to pass Anti-PID test under 85℃/85% relative humidity, ensuring max-imum power output and ROI for investors.
Q. Jinko Solar recently reported a very impressive growth in 2016 and further shocked experts by guiding 2017 solar PV module shipments in the range of 8.5 to 9.0 gigawatts. Almost 50% jump from the last year, on what basis do you expect to reach the massive target and what all market do you expect to contribute in achieving the 9GW shipment?
JinkoSolar is confident in the quality of its products, reliability of the brand and durability of its 25-year energy yield. Power plants are expected to work for at least 25 years no matter where and under what conditions it sits and what challenge it will meet over the next quarter of a century, therefore it must live up to the highest quality standards. This is why JinkoSolar maintains one of the highest industrial standards for the design, performance, and workmanship of its solar products to secure a reliable energy supply of the PV system for well over 25 years.
In the meantime, JinkoSolar has balanced market penetration, despite its strong performance in China, USA, Japan and India, JinkoSolar also has 41% market share in Latin America.
Q. What was the contribution of Indian market in 2016 and what percent out of 8.5-9GW do you expect to ship modules this year in India?
JinkoSolar shipped around 20% of its modules to APAC region in 2016, as the company does not disclose shipment numbers for each country. However in 2017, JinkoSolar is confident to ship in excess of 1 GW modules to India.
Q. According to a report JinkoSolar holds 41% of Solar PV market share in Latin America. What were the factors that helped the company to grab huge market share in the region?
Latin America is undoubtedly an emerging solar market with few impressive years on record driven by high retail electricity prices, heavy electricity demand and strong market fundamentals. Last year, 2.8 GW PV module supply has been tracked in the region, up by two times from 1.4 GW in 2015. Out of this JinkoSolar currently holds a thumping majority market share of 41% that translates to supply of 1.14 GW of Jinko modules in 2016. JinkoSolar is a pioneer in developing emerging markets, in addition to its quality products and branding in the region, it is no surprise that the brand is well recognized by investors and developers.
Q. What percent of market share does the company currently enjoys in India and what is your expe-ctation by end of 2017?
Our expectation for the India market is 10-15%% in 2017.
Q. What is the unique technology the company is working into & upcoming products.
JinkoSolar launched 6 brand new modules at SNEC, making their world premieres are the ultra-power concept, which is showcased by PERC Mono 60 of 310 watt, MCT 60 Poly of 285 watt, MCT Dual-Glass 60 Poly of 285 watt, N-Type Bifacial 60 of 310 watt with backside plus 10%-30%, Half- Cut PERC Mono 60 of 320 watt, multi wire Mono 60 of 320 watt, which produce 5-10 watts more power than their counterparts.
Q. Share us in details about the Eagle MX solar panel and the innovative cell-string optimizer technology that it incorporates.
JinkoSolar's Eagle MX is perfect for utility, commercial and residential applications, unlike the way solar panels are connected and managed in a traditional installation, a weak panel will have a large negative effect on the entire system. Eagle MX has cell-string level maximum power point tracking, allowing for optimal performance in shading situations or tighter row-to-row configurations. Simply to say, regardless of home orientation or shading issues, Eagle MX eliminates these issues by using embedded intelligent cell optimizer and panel optimizer ICs. Any underperforming cell or module can continue to contribute its power to the string, but will not restrict the others. Also it can eliminate hot spot phenomenon, which is the major mec-hanism causing panel degradation and failure. For utility projects, more panels can be installed in a limited area, comparing to traditional solar modules.
Q. How JinkoSolar is playing a critical role in accelerating grid parity and driving force to facilitate globalization in a low-carbon way and benefit mankind.
JinkoSolar has been investing heavily in R&D, aiming to drive down the cost for solar. Solar energy is more affordable than ever, cheapest form of solar energy is occurring in more and more regions. A few ultra low-cost large solar panel farms have recently achieved around 4 cents per kilowatt hour earlier this year and the previous record bid for a solar panel farm in Chile was 2.91 cents per kilowatt hour. With JinkoSolar and Marubeni's recent winning of the Swaihan 1,177MW project for 2.42 cents per kilowatt hour, JinkoSolar sets a new record price for solar, leading the industry in achieving grid parity.
Q. Please brief us about the com-pany's R&D infrastructure
JinkoSolar has over 250 employees in R&D department, with 152 inventions and over 360 patents first filing. JinkoSolar holds the world record of 334.5W 60-cell Polycrystalline and 343.9W Monocrystalline module power output. In addition, JinkoSolar has a wide range of products available for all types of applications, providing clients with most suitable solution available in the market.
Q. Please share about the production quality management you follow and what kind of budget does the com-pany pumps into R&D?
The entire production process is closely monitored. Every cell and module is sub-jected to at least 36 steps of the most stringent quality inspection procedures and undergoes comprehensive in-house testing in the most advanced UL certified testing lab. It tests its products under extreme conditions such as tropical humidity, desert heat, coastal salt mist or agricultural ammonia enveloped atmosphere.