Q. Please detail us how your organization's Vision to continuously improve the businesses of your customers around the world actually takes shape through your products.
Heraeus is a German technology company with a wide portfolio, especially in renewable energies. We believe that in the next five years, the costs for electricity from renewable energies will decrease by 50% and that our technologies and services will be able to contribute one third to it.
When you put this into practice for the Photovoltaics industry, it all revolves around efficiency. And we view efficiency in two ways: The first is maximizing the efficiency of our products so that they can make the endproduct of our customers perform significantly better. We have products ranging from silver metallization paste and electrically conductive adhesives to cell optimization consultancy and HeraglazeTM. For instance, with our silver metallization paste we have been consistently delivering 0.1% / year efficiency gain; with HeraglazeTM we will deliver 4% higher yield in multi-crystalline silicon wafer manufacturing. These gains add up and make a real difference for our customers.
The second part of the equation is about finding ways to make our customers' processes more efficient. With our individual products, bundled products and services, we have become the only PV player in the world, offering a one stop shop for the solar photovoltaic industry. The most important thing we can do is to help them accelerate their speed-to-market. This gives them a competitive advantage in a very fast pace industry. Our organizational culture and strategic approach is about rapid innovation and responsiveness. That helps our customers build more efficient processes in their value chains.
And finally, we remind ourselves that every gain in efficiency and performance makes an enormous contribution to the continued growth of solar energy. Innovation will make solar energy more attractive and affordable. This is especially important for India. The country's energy demand is forecasted to grow fivefold until 2040. This is probably one of the biggest challenge the country has and we at Heraeus believe that our products and services will be able to support India to manage this enormous growth.
Q. Indian solar industry demand high efficiency products at low costs. Share us how Heraeus as an Industry leader in the segment is addressing this issue, given high competition in the Indian solar sector.
Due to our outstanding product efficiencies and services, Heraeus is globally leading the market for silver metallization paste. We realize that the common denominator across all markets is cost-per-watt, and the Indian market is no different. However, there exist differences in technology and process across various customers. This means that only bespoke solutions will lead to optimized efficiencies. Our industry renowned R&D, Application Engineering and Cell Optimization teams all over the world, work in close coordination with customers and address the customers' needs thereby delivering significantly higher efficiency gains on performance and process.
Together with our customers we analyze in detail the whole value chain and seek for optimization. We have strategically built these competencies because there is no "one fits all" solution.
Take for example our diffusion consultancy. During the cell production phosphor is used to optimize the transport of electrons between the silicon wafer and the silver paste. If the diffusion on phosphor is not equally spread on the wafer, the silver paste does not adhere perfectly to the wafer. By optimizing the diffusion we are able to increase the efficiency of our customer's wafer by up to 0.2%. This is an enormous efficiency gain, which can help to generate more profit for our customers.
So R&D Services, seeing the full process perspective and our very fast scale up potential – from first sample to full size batch – are key to our market leadership and proven by our customers worldwide.
Q. Share us about your R&D facilities and how they are helping you to offer products with better power efficiency.
The Indian market is served by our India & South East Asia application center in Singapore. Furthermore we operate R&D centers in the US, Japan, Taiwan and China. This allows us to practically offer a 24/7 service. We like to say 'PV innovation never sleeps or stops at Heraeus.' Our customer's benefit from short lead times on R&D samples and fast customization thereby realizing efficiency gains in the shortest possible time. In these centers we constantly optimize our products, we ensure that we absolutely minimize the batch to batch variation and that we ensure the scaling up process. No other competitor is offering this. Furthermore, a global spread also allows us to benefit from different views and ideas of our global engineering talents. Only the best ideas are being provided to our customers.
Q. Why do you think the Taiwan Patent decision will significantly impeded industry innovation?
This is not specific to Heraeus, or even Taiwan. It is a global issue that is a concern to the entire industry. There are countless companies like Heraeus that make significant investments in R&D in order to compete and succeed in the marketplace. When you finally discover that elusive breakthrough, a new idea or product enhancement, you want to be able to monetize your intellectual property. That is why IP rights are so critical. Whether the market is large or small, there must be an environment of fair and proper legal protection around the major markets. In order for solar energy to gain greater global adoption, the industry needs to continue to innovate, reduce cost / watt and become independent of government subsidies. Over time, the loss of fair IP protection impacts a company's ROI and their bottom line. Solar is still in the early stages and the companies who are genuinely committed to R&D investments will be crucial to advancing this technology. Having IP safeguards and legal protections in place is important to attract and incentivize the innovators.
Q. Your organization has signed new strategic cooperation with Solar Space (Zhonghui Photovoltaics) to develop High-performance Silver Pastes Solutions. What strategic benefits can Solar Space derive from this cooperation?
We have strategic cooperation with a lot of our customers. This is a special trust agreement which gives us a better inside into our customers operations. It allows us to look into the customer's processes more in detail and to develop stronger efficiency gains. We also offer this to our Indian customers and would be very happy to enter into agreements.
Specifically to Solar Space, this means that based on the remarkable advantages of Heraeus Photovoltaics' SOL9641BX silver metallization paste, Solar Space will be able to improve its competitiveness. Furthermore, they will receive strong support for the other processes that are planned for the future. Together with Heraeus' cell optimization consultancy, Solar Space will uncover further breakthroughs in performance through optimization of the SOL9642BX product and production processes.
Q. Tell us more on how your cooperation with Meyer Burger on heterojunction (HJT) solar cell technology will help its development.
With efficiencies above 23%, heterojunction solar cells are regarded as one of the most promising successors to replace current technologies and are expected to triple their market share in the next ten years.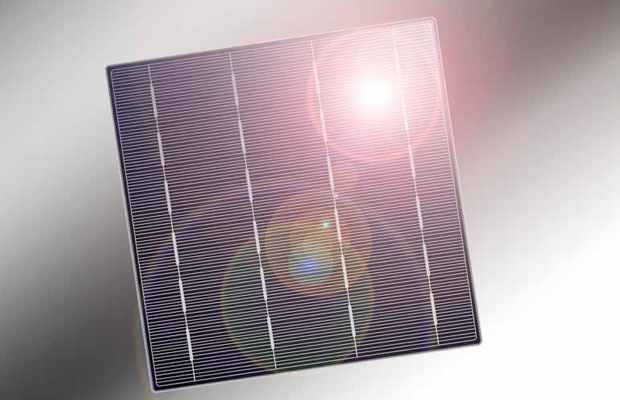 Heraeus Photovoltaics and Meyer Burger continue to work together to enhance the development of metallization pastes for HJT solar cells, which have specific requirements for the metallization since they have to be produced at significantly lower process temperatures than conventional solar cells.
Heraeus is delivering modified low temperature silver pastes on polymer basis, which cure at temperatures below 200°Celsius, while Meyer Burger provides a new HJT pilot production line for performing joint trial runs with Heraeus and Meyer Burger experts. Together they are developing Standard Operating Procedures (SOP) and Best Known Methods (BKM) for the heterojunction solar cell production at Meyer Burger.
Common silver pastes used for HJT cells are stored at minus 40°Celsius and need additional time for defrosting. Once defrosted, they can't be re-used. Heraeus SOL560 and SOL570 metallization pastes are much more customer and environmentally friendly: The pastes can be stored at room temperature, which eradicates the infrastructure for freezers. Also, the waste is eliminated, since opened metallization pastes can easily be re-used again.
Q. As a supplier to the Indian Manufacturers, what do you feel that the govt. needs to do for boosting domestic manufacturing?
The Indian government has been very visionary and supportive for solar photovoltaic install and manufacturing market. This mirrors the great leadership of the Indian government. The "Make In India" initiative and the recent GST implementation provides a good ecosystem for Indian PV companies to thrive. From a manufacturer's perspective, four things are essential: a skilled workforce, infrastructure, business-friendly policies and programs to encourage investment and growth and strong local/regional market potential. With further reform and industry friendly initiatives the expansion of Indian domestic manufacturing is bound to happen. Q What is the roadmap Heraeus have for the Indian solar market? Energy production from Photovoltaic is already the cheapest way to produce electricity in the world and the prices will continue to decrease. Photovoltaics thus offers great opportunities for India to help solving the very strong growth in energy demand. This however requires a good and technologically leading partner for the Indian solar market. Heraeus is convinced that it can be this partner. We are very focused on the needs of our Indian customers and will launch a technology initiative in India. We have opened a new office in Delhi, hired a Commercial Director and have set up dedicated resources for India in our engineering Technology Center to serve Indian and SEA customers. There are good reasons why we lead the global market in our industry and we believe that we can also support the Indian solar industry as we do with other countries all over world.