Q. Please detail us on Huawei's commitment to sound operations, ongoing innovation, and open collaboration and where this stands for India as a market.
Huawei maintains a strategic focus, patiently applying to make breakthroughs and create real value for our customers. In 2016, our sales revenue rounded off the year at US$75.1 billion, up 32% yearon-year. Huawei ranked No.83 on the 2017 Fortune Global 500 List. At Huawei, we aim to think from the customers' perspective, anticipating and solving their problems and challenges. We believe this strategy is a way to quickly occupy the top of any industry. Over the past several years, Huawei has never slowed its pace in optimizing its hardware and software configurations to better meet customer demands.
Huawei is now cooperating with upstream and downstream industry leading manufacturers to establish an openness, collaboration and shared success smart PV ecosystem. We are helping PV plant investors improve energy yields, reduce operational costs, and maximize profits.
In 1999, Huawei set up the first oversea R&D center in Bangalore, India. After 18 years' development, there are more than 5,700 local employees currently, among which 2,700 are engaged in R&D. Huawei invests 200+ million USD per year for local sourcing, purchasing and partnership and 150+ million USD per year for R&D in India. That's a large amount.
Huawei always sees India as an essential inverter market. After more than one year of development, we have achieved the1.7 GW shipment till now in India and our goal is 2+ GW this year. The PV market in India will maintain rapid growth. Huawei will bring more advanced and useful products and FusionSolar Smart PV Solutions to the Indian market to contribute to the prosperity of the PV industry in India.
Q. Indian solar industry demand high efficiency products at low costs. Share us how Huawei as an industry leader in the segment is addressing this issue, given high competition in the Indian solar sector.
Huawei agrees that all the customers demand low cost products. So what is the cost? We think that cost of a PV project is composed of the CAPEX, OPEX, system residuals and lifetime accumulated energy production.

From the LCOE formula we can see that the Indian PV market is in urgent need of an innovative solution with the following characteristics: the lowest CAPEX and OPEX along with maximum accumulated energy yields through the entire lifecycle (25 years) of the PV plant. Huawei FusionSolar Smart PV Solution can fully meet these requirements. FusionSolar Solution is a 25-year "String" based PV power plant system that enables higher yields, smart O&M and greater safety & reliability. From power plant design, construction to O&M, Huawei optimizes and innovates throughout the entire process to maximize the return for its customers.
Q. Share us about your R&D centers and how they are helping you to offer products with better power efficiency?
Huawei insists innovation on R&D, which is the guarantee of enterprise's future development. Internally, Huawei has a mature process for research of each new product. This product development process that we are following is very strict and scientific. We call it integrated product development (IPD). With this process, we can mostly guarantee the product to be a successful product that delivers value to our customers.
Huawei has six R&D centers specifically for inverter products around the world with 800+ engineers, having received more than 100 patents of which 90% are invention patents.
The six inverter R&D centers in the world are:
-Nuremberg, Germany – Architecture design center.
-Stockholm, Sweden – Algorithm & topology research center.
-Santa Clara, USA- Chipset design center.
-Shanghai, China – Product design center.
-Shenzhen, China – Product engineering & manufacturing center.
-Beijing and Chengdu, China: FusionSolar R&D centre.
From the corporate level, Huawei has more than 39,000 technical and design patents, with a large platform based R&D technologies. For example, 120 expert-level engineers specialize in researching the natural cooling technology that plays a huge role in the communications base station to ensure that the communications base station with natural cooling can work steadily and reliably in any desolate places such as hot deserts or icy polar regions, from 6500 meters above the sea level to 2900 meters below the sea level. The Huawei string inverter with natural cooling technology eliminates the need of building an inverter room or awning in India's high temperature environments which saves plant investment costs. O&M personnel do not have to regularly inspect or replace the external fan which reduces the O&M cost while ensuring 25 years of stable operating.
Huawei FusionSolar brings together cutting-edge technologies from various countries and fields. By incorporating its expertise in Digital Information Technology, Internet Technology and Photovoltaic Technology combined with innovative concepts of simple, full-digital and automatic O&M, Huawei introduces its innovative FusionSolar Smart PV Solution that helps customers lower cost, lift yields and maximizes ROI.
Q. Fall in tariffs are affecting feasibility of projects and investor sentiment. Do you as a supplier to the Indian solar industry are also feeling the heat?
Tariff decrease is an inevitable trend. The tariffs in various countries around the world have different cuts. But what we focused is on how to provide customers with competitive PV plant solutions through technology innovation and solution optimization, so that they can gain from rapidly fallen tariffs.
India has a huge potential market capacity: by 2022, the market capacity is expected to grow from 20 GW to 100 GW. We also have great enthusiasm in promoting Huawei Smart PV Solution to help Indian people build larger-scale and higher-revenue PV plants. To ensure customers' benefits through technology innovation rather than cost reduction is always Huawei's goal with 15% of every year's sales income being spent on R&D.
Under the condition that the Power Purchase Agreement (PPA) price falls sharply, how to improve energy yields and how to reduce O&M costs are the core customer requirements. Huawei Smart PV Solution improves energy yields by 2%, reduces half of O&M costs and effectively decreases the customer's Levelized Cost of Energy (LCOE), which helps customers successfully cope with challenges on the market.
Q. Huawei launched 1500V Smart PV Solution sometime back. Can you talk more on the innovative features of SUN2000-55KTL-IN-HV-D1?
Huawei 1500 V Smart PV Solution is a PV plant solution with higher revenue, security and reliability on the equivalent investment. First, Huawei's 1500 V system is simple and requires only a few auxiliary devices. Compared with a central 1500 V inverter solution, Huawei solution eliminates the need of DC combiner boxes, DC power distribution cabinets and DC circuit breakers, thereby saving the initial investment cost. Second, Huawei uses the latest five-level topology to reduce the component loss and improve the efficiency. The maximum efficiency exceeds 99%. A conventional 1500 V system is prone to the PID effect. Huawei smart PV solution can completely avoid the PID effect and ensure personal safety and property safety with the minimum use of DC nodes and low arc risks. In addition, Huawei 1500 V Smart PV Solution inherits the advanced technologies of Huawei string inverter solution.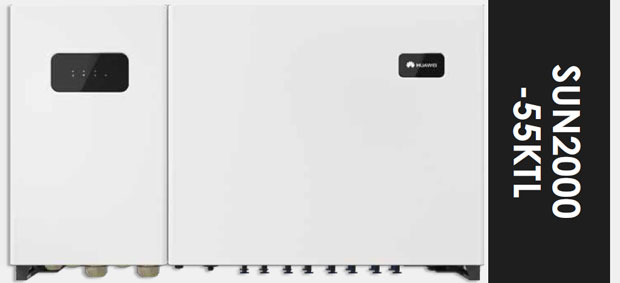 High efficiency up to 99%. Multiple MPP trackers realize real time and accurate string detection. The detection accuracy can reach 0.5%, 6 times higher than traditional centralized inverters. Multiple MPP trackers can also effectively reduce the impact and influence caused by shadowing, different orientation and string mismatch, dramatically improving the yields by at least 2% for ground PV plants and up to 5% and more for hill and mountain mounted PV plants. We remove vulnerable parts like external fans with natural cooling technology and fuses, which enable 0-touch maintenance and guarantee human and property safety.
Huawei is the first inverter manufacturer to offer a high-power inverter with IP65 compliance. The SUN2000-55KTL string inverter can operate well for all the hostile outdoor environment like high temperature in India. The embedded chipset has allowed Huawei to reduce the use of copper inside the inverter and make inverter's design highly compact.
Furthermore, our inverters are open, supporting inputs of different equipment and parts like trackers and sensors of other industries. We expect more customers to choose and enjoy the high performance of our smart PV inverters.
Q. What is the roadmap Huawei have for the Indian solar market?
Indian solar market is one of the most significant PV markets in the world and possesses the maximum growth rate. Huawei sees India an essential inverter market. Currently, Huawei has set up comprehensive cooperation with many investors and EPCs in the industry. Till now, Huawei has over 1.6 GW shipment capacity in the Indian market and this number keeps increasing. This demonstrates the huge benefits brought to customers by the high energy yield, fan-and-fuse free design and smart O&M features of Huawei Smart PV Solution. Huawei plans to launch the next-generation 1100 V and 1500V commercial Smart PV Solution and residential PV systems. We will continue to provide excellent products and solutions for the development of India's PV industry to drive the development of India's PV market.
Q. What benefits does your Smart PV Management System brings on table for the PV developers and why should one adopt it?
Huawei Smart PV Management System complies with the security regulations in the power industry and manages the massive data of PV plants through industry-leading technologies such as cloud computing and big data analytics. A high-speed scheduling system is used to help implement intelligent, refined and mobile/remote PV plant O&M management.
1.Timely discovery: String-level intelligent detection helps to locate abnormal PV strings and generate alarms, saving the time for fault identification.
2. Rapid diagnosis: After an alarm is generated, the fault location is rapidly showed on a graphic PV plant view. Mobile and remote O&M ensures that the fault can be immediately rectified, reducing the downtime loss in power production.
3. Fast recovery: A fault is rectified as soon as it is identified.
4. Smart I-V Curve Diagnosis: The root cause is identified by analyzing the string I-V curve characteristics and using the smart diagnosis algorithm. No O&M personnel are required to enter the site for fault identification. All PV strings in the PV plant are detected, so that you can master the PV plant status in a comprehensive manner.
Q. Finally, kindly tell us what new does Huawei has in store to showcase for Renewable Energy Expo 2017?
Huawei will release a breakthrough product. Please stay tuned.