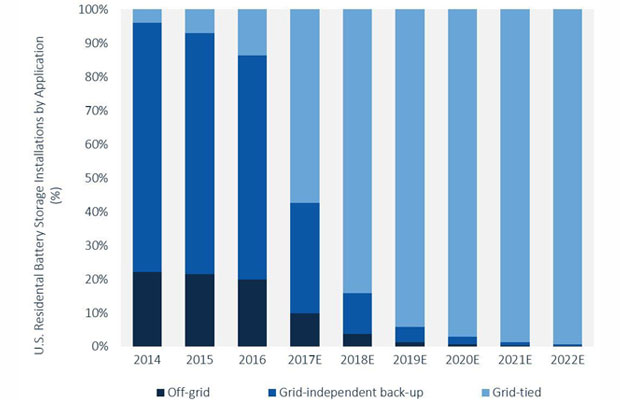 A new report from GTM Research has determined that for the first time ever, grid-tied residential battery storage deployment will overtake that of the traditionally-leading off-grid and grid-independent battery storage systems across the United States in 2017.
GTM Research published its latest report this week, U.S. Residential Battery Storage Playbook 2017, which details the battery storage industry in the United States, and its future potential. Traditionally, the report has shown that off-grid and grid-independent backup battery storage applications have dominated the US market, accounting for 86% of the total residential battery storage systems installed during 2016. More than 4,400 residential battery systems were installed during 2016, representing a total of 127 MWh (megawatt-hours) of energy storage.
However, GTM predicts a shift in 2017 that will flip the industry on its head, somewhat, with grid-connected battery deployments set to make up 57% of annual deployments — the first time ever that grid-connected battery systems have overtaken off-grid and grid-independent systems.
Further, and astonishingly, GTM Research predicts that by 2022 grid-connected sys-tems will account for 99% of new dep-loyments, with off-grid and grid-independent backup deployments remaining relatively flat.
According to GTM Research, this massive shift in battery storage trends is being driven both by homeowners and utilities, each of which are doing so for a different set of reasons: Homeowners are looking for backup power or for monetary savings, while utilities are looking to mitigate the effects of so much variable electricity making its way into the grid by way of high solar penetration.
"It is most instructive to think of the residential battery market not as a monolithic entity, but rather as a patchwork quilt of geography- and homeowner-specific applications that will be stitched together over time," the authors of the report note. "Each application lends itself to a specific set of system requirements, which may potentially overlap with the requirements for other applications. Further complicating the matter, homeowner preferences and site-specific constraints may alter or limit what can be achieved by a given system."