With the REI Trade Expo 2017 approaching, Saur Energy International settled on a plan of action to accomplish our yearning to get close and personal with the machines and technologies that forge solar modules. With an urge to catch sight of Ecoprogetti's Turnkey Photovoltaic Robotic Automation Production Machines and Lines, we decided to pay a visit to solar module production sites that have been favored with Ecoprogetti's Turnkey Module Robotic Automation Production lines. We visited 3 different cities in India to get a glimpse of what we need to make high quality Solar Modules.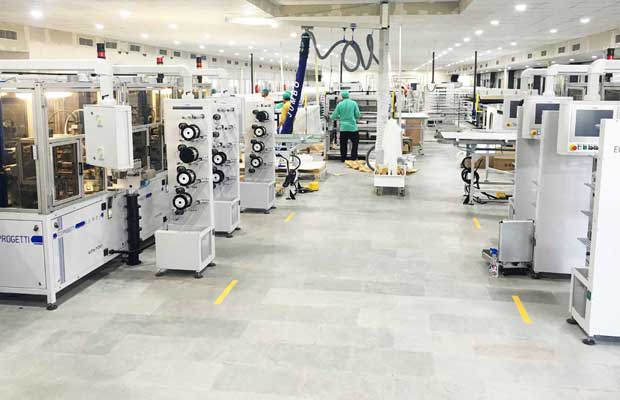 But before we step into our first destination- let us brief the readers about the existence of the company that makes manufacturing of solar modules much simpler.
Italy-based equipment manufacturer of Turnkey Photovoltaic Robotic Automation production machines and lines; Ecoprogetti has been aggressive in marking its footprints in the Indian solar market for quite some time. Instituted in 1998 by Mr. Domenico Sartore, Ecoprogetti began its journey back in 1994 in module manufacturing business with total dependence on manual production unit. But, with the advent of technology and innovation, the company took over to mold PV production machines for its mass production operations – as to lighten the dependence on manual labor force and enhance the production capacity along with quality standards of the finished photovoltaic products. And it was then that the soar in the PV sector made Ecoprogetti rise as an independent entity specializing in the development of 'Turnkey Photovoltaic Robotic Automation Production Machines and Lines'.
During the initial stage of its business, Ecoprogetti started with the fabrication of machines for the entire photovoltaic production line. It included the system for silicon cleaning to ingot squaring automation along with wafer quality control, automatic cleaning lines and automation for cell production and now the company has earned fame in machine creation for the manufacturing and quality control process of photovoltaic modules. Also, it is involved in delivering a complete range of innovative technological solutions for the renewable sector and specializes in planning of manufacturing equipment and automation. The company makes sure that the photovoltaic industry is favored with all the merits of modern robotic technologies.
Ecoprogetti's headquarter are located in Italy's Padua Province, and together with its overseas branches in UAE, India and USA, the company has been successful in winning extensive trust and support from customers in photovoltaic segment around the world. Active in the field for more than 20 years now, Ecoprogetti has set up a good number of highly efficient, flexible and easy-to-operate turnkey machines and systems for the production of solar modules all around the world. The company is now making rapid strides in Southeast Asia, delivering its PV Robotic Automation module manufacturing lines to some of the popular module manufacturers in India. Ecoprogetti offers a complete range of Turnkey Solutions for PV module manufacturing in the capacity range of 10MW to 1GW, with all equipment like Stringer and Layup Assembly Units, Laminator Machines, Framing Machines, Testing Equipment and other Line Accessories designed and manufactured in their factory situated in Italy.
Celebrating nature, Ecoprogetti has embedded innovations and technologies, making sure it promotes Robotic Automation and development in line with the economic success and sustainability of the clients . Today Ecoprogetti is the only company in the world to design and manufacture all the equipments and Robotic Automation in Italy under one roof.
Reaching Ecoprogetti
After an early flight from New Delhi and a road trip to Sewree area of Mumbai, we arrived at Ecoprogetti's India head office to meet with Rajen Shah, MD, Ecoprogetti India. The journey to the eastern edge of South Mumbai early in the morning turned out to be a fascinating one-hour drive from Mumbai Airport, trailing the Dharavi thoroughfare we reached Sewree. At the time of our arrival, Rajen was engrossed in some official discussion with the team but took a moment to greet us with zest.
Sipping on a cup of freshly brewed coffee, we had a very interactive session with Rajen, unlike any mundane interview restricted to just questions and answers. While speaking about our early morning flight and ride to Ecoprogetti's office, we also talked a bit on company's PV Production Machines and Robotic Automation Assembly Lines and role of automation in production process.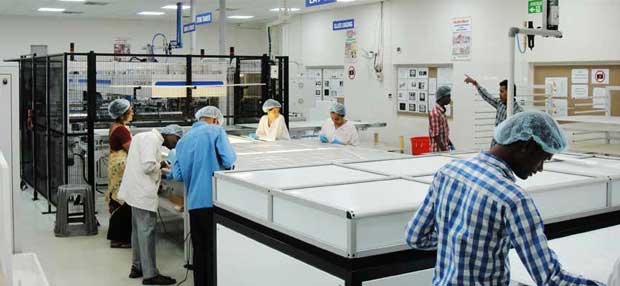 As we had spent a couple of hours discussing various topics with Rajen at his office, we decided to ply to our next destination which was Jyotitech Solar to have a look at the company's installed Robotic Automation system.
The First Stop
The agenda of the day was to witness the Ecoprogetti's high efficiency Turnkey Solutions for PV module manufacturing and Robotic Automation. Rajen guided us to the production area where Ecoprogetti's Robotic Automation Turnkey lines and Machines were lodged. The unit comprises state-of-the-art technology from Ecoprogetti. The turnkey lines and other automation machines installed in the premises was an impressive sight. The installation methods and practices followed in solar industry are different than what we have seen in other industrial production process. We've seen a number of solar module production facilities earlier in the past but this one from Ecoprogetti was on another level- a well designed and installed automated system that maximizes the quality and standards of the final product. The first remarkable innovation we saw was ET700 Stringer Machine. The production process consists of a Tabber/Stringer that firmly solders poly/mono crystalline cells together in a string. The ET700 stringer machine installed is loaded with a patented soldering system that guarantees a breakage rate lower than 0.2%. The ET700 Stringer Machine offers a high productivity and extremely low breakage; and can handle the latest technologies of solar cell. It is particular suitable for Bifacial solar cells, 4&5 busbar cells and cut solar cells (30 to 156.75mm). Rajen highlighted that this equipment is one of the first steps in the production line and it's one of the most important in the entire PV module production line. Rajen further added that the simplicity and extreme flexibility of the machine allows operator to work with different types of material only by changing some settings or installing some additional kit.
The next noteworthy intervention that caught our attention was that of Layup StationEcolayup 100, where a load arm, with the help of vacuum, picks up the strings and turns them clockwise or anti-clockwise before positioning them on the glass already prepared with the first layer of encapsulation material. The glass is further pushed in the machines on a motorized conveyor belt. The Layup Station flawlessly lays up strings on anti-reflected coating glass and Ethylene Vinyl Acetate (EVA). The Layup Station is capable of delivering 150 string/ hour, and supports maximum module size of 2000 x 1350mm.
There was a touchscreen control panel that allows operators to set parameters and analyze any failure. Rajen told us that Ecoprogetti layup station doesn't require much maintenance and if needed, it can be performed without calling our service lines. Rajen further introduced us to the EVA/ Backsheet Foil Cutter Ecocut 10 that can work both in-line and off-line. It can easily change the cutting measurements easily and supports maximum foil width of 1500mm. Just like Layup Station, the cutter's measurement can be adjusted via control panel. In the EVA/Backsheet spreading process, the cutter incisively cuts the EVA/ backsheet to spread on the cells before lamination. Operator also has the option to add cutter to prepare incision for ribbon exit. Rajen also showed us how Ecoprogetti's ECOLAB EL conducts Electroluminescence Test (EL) meticulously inspects micro-cracks, broken cells, soldering and dead cells. After some clicks, notes and discussion we moved ahead to examine ECOLAM 09 Laminator with 4 module capacity that comes with load and unload Teflon belts. Rajen informed us that after the testing process, the laminator is used to bond glass, EVA, solar cells and backsheet together at high temperature and vacuum. Ecoprogetti's lamination process enhances the durability of PV module by protecting solar cells against heat, humidity and stringent weather conditions.
After some chit chat, we were further taken to the area where Ecoprogetti's Framing Machine ECOFRAME H was installed. Rajen told us that how this wonderful machine works well with both silicone and tape framing. It supports frame punching on long side for module dimensions within the range up to 1350mm to 2000mm. The ECOFRAME H uses corner key to acquire a good alignment, mechanical robustness and electrical connection. Rajen mentioned that being aware of the characteristics of quality, Eocoprogetti believes in 100% perfection when it comes to deliverance of final product, for both manufacturer and end customer. To comprehend this, we were shown Eocoprogetti's ECOSUN 10L A+A+A+ LED Sun Simulator installed at the facility, where Rajen demonstrated us the procedure Eocoprogetti follows and explained that the machine facilitates in simulating STC conditions for measurement of output power of PV module. It emits light matching with the suns luminosity and spectrum. He showed us how with the use of I-V measurements. The ECOSUN can predict the behavior of the solar module when it becomes operational.
After spending two good hours examining the turnkey lines and automated machines, we headed back to Ecoprogetti's office, where we had an appetizing lunch together. Meanwhile, Rajen talked about the advantages of automated machines and turnkey lines. He mentioned how Ecoprogetti has focused more on enhanced productivity, improved quality, shorter cycle times, reduced waste and better floor utilization. He told us that the ET700 can be combined to other Ecoprogetti stringer machine and also with layup machine such as Ecolayup 100 in order to speed up and reduce the labor on the entire process, further optimizing the PV module Robotic Automation and assembly line.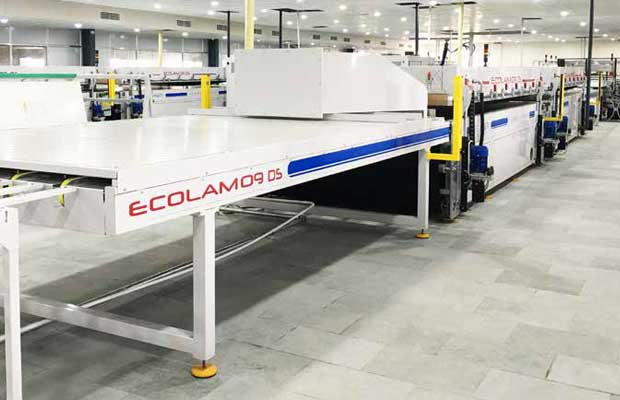 DAY 2
Next day early in the morning, we flew to Chandigarh; where a cab was already arranged for our journey ahead to Ambala, which is some 40Kms from the airport. We reached the Saatvik Green Energy Production Facility within an hour long drive. Tight on schedule, Rajen guided us to the 125MW Plant laden with Ecoprogetti's Fully Automatic Robotic Automation Production Line, compatible with 3BB/4BB/5BB cells.
With Ecoprogetti's professed aim of taking measures to reduce the dependence on manual labor workforce and promote more reliable fully automated production system as one of the new drivers of growth, the future for module manufacturing seemed bright. The facility installed Ecoprogetti's state-of-the-art technology turnkey Robotic Automation setup that includes Glass Loading System ECOGLASS R, Foil Cutting Machine ECOCUT 10, Stringer ETS700, Layup Station ECOLAYUP,Bussing Station,EL Tester ECOLAB EL , Laminator ECOLAM 09DS, Framing Station and ECOSUN PLUS LED Sun Simulator.
Rajen discussed with us about Automatic Bussing Machine. He told that this machine is one of the best solutions for bigger line Robotic Automation which automatically solders the junctions between the strings, performing an automatic PCB/Ribbon placement and coverage, making the process simple yet faster. Speedy Framing was something new to us, to which Rajen informed that it is composed of a 6 axis robot- ECOFRAME Vertical and ECOSIL, controllable with touchscreen. Here, modules enter in the framing station with the backsheet up to avoid turning them after lamination and exit with the backsheet up position for installation of the junction box.
After examining other line accessories and automated machines like Storage System BUFFER, Trimming Station, Silicone Dispenser ECOSIL 14 and Packing and Sorting, we decided to call it for a day. When enquired about the Ecoprogetti's take on R&D and quality standard, Rajen told us that the company has been researching, designing and constructing turnkey photovoltaic Robotic Automation production machines and lines in adherence to the set industrial parameters. He further added that based on their extensive experience, they are able to offer a wide range of services that are not just limited to making photovoltaic modules or production lines but also include a series of activities that guarantee all-round professional and punctual support and assistance. After some notes and snapshots of the turnkey lines and machines and a scrumptious Punjabi lunch, we decided to hover to New Delhi to turn up at our next destination in Greater Noida. The visit was scheduled for the next day in the morning.

DAY 3
Next day around 11 in the morning, we visited Jakson Solar's 65MW Robotic Automation solar module manufacturing unit located at Udyog Kendra area of Greater Noida. After reaching the site, we went straight to the production unit. Operators working there demonstrated the functions of ETS700 Tabber/Stringer Machine along with ECOLAYUP 100 Layup Station. While we were there, the staff was assembling solar module panels, possibly those destined for some upcoming projects. We were also briefed on the testing method done before and after laminations via ECOLAB Tester. The next we were introduced to ECOLAM 10 Laminator with 5 Module capacity. We were informed that this laminator is a flagship from Ecoprogetti. It is laden with all the latest technology in order to deliver best in the class lamination process. After couple of hours of survey in the facility, we took leave to pay a visit to our final destination which was Moser Baer, also located in Greater Noida.
The Final Hours of the Visit
It was already 2pm when we left for the next site. After reaching the location, we headed to the 50MW state-of-art Fully Robotic Automation production unit. We were introduced to Ecoprogetti's combined Tabber and Stringer Model ETS1800 wrapped with several advanced features. It has been loaded with technologies emphasizing on interconnecting high efficiency cell concepts such as heterojunction, bifacial, PERC, top-standard mono and multicrystalline cells. Other important improvements of the model are a higher throughput, less breakage, higher uptime and simple design. ETS1800 is designed to interconnect the cells with 4 and 5 busbars in standard configuration, with a possibility to process 3-busbar cells which is optional. The system is designed to be compact with a footprint of 3.4 m x 1.3 m and a special care has been taken to reduce the maintenance. The tool has a rated technical availability of 95%. The ETS1800 comes with remote access and online trouble shooting function and can be integrated with any kind of Automation supplied by third party.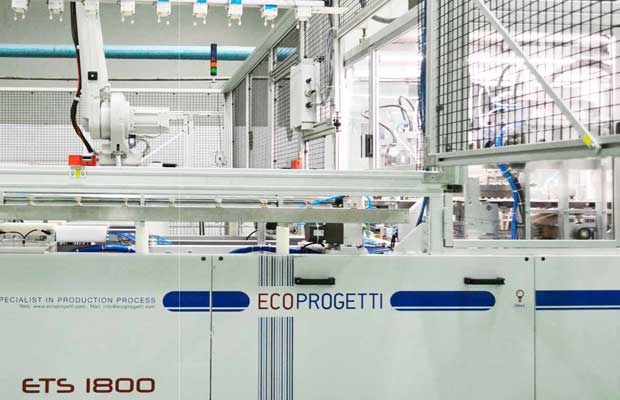 After some talks and clicks, Rajen mentioned that countless individual tests are undertaken throughout every step of the fabrication of turnkey lines and automated machines. He added that the R&D team ensures to record every measurement and analysis report for future reference and data collected feeds back into the production for continuous improvement. He also told us that Ecoprogetti is involved in offering services and solutions for 'Process Training' to the clients apart from module testing procedures, installation and commissioning of its machines that also includes tailor made production lines meeting the client's requirements. The team from Ecoprogetti ensures to follow up the clients during the complete production ramp-up process and after it is executed with complete service team available in Mumbai, Delhi, Ahmadabad, Hyderabad, Bangalore and Chandigarh.