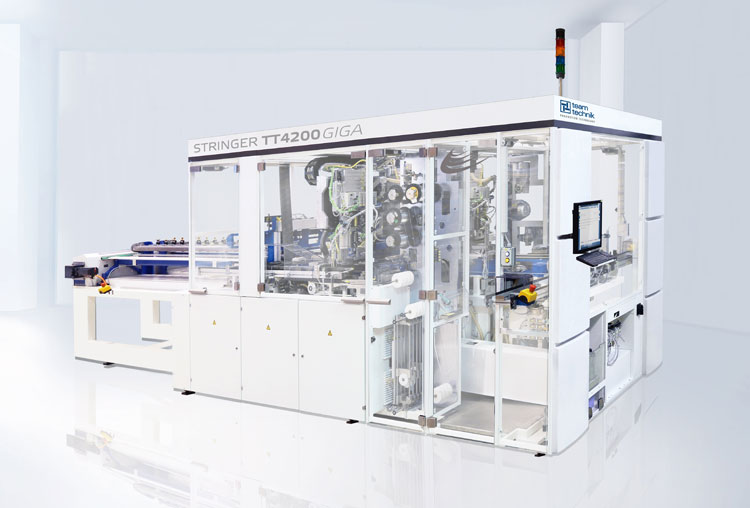 Global photovoltaic (PV) manufacturing community is currently witnessing renaissance in investment, development and innovation, a revolution that is said to be largely be driven by technology.
It is important for the manufacturing industry to find the most effective as well as cost-effective tools and processes to increase cell and module production and decrease costs within a set capital plan. Robotic automation plays significant role in the solar cell manufacturing, and it is equally significant to consider which robot types and kinematics are best for each unique process, looking at the solar manufacturing areas where there are the greatest return opportunities for robotic automation.
The Solar industry has assimilated robots into its value chain to increase its production capacity, execute jobs quicker and cheaper with higher precession. According to equipment providers rise in the use of automation and robotics in solar manufacturing, project development, operations and maintenance is helping guarantee top quality and lowest cost.
The industry is observing uptake in automation adoption, including small six-axis robots for sealing panel edges to large robots for inspecting and palletizing assembled panels. The cost of robotics and automation has gone down along with the cost of computers, so it is now cheaper, more flexible, and easier to program. We reached at teamtechnik's office in Freiberg, Germany to meet Sven Kramer, Vice President Sales Solar Technology, to understand the role of Robotics and automation in production process. Kramer was quite busy accessing mails on his laptop when we reached his office, but we decided to disturb him to find out the answers. We had a very interactive session with him unlike any mundane interview restricted to just questions and answers. While discussion on role of robotics and automation in production and to what extent does it eliminate human error in manufacturing, he said "a robot will perform the work 24/7 without any interruption. No breaks are required." Kramer added "an operator will get tired during the day and errors could happen. In addition, the quality might fluctuate, depending on which operator is performing the work and how good the operator is trained. But a human being will be able to work with higher tolerances and can easily adapt to new designs or new work orders. A high level of automation does also imply that the materials have to be available with a certain quality level and with tight tolerances. Otherwise it could cause problems and intefarruptions of the manufacturing process. In addition the basis for automation is a high number of the same products which have to be produce. If the production numbers are small and there will be long times of adjusting the automation equipment to new products, it would be better to carry out the production with more operators and less human beings. At the end of the day it is important to have a high quality control and good end of the line quality check to ensure that only 100% products are leaving the manufacturing line and only excellent products are supplied to the end customer. Teamtechnik provides high quality Stringer Systems for a high quality solar module production."
While we just started the conversation someone knocked on the door for coffee that Kramer ordered for us. Yup, coffee goes perfect with the weather in Germany. With every sip we discussed on the industry, technologies, innovation and many more. After a small tittle-tattle we headed to our next question- how valid is the statement "A quick return on investment outweighs the initial setup costs. With automated assembly lines, throughput speeds increase, which directly impacts production in respect to company's assembly line for solar manufacturing." Kramer with smile on his face looked calm and all set with the answers to my every next question. After a bit of pause he said, "with automation the speed will increase in the manufacturing process. But not only the speed will increase; also the repeatability and therefore the quality will increase by adding automation to any production line. Teamtechnik provides high-quality and high-speed Stringer Systems for the IR-light soldering of solar cells to strings. The first stringer was manufactured in 2004. At this time a Stringer had a capacity of 600 cycles per hour. Today our latest Stringer System has a production capacity of 4200 cycles per hour; seven times as high as 12 years go. In the past the soldering process was performed manually. Only with automation it was possible to reduce the production costs and to increase the capacity as well as the product quality and the yield. Besides Stringer Systems we also provide automated Layup Systems using a 6-axis robot. The repeatability and the accuracy cannot be achieved with a manual process."
In 2015, robot sales increased by 15% to 253,748 units, again by far the highest level ever recorded for one year. The main driver of the growth in 2015 was the general industry with an increase of 33% compared to 2014. According to Association for Advancing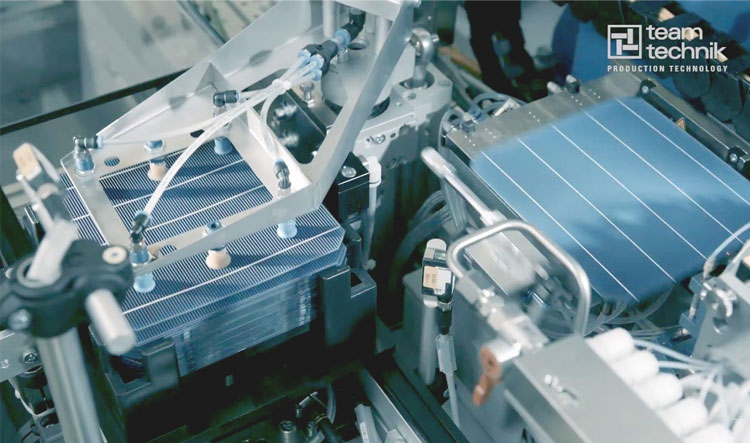 Automation (A3) a total of 14,583 robots valued at approximately $817 million were ordered from North American companies during the first half of 2016. The number of units ordered in the first six months marks a new record to begin the year, growing two percent over the same period in 2015, which held the previous record. Order revenue decreased slightly by three percent in the first half of 2016. In the same timeframe, 13,620 robots valued at $838 million were shipped to North American customers. These figures represent the second highest total for units shipped and a new record for shipment revenue in the first half of a year.
International Federation of Robotics in a recent report stated that the total number of service robots for professional use sold in 2015 increased by 25 percent. The sales value surged by 14 percent to a new record of US$ 4.6 billion. By 2019, sales forecast indicates another rapid increase up to an accumulated value of US$ 23 billion for the period 2016-2019. Undoubtedly there are number of advantages with the robots like Improved Quality and Reliability, Shorter Cycle Times, Better Floor Space Utilization & Reduced Waste.
There is a common question among solar module manufacturers around the world that how many strings/ modules can they produce, what will be the cost and what quality will they be offering. We asked Sven Kramer to share in detail the types of automated lines teamtechnik offer to solar industry. Kramer said "teamtechnik does not offer complete turnkey line solutions. We work with system integrators to provide complete automated lines." He added "teamtechnik has its focus on Stringer Systems and we provide automated Layup Solutions. The Stringer process is the key process in a solar module production line. In order to achieve a high quality solar module you need the best available Stringer system with a low cell breakage rate, a very accurate ribbon positioning and a high throughput. Teamtechnik offers the TT4200GIGA Stringer System. One Stringer has a capacity of 130 MW. In addition we offer our Stringer TT2100 with an annual capacity of 65 MW. Solar cells with 3, 4, 5 and 6 busbars can be processed on our Systems. The higher the number of busbars, the narrower the connection ribbons are. Ribbon widths of 0.6 mm can be processed with a high equipment uptime on our systems."
As we had spent a couple of hours discussing various topics with Kramer at his office, we decided to take a walk through the teamtechnik's premise and have a look at the company's automation system. There are number of advantages of robotics like Improved Quality and Reliability, Shorter Cycle Times, Better Floor Space Utilization & Reduced Waste. So, was curious to know about the advantages that teamtechnik's robots offer and how does it meet industry expectation? S. Kramer showing us the TT4200GIGA model explained "this model requires a floor space of 15 m² and offers a production capacity of 130 MW. Our system is the fastest system in the market. No other Stringer Supplier is capable of providing such a production capacity on this small footprint. With our system we achieve a very low cell breakage rate of only 0,2%, a very accurate ribbon positioning, a high throughput of 4200 cycles per hour with a technical availability of higher than 95%.

The system has been introduced mid of 2016. No other system is capable of providing the same technical features on the same footprint, same quality and same throughput." Kramer looked very excited while demonstrating about the new model, being Vice President Sales he couldn't stop himself touting about the company saying it is the world market and technology leader in the field of Stringer Systems."
As the world stands poised on the brink of "fourth industrial revolution," regardless of what you call it, the figures are quite evident that robots are aggressively being amalgamated into factories because of their incredible precision, productivity, and flexibility. Additionally, factories are also seeing a boom in collaborative robots that are able to seamlessly work hand-in-hand with human workers to further increase litheness and efficiency. However, there are certain safety standards that every organization follows while setting up an assembly line. To comprehend we visited the manufacturing unit at the headquarters where Kramer demonstrated us the safety standards teamtechnik follows and explained that the systems are manufactured here according to the European Machinery Regulations (CE regulations). He said "In addition we ensure the quality at our factory with our ISO9001 certified production process. At the customers' sites only highly-trained and skilled service technicians and engineers are performing the installation of our systems. This ensures the high equipment standard. In addition all of our customers will be trained on the correct operation and maintenance of our systems."
Robotics and automation manufacturers sell some products directly to end users, but largely rely on turnkey integrators to assemble the right mix for the customer. But to operate the new system employees will need training for programming and interacting with the new robotic equipment. This normally takes time and financial output. We asked about the kind of training that teamtechnik offers to its customers to operate the new system. Kramer said "Overall we provide different kind of trainings. Customers are trained for example at our headquarters facility in Freiberg am Neckar, Germany. The training can be performed prior or after the per-acceptance of our equipment. After the pre-acceptance the equipment is shipped from our factory to customers around the world. In addition we provide training at the customer site, either by our authorized service partners or by teamtechnik service technicians." As being from India I was curious to know about the training that company offers in the country, so while walking back to his office he said " In India our service partner NMTronics did perform an intensive training program with their service technicians at our headquarters. In addition we have trained our partners during joint installation works. Besides the training "on the job" we provide also training classes to ensure a high level of quality for the operators and the maintenance personnel. If required we can also provide production support and training after the installation of the equipment."
Automation in solar is spreading globally, and China is leading the market within the fast growing Asia region. However, who could be a better person to know about global trends in robotics and automation in Solar Manufacturing then an industry expert. Before leaving we tossed our last question as we already had lot of discussion on robotics and automation, and got all the answer to our questions, one that was left was the trends in robotics and automation. Kramer said "In my opinion the automation level will increase in the solar module production facilities. This will ensure a high quality standard around the clock, 24/7 and 365 days per year."
What a conversation it was with Kramer. As we already spent hours at teamtechnik, it was time for us to say "Auf Wiedersehen" which means goodbye that I learned before visiting S. Kramer. We wanted to gain more knowledge about the industry so promised to return soon…