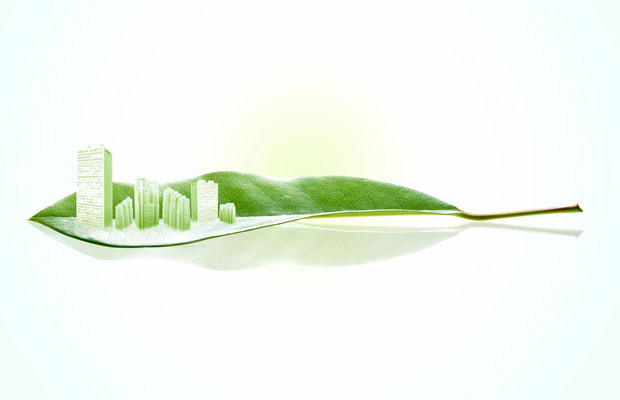 It is believed that the most attractive and fastest growing cities in 2023 will be those that embrace the need to create sustainable intelligent communities where the citizens, administration and the government work together constructively to produce regional energy that can be either consumed or supplied to local networks, using local resources and consumed on an as needs basis. The smart cities of the future will be those that embrace the concept of 'Less is More'.
As technology continues to advance, various nations aim to deliver not only the best hard infrastructure or physical capital but also are striving to provide adequate social infrastructure or social capital. Smart Cities are hence being designed to incorporate both such features within the same structure and relies greatly on the use of Information and Communication Technologies (ICTs). ICT
is used to enhance quality & performance by improving contacts between the government and citizens. The factor that distinguishes Smart Cities from Intelligent Cities and others is its stronger emphasis on social and environmental capital. For instance, lowering carbon emissions and habitat protection is a crucial part of the action plan.
Smart Cities are those in which investments in traditional and ICT communication infrastructure, human and social capital, have resulted in sus-tainable economic development and subsequently a high quality of life. Technology is put to use to address the various needs and issues faced by the city's residents. This is reflected in the significant use of modern devices to regulate water levels, energy usage, traffic flows and even safety of cities through installing security cameras and the like.
CAUSE AND PURPOSE
Economic growth and improving the quality of life of its citizens are the prime drivers of the mission. To achieve this, government needs to plan out on the local area development by using Digital Technology and Information and Communication Technologies (ICT). Greenfield areas are to be developed in the periphery of the cities to provide accommodation to the anticipated growth of the population as a result of these developments. Smart cities will use technology, gather and collate information and data by using smart solutions with the aim of improving the services and infrastructure. The information gathered will be in real time thereby providing quicker solutions to problems on hand. As a result the quality of life improves creating a feel-good factor in the individual. This would also lead to higher productivity, employment opportunities and income generation and consequently, inclusive growth. Smart city provides the citizens high quality, cost effective service seamlessly and with a minimum use of the resources. The latest technology is used in providing these services. Digital Technology offers most services at the click of the mouse which otherwise involved a physical presence of the resident to receive many of the services such as banking, shopping, government services (payment of taxes, bills, accessing information etc). Smart cities are high on the social indices, employment opportunities and good and transparent governance.
SMART CITIES MISSION
In India, the term has more so come to the forefront with Prime Minister Narendra Modi announcing the ambitious plan of building 100 such cities across the nation in 2014- 15. The concept of Smart Cities Mission (SCM) revolves around the features like smart energy, smart transport, smart water, smart buildings etc. However, to keep these systems running, ensuring a sustainable power supply is of prime importance. The strategic components of area-based development (ABD) in the Smart Cities Mission (SCM) are city improvement (retrofitting), city renewal (redevelopment) and city extension (Greenfield development), along with a pancity initiative in which smart solutions are applied covering larger parts of the city. The country is moving from the era of agrarian to industrial and service sector. As the global population is increasing at steady pace, more and more people are moving to the cities. India is at a point of transition where the pace of urbanization will speed up and for this reason the country needs to plan out urban areas well.
The Smart Cities Mission is operated as a Centrally Sponsored Scheme (CSS) and the Central Government proposes to give Rs 48,000 crores over five years, with an average Rs 100 crore per city per year. As States/ULBs have to contribute a matching amount, total amount likely to be allocated for Smart Cities development will be about Rs 1 lakh crore. The implementation of the SCM at the city level is done by a Special Purpose Vehicle (SPV) created for the purpose. The SPV plans, appraises, approves, releases funds, implements, manages, monitors and evaluate the Smart City projects.
The Union Ministry of Urban Development has urged officials of states to suggest locations in the country that can be turned into Smart Cities. It has further expressed plans of utilizing 'brownfield sites', which although were previously used for industrial purpose are often left abandoned due to adverse effects of pollution and waste. Meanwhile 'greenfield sites' at new locations offer the advantage of lowered costs involved and may also be an option that is considered. According to IBM's report, on an average 30-40% Indians will migrate from rural areas to smart cities for their better livelihood . As per prediction India needs to create 500 new cities in forthcoming 20 years.
THE OUTCOME
The rise and development of smart cities is a global phenomenon and PM Narendra Modi's plan to roll out smart cities mission is sure to upgrade the existing cities, which will enable India to emerge as a global leader. It is estimated that investments of US$2 trillion are required over 20 years to build Smart Cities in the country. So far, the government has approved smart city plans worth Rs 133,764 crore for the 60 cities. The project cost of each smart city proposal will vary depending upon the level of ambition, model and capacity to execute and repay.
Presently, out of 60 Smart Cities, 59 cities have incorporated city-level SPVs for implementation of the mission. For designing, developing, managing and implementing the Smart City Proposals (SCPs), PMCs have been set up in 23 cities. Request for proposals (RFPs) for appointment of PMCs have also been floated in other 22 cites. Regular reviews are undertaken at the State and Central level to monitor the progress of the Mission. So far, 20 cities have identified 642 projects amounting to Rs 25,935.02 crore. Out of this, 23 pro-jects (worth Rs 304.97 crore) have been completed, works in 65 projects (worth Rs 2,736.90 crore) have started, request for proposals for 79 projects (worth Rs 6,351.39 crore) have been issued and remaining 475 projects (worth Rs. 16,541.76 crore) are at pre-tendering stage or feasibility study stage.
The government machinery is working on putting together the standards for executing this mega plan, and identifying the cities to be developed in consultation with states. A few smart cities are already in the list ready to be remolded, including Kochi Smart City, Gujarat International Finance Tec-City (GIFT) in Ahmedabad, Naya Raipur in Chhattisgarh, Lavasa in Maharashtra and Wave Infratech's 4500-acre smart city near New Delhi, Shendra-Bidkin in Maharashtra and Global City in Haryana.
India has also been inviting foreign partnership in developing the smart cities and has signed deals to build eight cities — three with Germany, three with the US, and one each with Spain and Singapore.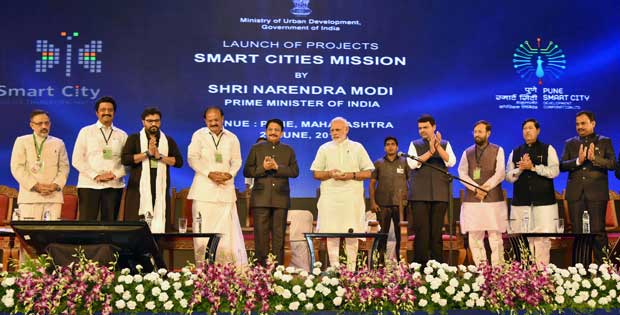 India's Smart City plan is part of a larger agenda of creating Industrial Corridors between India's big metropolitan cities in India. These include the Delhi-Mumbai Industrial Corridor, the Chennai-Bangalore Industrial Corridor and the Bangalore- Mumbai Economic Corridor. It is hoped that many industrial and commercial centres will be recreated as "Smart Cities" along these corridors. The Delhi-Mumbai Industrial Corridor (DMIC), which is spread across six states, seeks to create seven new smart cities as the nodes of the corridor in its first phase.
Interestingly, these corridors are developed by the Indian Government in collaboration with foreign governments who are keen to find their domestic private enterprises new avenues of investment. Japan is helping India develop its smart cities by investing US$4.5 billion in the first phase of the DMIC project through lending from the Japan International Cooperation Agency (JICA). JICA has also taken up master planning for three "Smart Cities" — Ponneri in Tamil Nadu, Krishnapatnam in Andhra Pradesh and Tumkur in Karnataka — in the Chennai- Bangalore Industrial Corridor. The UK is collaborating with India for developing the Bangalore-Mumbai Economic Corridor project with the help of private companies from Britain. The hi-tech and energy efficient cities along with connected communities will take inspiration from the Barcelona City Model executed by Cisco Systems. Tie-ups with technology giants such as IBM and CISCO and collaboration with officials from countries like Singapore and France further has been a vital aspect of the project. One of the prime goals would be to focus on developing the 'economic potential of the area'. Several of the cities that come up will include Special Investment Regions or Special Economic Zones that create a conducive environment for local industries and provide a business-friendly climate with relaxed rules and lowered taxes to attract investment such as Dholera in Gujarat Consistent with the Smart city plan, the Ahmedabad Municipal Corporation (AMC) has been involved in two projects:
Sabarmati River Front and Bhadra Fort Revitalization. The first has transformed the Sabarmati river front, from a slum infested area due to decades of neglect and decay to being a place of leisure and recreation. The reclamation of a 10.5 km stretch with clean waterways has become not only a centre of tourist importance but also an avenue for commercial activities. One of the largest slum clearance projects of the city had to be carried out for this transformation.
The second is the Bhadra Fort Revitalization project which has helped clear the area of squatters from the Bhadra Fort to the Teen Darwaja area and organized the hitherto disorderly and chaotic hawker trade to a well-regulated and orderly one, preserving its architectural and cultural edifices. Much more needs to be done in other parts of the city to be in sync with the Smart Cities Mission.
It is common knowledge that when a geo-graphical area gets a holistic development, trade and commerce gets favorably impacted. People naturally move in to settle down and this boosts the real estate market. All commercial activity is people driven and therefore it pushes real estate demand. Realtors in Ahmedabad are therefore happy. Civic authorities will also be happy for they can provide transparent governance which leads to less dissatisfaction among residents. Residents are happy when they are provided a better standard of living with all amenities and services being available to them. It is a win-win situation for all.
The government is working on putting together the standards for executing this mega plan, and identifying the cities to be developed in consultation with states. A distinct feature of Smart Cities is its robust focus on citizen involvement in public policy with promotion of e-governance. ISO 37120 has been recommended to assess performance of cities and further evaluate changes brought forward by the local government. Making cities inclusive is a strong highlight of the agenda and is set to ensure greater transparency and accessibility in the provision of civic services. India can expect further progress in this area as the government continues to emphasize on developing this aspect as a priority.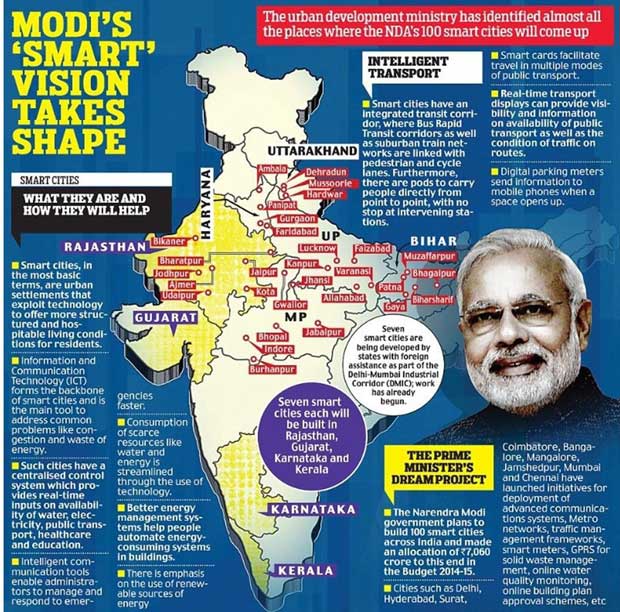 Urbanization in India is occurring at a breakneck pace. The cities are expected to grow from 340 million people in 2008 to 590 million by 2030. The speed of growth in cities poses huge challenges, but also offers big opportunities. In response to the growing size and influence of cities, the Indian government, under the leadership of Prime Minister Narendra Modi, has set a bold and ambitious urban development agenda. The central government has allocated an estimated $7.5 billion to the Prime Minister's signature program, the Smart Cities Mission. In 2015, Bloomberg Philanthropies partnered with the Ministry of Urban Development to support the Mission through the design and delivery of the India Smart Cities Challenge. The Challenge, in which Indian cities compete for central government funding, marks the first time the Government of India has used a competitive framework to advance a major urban development mission and allocate funding.
The objective of the Smart Cities Mission is to promote cities that provide core infra-structure and give a decent quality of life to its citizens, a clean and sustainable environment and application of 'Smart' Solutions. The focus is on sustainable and inclusive development and the idea is to look at compact areas, create a replicable model which will act like a light house to other aspiring cities. The Smart Cities Mission of the Government is a bold, new initiative. It is meant to set examples that can be replicated both within and outside the Smart City, catalyzing the creation of similar Smart Cities in various regions and parts of the country. Accordingly, the purpose of the Smart Cities Mission is to drive economic growth and improve the quality of life of people by enabling local area development and harnessing technology, especially technology that leads to Smart outcomes. Area-based development will transform existing areas (retrofit and redevelop), including slums, into better planned ones, thereby improving liveability of the whole City. New areas (greenfield) will be developed around cities in order to accommodate the expanding population in urban areas. Application of Smart Solutions will enable cities to use technology, information and data to improve infrastructure and services. Comprehensive development in this way will improve quality of life, create employment and enhance incomes for all, especially the poor and the disadvantaged, leading to inclusive Cities.
After helping to design the Challenge, Bloomberg Philanthropies supported the competing cities as they developed their proposals, with a special emphasis on engaging citizens. Bloomberg Philanthropies hosted Ideas Camp – which gathered leaders from India's cities with global experts in urban innovation under one roof. We also conducted expert webinars, which helped cities learn from international best practices and identify transformative solutions for their applications during the first round of the competition. In January 2016, the Ministry of Urban Development announced the 20 winners of the first round. The Government of India will expand the list of nominated cities and continue running the competition in subsequent years.
ROLE OF SOLAR ENERGY IN DEVE-LOPING SMART CITIES IN INDIA
Growing urbanization has meant the influx of a larger population into cities, a tremendous increase in the demand for resources such as water, electricity and thereby, an inevitable strain on them. Urban India has been a witness to this trend, necessitating the need for renewable sources of power and energy efficient measures. The work on solar cells forms part of a broader initiative to harness high tech knowledge in the physics sciences to tackle global challenges such as climate change and renewable energy. The Smart Cities initiative by the Government of India presents an opportunity to transform the way in which we run our cities. While conversations on important topics such as sanitation, transportation, municipal finance, and water are ongoing, a crucial issue that is not sufficiently discussed from the perspective of cities and local governments is energy. The UN estimates that cities are responsible for close to 75 per cent of global primary energy and 70 per cent of global carbon emissions. The situation in India is particularly severe – peak electricity demand in our cities is rising each year and yet over some million people in India is still waiting for access to reliable sources of energy. Central and state government plans to develop 109 smart cities in India. Under the mandate of the smart cities, 10 per cent of the city's energy requirement must be met by solar.
British Petroleum's Energy Outlook 2035 states that energy demand in India is expected to increase by 132 per cent by 2035 while the growth in production will be near 112 percent. For India to achieve smarter and more livable cities it is vital for stakeholders to articulate strategies for achieving low-carbon, energy efficient and energy secure cities in India.
All Smart Cities have been taken under solar cities programme. The program includes Creation of a Renewable Energy Cell in all Smart Cities with emphasis on-
Smart Energy
Renewable Energy Generation
Smart Meters
Assured electricity supply
Smart Waste Management
Smart Buildings
Sustainable Environment
The Smart Cities are meant to include solar power generation, solar water heaters, solar PV rooftop systems, solar street lightings, solar pumps, solar concentrators for steam based cooking and solar traffic signals. About 40% energy is consumed by buildings in cities; therefore energy efficient green buildings on solar passive design should be promoted. A passive solar designed house can be low-tech and no more expensive than standard construction. The aim of the system is to achieve best output on small scale solar power house. The solar smart cities can be efficiently developed with utilization of solar energy. Abundant solar radiation is available in states like Rajasthan, Gujarat, Maharashtra, Tamil Nadu and few others states as mentioned above. Solar systems installed on rooftops of residential, commercial, institutional & industrial buildings premises can solve the energy crisis as well can become a source of income as it can be -fed into the grid at regulated feed-in tariffs or -used for self-consumption with net-metering approach. If vehicles utilize solar energy instead of conventional fuel petrol the nation will progress at faster rate as these conventional fuels are inadequate and are exported from other countries. Optimum utilization of solar energy will be proven to be a boon to the society by its sustainable development. India can become a developed nation by making smart cities and smart villages. Not only will the adoption of solar energy in smart cities will improve the conditions in India, it will also enhance the urban living style and will go a long way in promoting the usage of renewable forms of energy and thus help the country fight the growing concerns of global warming and pollution.
WILL 2017 BE A YEAR FOR EXECUTION OF THE SMART CITIES MISSION?
The Smart City Mission has seen many global companies make a beeline for India in search of business opportunities. Chinese vendors ZTE and Huawei are already paving the way to capture business opportunities in infrastructural pursuits. Huawei will also target areas like public safety. Vendors including Ericsson, Nokia and Cisco are also targeting smart city projects in India. Some of the selected cities are already making progress towards the execution of the smart city initiatives:
PM Narendra Modi launched the flagship Smart City Mission into implementation mode with launch of 14 projects of Pune's Smart City Plan, on 25th June, 2016 by releasing the Mission Guidelines.
The Jaipur Smart Mission Limited has selected Spanish firm Epista as project management consultant for the execution and implementation of its smart city project. The Spanish company will help the local authorities in planning, designing, developing and monitoring smart city projects over the next 2 years.
ZTEsoft, a subsidiary of ZTE has signed an MOU (Memorandum of Understanding) with Gujarat to collaborate on the development of smart city project.
Ericsson will be installing 15,000 smart meters in Assam for a public sector power company.
Cisco is already working in smart city projects in nearly 13 cities.
Germany has also taken the initiative and offered support for developing high-speed railway, smart cities and renewable energy.
Preparations to develop Ujjain into a smart city are well underway with the Central Government nominating BSNL to provide free Wi-Fi in the entire city. Smart poles will be installed in many areas of the city.
Bhubaneswar Smart City Ltd (BSL) and the United Nations Population Fund (UNPFA) have signed an MOU to take the New Urban Agenda forward.
Cisco, Philips, and Microsoft are looking to invest in the Faridabad smart city projects.
Patna, the capital of Bihar, is all set to become a smart city in the near future. A plan is being developed by the Department of City Development co-housing development consultant agency.
Dharamshala saw hiccups in the progress as there was an interruption due to a legal battle with Shimla to enroll in Smart City. There is also a confusion regarding the finance because while Himachal Pradesh government has directed to spend ten percent of its share to the Smart City project, the Central Government has directed it to spend 50 percent.