India has been the soil of many revolutions, today India is marking its socio-economic disposition across the globe. It is worth to mention that India's is the protagonist in playing the successful lead green role for the world. India can be called as a collective name which has many copious home-grown companies who are propelling the Solar Dream of this country. Today, the forename which comes in India's solar league is 'RelyOn Solar'. Containing a sprawling headquarter in Pune (India), RelyOn Solar has an extensive installation base of 16 states across India and installation in Middle East. The company with his in-house R&D facilities in Pune, Bangalore and Vijaywada up shoots a strong stem of innovation in the country.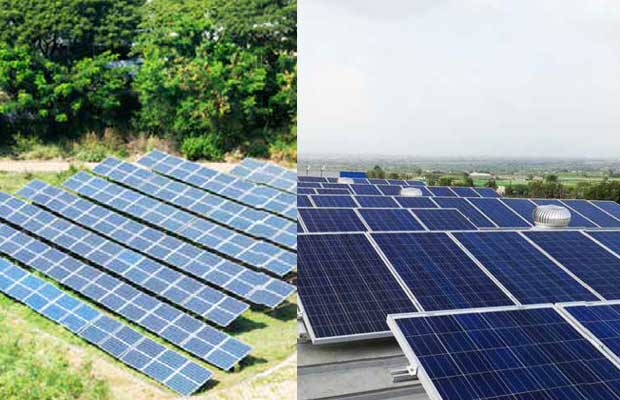 We travelled towards their facility with the zeal to unfold the company's business. The team of Saur Energy – International enthusiasm was amplified through RelyOn Solar's warm greetings.
Settling down after a long orbital alternation in the flight, we kept our perennial acquaintance to know further about RelyOn Solar.
Accompanied by Dr. Gundu Sabde, CMD, RelyOn Solar Pvt. Ltd, a person who carries more than 29 patents to his name and often known for his acolyte for innovations. Advancing equal steps to twig with their success stream in the solar industry, Sabde readily said, solar companies mainly focus on specific verticals and cater set customer base. But over the years, RelyOn Solar has developed and commercialized unique solar power solutions customized for each application and empowering solar for diverse nature of businesses. Given hands on various verticals of solar business, RelyOn solar focus includes rooftop systems for different types of roofs (RCC floor, industrial metal roof), solarized petrol pumps, DC water pumps for agriculture and domestic requirement. In no second it was a well diction that RelyOn Solar flaunts an emphatic portfolio.
Asserting on their prime principles, he noted that RelyOn Solar has a strong focus towards improving continuous efficiency and reducing in Rs./watt through innovative solutions & vertical integration. With our knowledge of the photovoltaic domain, we are able to leverage global sourcing of high quality, reliable and cost effective solar panels and other components. Instantaneously phrasing, 'Filling the house with Dreams' as the aura quite resembled to it, chairing over with rich tea. We asked Sabde to share an anecdote on the brick to brick development of the company. Sharing a glimpsing smile, he said, RelyOn Solar was established in 2010 as a distributed power generation solar company to address power cuts when solar had become an economically viable option against diesel generators. Emphasizing on innovations with integrity, he added, we specialize in design, engineering, supply, installation, commissioning, operations and maintenance of solar power systems, ranging from KW to MW capacities. RelyOn Solar leadership team brings wealth of business experience of working in global, professional environment.
Traversing across to feast our eyes across their vast portfolio and the processes, it surely had to be a mile to reach and decisively quote their portfolio as it was immense and lustrous. We asked on their services and how they carry off their end-customers' goal, he was in all smiles saying that upcoming decade is about renewable and sustainable development. The current state of this industry is analogues to where the internet was in the late 1990s. The future will bring many exciting possibilities to many of us who are contributing to this field today and we are not only exploring but also successfully catering the demand. He said, currently our services focuses on rooftop installations, ground mounted, utility-scale, off-grid and grid tied, solution for petrol pumps, solar powered water pumps, solution for solar park roof, raised structure installations, leak proof structures, OPEX model and open access. We can all achieve it through our hightrained professionals and the collective zeal to empower the country with clean energy.
RelyOn Solar has many success stories to share, as the company has given many stories to back this word. When asked about their unique installations, Sabde illustrated successful implementation in Cybage, solar park roof at Gabriel car park, Rooftop at Pune IT park, solar panels at railway coaches which he claims as ground-breaking and the future of power-efficient Indian railways and also Railway Training Center using BIPV. Sabde envisioned that the company is also on a trail to supervise and augment many more successful green stories in India and globe in coming time.
Emphasizing on self-reliance for power, Sabde continued, In India, Solar energy industry has provided ample opportunities to startups as well as multinationals. RelyOn Solar helps every step of the way you can start and run your own solar generation business in no time. It is known for its expertise, experience and innovations in variety of installations, also known for exclusive solutions for petrol pumps, banks, hospitals, hotels, small businesses, bungalows, farm houses, housing societies, poultry farms, fisheries, solar water pumps. RelyOn Solar has a proven track record of implementation of solar rooftops in various sectors including industrial and commercial rooftops with most innovative approach towards space saving and maximization of solar power generation. It has installations across India and has started its business expansion in Middle East and Africa.
Noting on its franchise base, he asserted that RelyOn Solar has planned expansion of its network and reach by appointing franchisee across India. This is an excellent opportunity for entrepreneurs who are looking for business opportunities in the solar industry, one of the fastest growing industry in India.
Coming to the end of the visionary journey, we were more intrigued to know about their solar trackers, and it seem the bowl has finally filled with soup as it brought a spark on his face while educating us on their tracker technology. Sabde prudently described, "Robust, Maintenance Free, Smart & Accurate Algorithm, Frictionless Bearing and Completely Indigenous". He added, their trackers enhance project viability as it increases 18-25% higher power generation. It also Improved project IRR and reduced LCOE (Levelised Cost of Energy) and the tracker investment payback is in less than 4 years.
Talking on tracker's technology and technicality front, he said that it is the most flexible tracking solution. Each row individually powered by a motor, installation possible up to 15% field slope, high power density per acre, up to 32KWp in just 50m length. He touts that their trackers are the highest performance tracking solution, in fact, it looked more than just satisfactory. It embeds an accurate & smart algorithm for tracking true solar position, adaptive backtracking and a large tilt angle (-55 deg to +55 Deg). Finally noting about its maintenance system, Sabde prompted that has the most easy maintenance system. It has no mechanical links, each row is independent, robust design, comprises a maintenance free gearbox and motor, nextgen frictionless bearing, quick installation, stowage mode for wind, quick reset to stowage position and a cleaning mode available for routine cleaning.
Coming to the verge of our erudite journey, we concluded asking him on the company's role for a visionary future of this industry. He culminated; solar community is very excited about recent net metering regulations in multiple states. However, net metering alone cannot take solar power content beyond 20 to 30 percent of total electricity demand. If the renewable content has to increase to 50%, we will have to supply solar power 24 hours for which advanced batteries will become the necessity. Our off-grid experience will become a key advantage in providing 24-hour solar solution. It is clear that Renewables in general and solar power, in particular, are here to stay. The future will bring many exciting possibilities to many of us who are contributing to this field today. 'It will be a green future'.