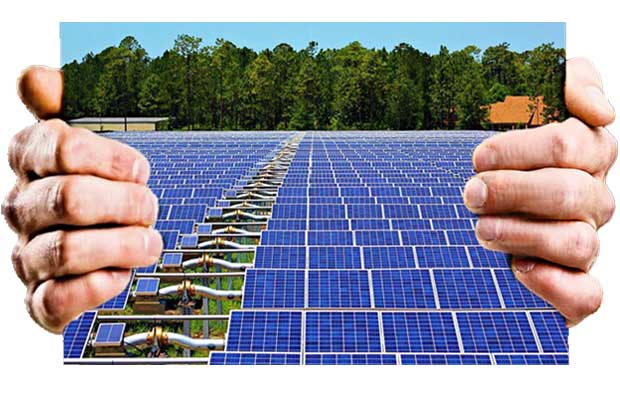 The government of India has set an ambitious target of 175 GW of renewable power installed capacity by the end of 2022, of which 58 GW has been installed so far. The Indian solar market added 1,869 MW in the second quarter of 2017, bringing installations in the first half of the year to 4,765 MW. This figure surpasses the 4,313 MW installed in all of 2016. According to a research firm, in the first half of 2017, large-scale solar installations made up 4,290 MW (90 percent) and rooftop installations constituted 475 MW (10 per cent) of total installations. Cumulative solar rooftop installations crossed a significant milestone of 1 GW at the end of Q2 2017. Andhra Pradesh became the first state in India to install over 2 GW of solar power. Currently, seven states have exceeded 1 GW of solar installations. The research firm forecasts 2017 installations to reach 10.5 GW, which would be a 144 per cent increase year-over-year compared to the 4.3 GW installed last year. However, a joint study undertaken by NEC Technologies and industry body Assocham- India will need to add over 15,000 MW solar capacity every PERSP ECTIVE year to achieve the target of 100GW by 2022. The country's installed solar capacity fell short of target of 17,000 MW by the end of the financial year 2016-17. The biggest technological issue in terms of solar is the efficiency of solar cells, the study said.
To achieve the 1, 00,000 MW target by 2022, the focus has slightly shifted from indigenous manufacturing as policies to curb the imports from other countries are not benefiting the domestic manufacturing. Furthermore, the increase in taxes in the GST structure in solar from 0% to 5% coupled with reduced taxes on coal from 11.69% to 5% may lead to slow adoption of solar in the Indian energy sector. Lack of uniform policies across sectors and implementation issues is also an area of concern. However, if Indian thrust of renewable energy persists, it would result in reducing the viability of coal-fired thermal power plants in the country. We reached out to solar Industry veterans working in different domain to bring a concoction of views from to and understand the company's growth, market challenges, trends and more.
Growth
Briefing on the company's growth in the past year and milestones that the company expects to achieve this year, Anupam Dhiman-Executive Director, EPC, Vikram Solar said we have bagged half a dozen projects in 2016-17. Our module and service quality has always helped us to secure clients from the most conservative circles, and in 16-17 was no different. NTPC Limited, Tirumala Tirupati Devasthanams, Gujarat Industries Power Company Limited, Bharat Heavy Electrical Limited, Oil and Natural Gas Corporation Limited, Jindal Aluminium Limited, Andhra Pradesh Power Generation Company are a few of our satisfied clients. Dhiman further added- we executed more than 200 MW (cumulative capacity) of projects last year. And a few of our projects that were commissioned last year were
Megawatt projects.
• NTPC-Bhadla, Rajasthan -130MW. • NTPC-Mandsaur, Madhya Pradesh – 50MW.
• Jindal Aluminium Limited – Bavihalu, Karnataka-20MW.
• Tirumala Tirupati Devasthanam- Chittoor, Andhra Pradesh-10MW Rooftop projects.
• Anmol Biscuits Limited Bhubaneshwar, Odisha- 400kW.
• VIT/VIIT – Pune, Maharashtra- 260kW.
• Allana Investments & Trading Co. Pvt. Ltd. – Navi Mumbai, Maharashtra-100kW
• Our continued growth showcases our commitment and the trust we continue to gain from the industry he added.
Manish Chaurasia, Managing Director, Tata Cleantech Capital Ltd. (TCCL) on the other hand said, since inception, Tata Cleantech Capital Limited (TCCL) has participated in the funding of over 4 GW of renewable energy generation across 100+ projects saving approximately 6.5 million tonne CO2 emission annually. Over the financial year FY16-17, Tata Cleantech Capital Limited (TCCL) has doubled its asset book from $180 Million to over $360 Million. The quality of our portfolio is evident from our 0% NPA levels. We aspire to grow our book to over $1.5 Billion by FY20.The year has been quite dynamic as TCCL actively ventured into syndication and financial advisory services as a synergistic addition to our existing lending portfolio. The renewable energy sector has experienced tremendous traction in the past year through technological advancements & business friendly policies. We believe it is critical that we remain abreast of all the happenings in the industry and take conscious, informed decisions to achieve sustainable & profitable growth while maintain a high quality book. Chaurasia added this year, our focus is to leverage our superior industry expertise to underwrite/syndicate transactions and continue to actively contribute to the growth of the clean energy sector. In addition, we are looking to slowly and selectively diversify our portfolio into conventional infrastructure sectors like roads, power transmission etc. Our endeavor is to be able to provide a full bouquet of products for the infrastructure finance requirement of our clients, thereby becoming the platform of first choice for offshore and domestic funds targeting the infrastructure sector in India.
Dharmesh Tanti, Director, Operations & COO, Enrich Energy Pvt. Ltd. briefing about the company's growth said Enrich pioneered the Solar Park concept by developing India's First Private Solar Park in 2012. The solar park is of 50 MW capacity located in Mandrup, Maharashtra. In hot pursuit Enrich developed another solar park of 50 MW at Karajgi, Maharashtra in 2014. In 2016, Enrich commissioned first Solar Park under fixed PPA in Telangana of 60 MW; this too was a first of its kind. Power evacuation facility of 100 MW is already commissioned.
In 2014, Enrich also commissioned a 642 kWp solar rooftop project at Mumbai International Airport (MIAL) which was an important milestone. Enrich has also installed rooftop projects at World Trade Center in Pune and other premier Commercial & Industrial rooftops across the country. He further stated Enrich made its foray in the EPC market in 2016 and was soon amongst the top players in the industry. Through its 6 years of journey from 2011, Enrich has commissioned 163 MW with another 100 MW under development. Enrich's footprint now pans India and is growing rapidly.
Ashish Khanna, ED & CEO, Tata Power Solar said Tata Power Solar turns around its business with more than two and a half times in 2 years. The company has witnessed an increase in its net sales by 52% to touch a new height of Rs. 2262 crore in FY17 as compared to Rs. 1490 crore in FY16. The profit after tax also increased by 330% during FY17, which a remarkable achievement considering the fact that solar EPC is extremely low margin and the pressures faced by the domestic manufacturing sector.
Tata Power Solar is India's largest integrated solar company and one of the leading players in the PV module manufacturing industry in India. Over the last 27 years, we have evolved into a robust, pragmatic and integrated solar player and have been consistently leading the rooftop solar market for four years (Source: Bridge to India rankings). We have unmatched experience in designing, manufacturing and executing customized solar solutions for diverse sectors namely telecom, oil and gas, education, banking, healthcare, IT, public infrastructure like roads as well as railways. We also have hands-on experience in designing and engineering megawatt-scale grid-connected solar power plants over the past ten years. We have a trained workforce that undertakes efficient operation and maintenance initiatives for various solar projects.
We are amongst the few in the country with valued experience in metering and monitoring of project performance. All this gives us the ability to implement end-to-end solar solutions across diverse requirements said Khanna. He added, as one of the largest solar manufacturers in India, we operate world-class manufacturing unit in Bangalore, with a production capacity of 400 MW of modules and 300MW of cells. We have completed more than 708MW of ground-mount utility scale and 150 MW of rooftop and distributed generation projects across the country till date. We have touched various milestones. We crossed the milestone of shipping 1 GW of modules early this year. Last year in August, we successfully commissioned our largest project, a 100 MW solar project for NTPC in Anantapur, Andhra Pradesh. We delivered the project in record 80% of stipulated timeline, and nearly three months ahead of the stringent schedule. We commissioned India's largest vertical solar farm for Dell India's largest vertical solar farm at Bengaluru. Our 12 MW installation for R.S.S.B. Educational & Environmental Society (RSSB-EES) and 1.8 MW solar projects commissioned for IIT Roorkee are world's largest solar rooftop installations at a single place. The project has been decorated with National Excellence Awards 2016.
Most recently, we undertook energy generation expansion for India's largest car port plant at Cochin International Airport commissioning 2.67 MW of solar carport. Ashish Khanna also said as part of the prestigious TATA group, we stand for quality, excellence and total commitment towards our work. Our vision is to be the leading solar solutions provider in the country, delivering high quality and sustainable results to our clients. We are committed to enabling solar everywhere and bringing the power of the sun to people in the most efficient and cost effective ways. We do not comment on future outlook as it is largely dependent on market dynamics and policy support.
Sachin Jain, Co-founder & CEO, Oriano Clean Energy Pvt. Ltd. said last year, Oriano Solar did turnkey EPC for one of the first solar park of 23MWp in Karnataka selling power to private consumers. Also, we were successful to do turnkey EPC for one of the largest solar rooftop installations of 5.5 MWp in the country for a single industrial end-consumer, Ashok Leyland/Hinduja Renewables. This is was one of the first projects to be funded through World Bank and SBI partnership to support funding of 100 MW of solar rooftop projects. He added, this year, we have broaden our portfolio from pure EPC solution provider to providing land, transmission line, solar park infrastructure along with end-consumer PPAs. We are currently executing turnkey EPC for around 105 MWp by December 2017. This includes a 50 MWp solar project in Karnataka on 1500V system and a 30 MWp Single Axis Tracker project using String inverters. We estimate to install 120 MWp+ in FY17-18.
Simarpreet Singh, Head, Strategy, Hartek Group speaking on the milestone that the company wish to achieve stated having connected about 600 MW of solar power to the grid, we have been adjudged as the fourth largest EPC company in the solar domain by Mercom Capital, a leading market analyst. Building on last year's momentum, when we had secured more than 1-GW solar EPC orders, we are targeting the 2-GW mark by the end of the current financial year. Having executed 13.75-MW rooftop projects, we have also been adjudged by Mercom Capital as one of the notable rooftop installers in the country with a 2% market share. We aim to enhance our share in rooftop by laying more emphasis on commercial and industrial categories. Focused on developing a sustainable power ecosystem, we are also foraying into residential and small-scale solar added Singh.